With the rise in Smartphone usage and the ongoing demand for dependable, low-cost mobile services, MVNO providers have carved out a significant niche in the telecom market. These solution providers lease the wireless services from big carriers rather than owning their wireless infrastructure, allowing them to offer distinctive service offerings and competitive pricing. In this blog post, we will dive deep into how Ecosmob is one of the top MVNO solution providers in the USA and some more trending MVNO solution providers in the market. 
Best US MVNO Solution Providers in 2023: An Exhaustive MVNO List
MVNOs offer a ton of value to the communication market. They expand the client base available to mobile network carriers, promoting growth. Additionally, US MVNO providers offer their customers more competitive services and products. Here's a roundup of the top MVNOs:  
1. Ecosmob Technologies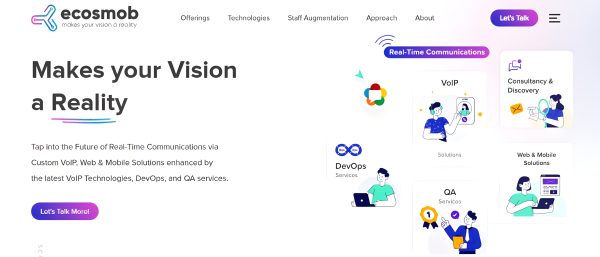 Ecosmob Technologies is a reputable software solution provider introducing MVNO billing solutions as a service. It has been deemed the best MVNO service provider in the USA by a large clientele base. Ecosmob's industry experience further adds to its competence and credibility in the software solutions and telecommunication market. Ecosmob Technologies proudly marked its imprints as a significant sponsor and contributor to the year's ClueCon, presented in Chicago. This honor emphasizes Ecosmob's commitment to excellence in the telecom industry.
Ecosmob's key characteristics include the following: 
TechTalk Mobile

Mobile Payment and Banking Solutions

Healthcare Communications with VoIP 

Customized Solutions

Cost Effectiveness

Service Quality

Advanced Technology

Customer Support

Flexible Offerings

Strategic Partnerships

Positive Customer Feedback & Reviews
2. Mint Mobile
Mint Mobile has consistently been at the forefront of the US MVNO providers. Noted for its aggressive pricing strategies and bundled offers, Mint Mobile may be the go-to choice for those seeking affordability without compromising service quality. Their "buy more, save more" philosophy ensures that longer-term commitments translate to more savings for the user. 
Mint Mobile key MVNOs include:
T-Mobile Network

Multi-Month Plans

Data Options

BYOD Supported

WiFi Calling

International Calling Option

SIM Cards

Text and Talk

Data Speeds

Mobile Hotspot
3. Google Fi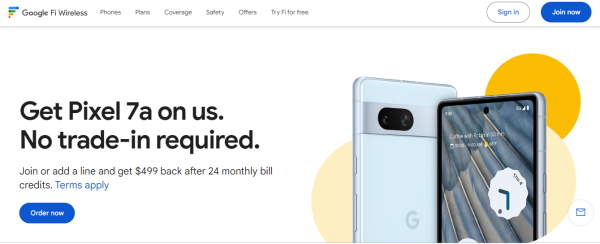 Google's entry into the US MVNO providers domain has been revolutionary. Google Fi's USP lies in its seamless network switching technology that toggles between major networks, ensuring that users always get the best possible signal. Its flexible pricing and international roaming features have made it a favorite among frequent travelers.
Google Fi key MVNOs include:
Seamless Switching

International Roaming

Flexible Plans

Bill Protection

Data-Only SIMs

WiFi Calling

No Contracts

Family Plans

VoLTE and HD Calling
4. Xfinity Mobile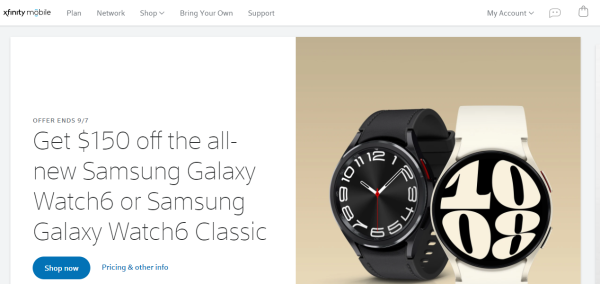 Full-fledged MVNO Xfinity Mobile uses Verizon's network, including its 5G coverage. Customers who receive internet through Comcast are eligible for the cell phone service. Low-cost unlimited options are available in this case; one line costs just $45 a month, and additional lines are discounted. Customers of Xfinity can also purchase more recent smartphones, such as the iPhone 13.

Xfinity Mobile key MVNOs include:
Network Coverage

Xfinity Integration

Flexible Data Plans

Wi-Fi Hotspots Access

Family Plans

No Activation Fees

Bring Your Own Device Option

Customer Support

Data Saver Features

International Roaming
5. Ultra Mobile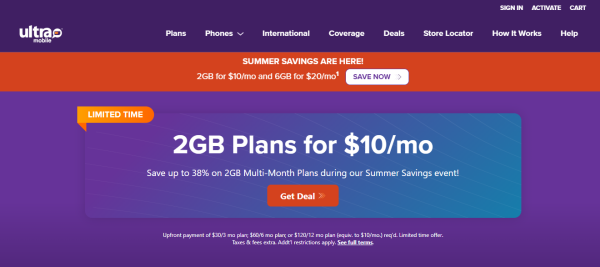 Ultra Mobile MVNOs typically offer competitive pricing and niche services, often focusing on prepaid plans, international calling, or specialized features. While they don't own network infrastructure, they provide mobile services under their brand name and tailor their offerings to specific customer segments. Examples include Mint Mobile and Ting.

Ultra Mobile key MVNOs in the USA include:
Tello

TextNow

Prepaid Plans

Data Packages

Multi-month Plans

Sim Cards

Mobile Hotspots

Customer Support
6. Ting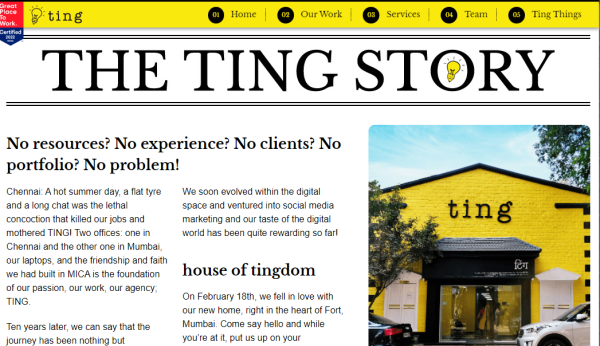 Ting stands out for its pay-for-what-you-use approach in the league of the best MVNO providers. Instead of fixed monthly plans, Ting allows its customers to pay only for the services they use, be it calls, SMS, or data. This flexible pricing model is especially beneficial for light mobile users who want to avoid being tied to expensive monthly commitments.
Ting key MVNOs include:
Flexible Plans

Usage-Based Billing

Multiple Networks

BYOD Support

Family Plans

Customer Support

International Roaming

Data-only Plans

Value and Savings
7. Cricket Wireless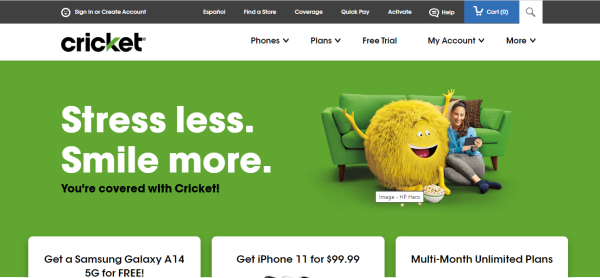 Backed by AT&T's robust network, Cricket Wireless offers a balance of affordability and network reliability. Their range of plans, from basic to unlimited, ensures something for everyone. Additionally, with various promotional offers and family plans, Cricket is a formidable MVNO solution provider in the USA.

Cricket Wireless key MVNO include:
Prepaid Cell Phone Plans

Affordability

No Contracts

Device Compatibility

Data Throttling

Retail Presence

Parent Network

Plan Options

Value Focus

Customer Base

Add-Ons

Online Services
8. Verizon MVNOs

Verizon MVNOs are wireless carriers that lease network infrastructure from Verizon Wireless to provide mobile phone and data services to their customers. These MVNOs offer a variety of plans and services, often at more competitive prices than Verizon's plans. Regarding speeds and coverage, Verizon is currently the second-largest wireless carrier and is undoubtedly a good pick for many. Customers of Verizon MVNOs can access the Verizon network, one of the largest and most reliable wireless networks in the United States.

Verizon's key MVNOs include:
Twigby

Xfinity Mobile

Ting

Page Plus

Spectrum Mobile

Credo Mobile

Pix Wireless

Net10

Lively

Red Pocket

Reach Mobile
9. Metro by T-Mobile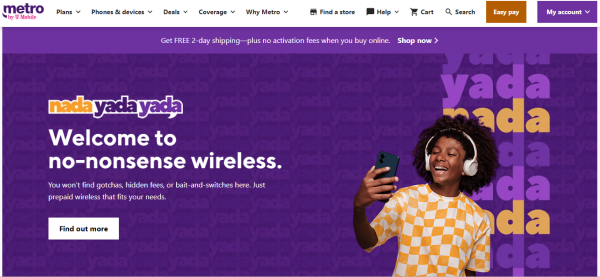 Previously known as MetroPCS, Metro by T-Mobile has come a long way, combining T-Mobile's reliable network with competitive pricing. Their all-in pricing strategy, where taxes and fees are included in the plan price, provides transparency and ease to the end user.
Metro by T-Mobile key MVNO include:
Prepaid Plans

Affordable Plans

4G and 5G Coverage

Device Selection

Family Plans

International Calling and Roaming

Mobile Hotspot

No Contract
10. AT&T MVNOs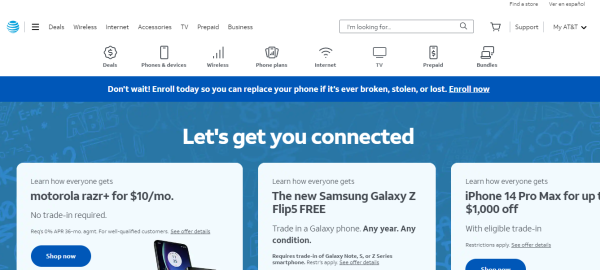 AT&T MVNO is the largest telecommunications company in the world, not only the top carrier in the US. Yet the number of MVNOs is relatively tiny. The two main ones are Consumer Cellular and Cricket, but a few additional choices use the AT&T network. Additionally, FreedomPop, a company specializing in international calls, uses AT&T's network.
At&T key MVNOs include:
Consumer Cellular

Cricket

FreedomPop

FreeUP Mobile

Good2Go Mobile

H20 Wireless

Net10

Red Pocket

Straight Talk

TracFone
Emerging Trends in MVNO Solutions
While traditional offerings like cost savings and customized plans have always been the selling points of MVNOs, a new era of MVNO solutions captivates consumers. Here are some emerging trends:
IoT Integration

: As the IoT grows, many US MVNOs leverage this technology, offering specialized IoT plans and integrating IoT devices with their services.

Enhanced Customer Service

: Given the competition, MVNOs are doubling on customer service, utilizing AI chatbots, 24/7 support, and personalized services to stand out.

Eco-friendly Initiatives

: Some MVNOs are now focusing on sustainable solutions, offering eco-friendly SIM cards, promoting electronic billing, and even planting trees for every new subscriber.
Choosing the Right MVNO Solution Provider for You
Ecosmob Technologies is not just any typical MVNO. Instead, they excel in delivering real-time communication solutions, including comprehensive MVNO solutions catering to diverse requirements.
Here are some of the standout features of MVNO solutions that you must look for while choosing the right one for your business:
Network Reliability

: Always check which primary carrier's network the MVNO uses. It will give you an idea about coverage and signal strength.

Plan Flexibility

: Look for MVNOs that offer flexibility regarding plan customization and commitment periods.

24/7 Assistance

: Read reviews and see how the MVNO handles customer grievances and queries.

Additional Features

: Consider MVNOs that offer added features like international roaming, hotspot data, or rollover data.
The USA's MVNO market has seen significant growth and diversification. Whether you prioritize cost, network reliability, or unique offerings, there's an MVNO provider tailor-made for your needs. With many MVNO solutions and a growing number of MVNO solution providers entering the market, the future looks promising for those seeking alternatives to traditional mobile carriers.
FAQs
Which major carriers do MVNOs typically lease from?
MVNOs in the U.S. generally lease network access from one or more major carriers: AT&T, T-Mobile, and Verizon.
Are MVNO plans cheaper than significant carriers?
Yes. The MVNOs offer more competitive pricing, especially for basic or specialized services. However, the exact value depends on the specific MVNO, the plan details, and individual needs.
Does using an MVNO mean a compromise in network quality or coverage?
Since MVNOs use significant carriers' networks, the coverage is often similar. However, major carriers might prioritize their direct customers over MVNO users during network congestion.
Can I bring my device (BYOD) to an MVNO?
Most MVNOs offer BYOD options, but ensuring your device is compatible with the MVNO's supported network is essential.
How do MVNO data speeds compare to significant carriers?
In many cases, data speeds are comparable. However, some MVNOs may have speed restrictions, especially on lower-cost plans.
Are there any long-term contracts with MVNOs?
Many MVNOs operate month-to-month without long-term contracts, but offerings vary by provider.
Do MVNOs offer International roaming?
Some MVNOs provide International roaming or calling options, but this can vary widely by the provider and may not be as comprehensive as major carriers.