VoIP Business Phone System for Your Business
Simplify your VoIP business phone system with tailor-made solutions from Ecosmob. Bid farewell to complex infrastructure maintenance and optimize internal and external communications through VoIP phone systems.
A business, whether large or small, must communicate with all its stakeholders effectively. The right VoIP business phone system can be a game-changer in how teams communicate internally and externally.
Business communication nowadays, is beyond making and receiving calls with cloud business phone systems. Therefore, investing in a cloud-based VoIP phone system that transmits calls over the internet with built-in unified communication (UC) features is a prerequisite in the current business landscape.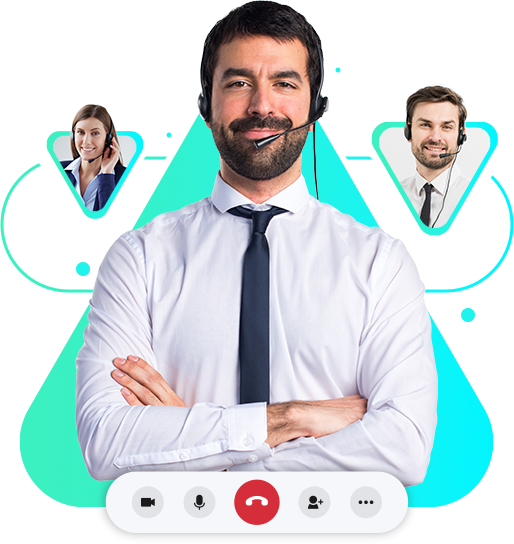 Features of VoIP Phone systems
We develop bespoke business communication solutions for small, medium, and large enterprises based on business requirements and objectives. Some of the best features offered with our business VoIP phone system include-
Relevance of Business VoIP Phone Systems
Stay ahead of the competition with a unified communication system that enables your teams to stay connected 24×7, leading to quick customer query resolution.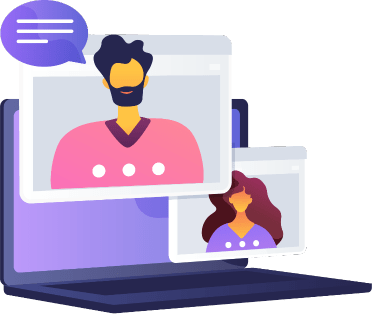 Enjoy crisp audio quality conferencing with directional sound.

Call Recording Software with Voice AI enabling real-time experience.

Increases turnaround on ROI because of its cost-effective nature.
It cuts down on travel time and cost.

Decreases business bottleneck with improved communication and collaboration.
Scalable and Reliable Business Phone Systems Solution
Selecting a business phone system differs significantly from choosing a phone for residential purposes. There are many options and operating systems available when looking for a business office phone system—finding a cloud business phone system; there is an amalgamation of the features you need at an affordable price.
VoIP or IP-based calling takes your existing phone system to another level

Mobile twinning to link your phone to a desktop extension

Voicemail that leaves recorded messages on the phone
Conference Phones where more than one party can talk

Chime-In/Chime-Out when someone joins/leaves a call

Call Accounting / Call Recording
Tailored Business VoIP Phone System Solution
A VoIP business phone system keeps you connected to telecommuters. Smooth call forwarding to the right person ensures that distance isn't a constraint. There are several pain points that are combated using business phone system solutions.
Most of the time, when business persons communicate, there ends up a lag in voice or some other factors that makes the experience not so fruitful. Old PBX systems have also become clunky and so is their management.
Here, the deployment of business office phone systems on the cloud ensures a seamless communication transition. A cloud business phone system is easy to set up offsite and does not demand the attention of various infrastructures. This saves time and money, giving prospects and clients a delightful experience.
When talking about making calls in from or to the office, it often concerns whether all the participants are based at the workplace from where they can make or receive a call.
This is where the business phone system becomes functional. Business phone systems are available on cloud which means whether you are working remotely or from home, you can easily communicate by making calls. Use the same tools and features you are accustomed to no matter where you go.
One requisite of being on a landline in your business is that there is no availability after office hours. It also implies that if you are reached at a particular PBX extension, there is no reachability once the office time is over. Also, no personalized experience lets the callers know who they are calling.
With a VoIP phone system, your clients reach out to you on your office number or simply leave voicemails that you can listen to at any time. Thus there is no restriction about when, how, and where you are since your availability is 24*7, and customers can be more comfortable with your availability.
Without an automated business phone system a manual operator may direct you to lines while making calls. This increase the dependency on manual intervention, which may not be as functional as required.
To streamline the process once the business phone system is adapted to your strategy, it automates the calling experience. You can simply call a business number and the auto-attendant invokes you to dial the extension number. Thus the call is transferred to the agent irrespective of location and with no manual barging.
Why choose Ecosmob as your Business Phone System Development Partner
Every organization that is operating through a brick-and-mortar store or digitally needs to communicate effectively. Even though organizations operate with messages or emails, phone calls remain as significant as ever. VoIP business phones hold high relevance, and this is why it is imperative to choose a highly functional and feasible business phone system. VoIP phone systems for small businesses or enterprises are as operable as ever and take your business to the next level.