VoIP solution provider companies have witnessed a vast radical shift from traditional phone systems to internet-enabled VoIP technology. Traditional phone systems used CDMA and GSM technology and had many limitations. The good news is VoIP technology overcomes all these limitations, offers more features, and makes a powerful business phone system.
Today, VoIP solutions are a synonym for reliable, secure, and cost-effective business communication. It is gaining significant traction across the telecommunication sectors and holds strong future potential. A recent report validates the same. The global VoIP market is projected to reach $95 billion by 2027, which is huge!
At the ground level, getting the right VoIP business phone solution to modernize your team's communication in the true sense is a tricky process to crack. However, focusing on features that your business model requires helps you choose the right VoIP solutions provider. You can scale and expand your VoIP solution efficiently into a new market. You can also easily upgrade your existing plans for deploying multiple extensions without any IT-related hassles.
Right VoIP solution helps organizations access real-time information and improve customer service experiences. Some key features that make it happen are-
Interactive Voice Response (IVR)
Call Recording, Caller ID
Call Transfer
Call Flipping/ Barging
Call Monitoring
VoIP drastically reduces calling expenses compared to on-premise PBX and gives tremendous cost-saving opportunities. Most VoIP business solution providers offer cloud-based hosting PBX that gives tough competition to SIP trunk and in-house PBX.
Ecosmob presents a guide to help you choose the VoIP solution provider right for your business. Let's first understand,
How Big is VoIP Market?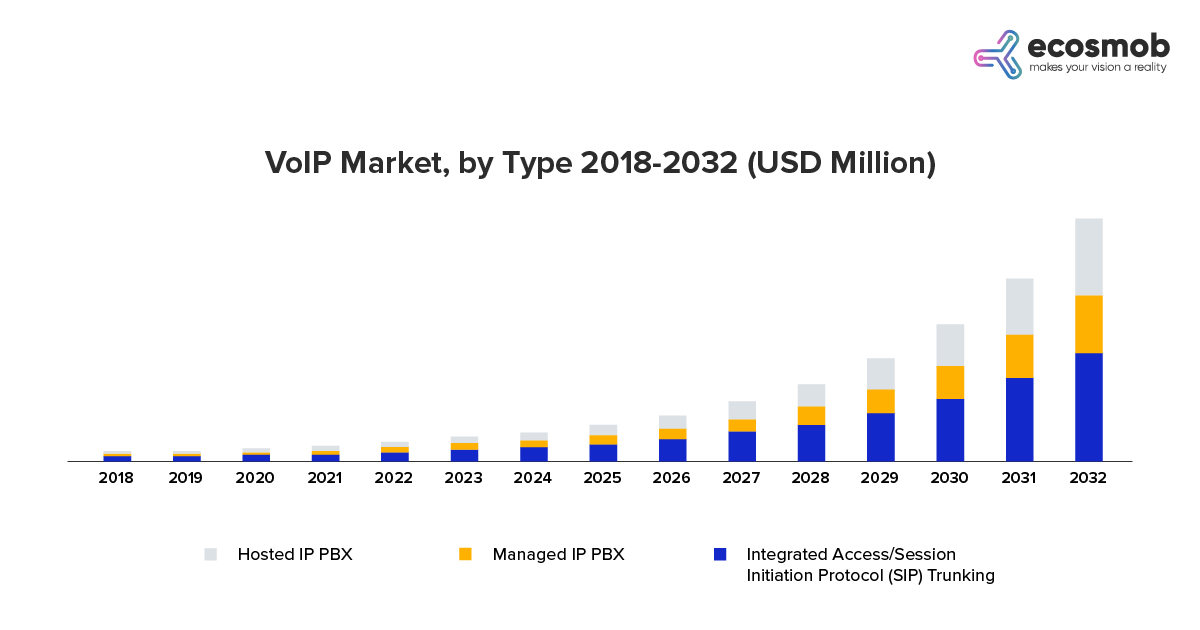 The VoIP market size surpassed USD 40 billion in 2022. It is expected to register a 10% CAGR from 2023 to 2032, owing to introducing a 5G network to provide faster internet speeds and more reliable connections (Data Source: The Global Market Insights).  With so much potential in the VoIP industry, you would not like to miss the boat. There are also numerous exciting Top VoIP trends to watch in 2023 that you should incorporate into your business after selecting the right solution provider.
What are the Different Types of VoIP Providers?
Coming to types of VoIP providers, it is essential to note that the VoIP market jargon can be confusing if you are in the early stages of research. Hence, the primary step to choosing the best VoIP solution provider company is to familiarize yourself with VoIP market acronyms and popular jargon. For instance, many large companies in the market offer VoIP solutions. They can be categorized into three types:
1) VoIP-Only Providers
VoIP solution providers focus only on providing telephony functions, including essential features like voice mail, call forwarding, and caller ID. Functions like call management are usually not included in this. These business VoIP providers are an excellent fit for companies looking ONLY for phone-calling functionalities.
2) VoIP with Cloud Phone System Providers
These business VoIP providers leverage the cloud by integrating VoIP with cloud PBX technology. These are cloud-based phone systems with VoIP at the core of their telephony component, along with the advanced routing capabilities of a hosted PBX. Apart from the basic calling features, these providers offer business call management features like auto attendance, virtual extensions, and answering rules.
3) VoIP with Unified Communication Solution Providers
These VoIP solution providers are similar to VoIP with cloud phone system providers but with some additional advanced tools. For instance, VoIP, cloud PBX, online meetings, and team messaging into a unified platform. It provides businesses with a unified communications hub instead of using different tools.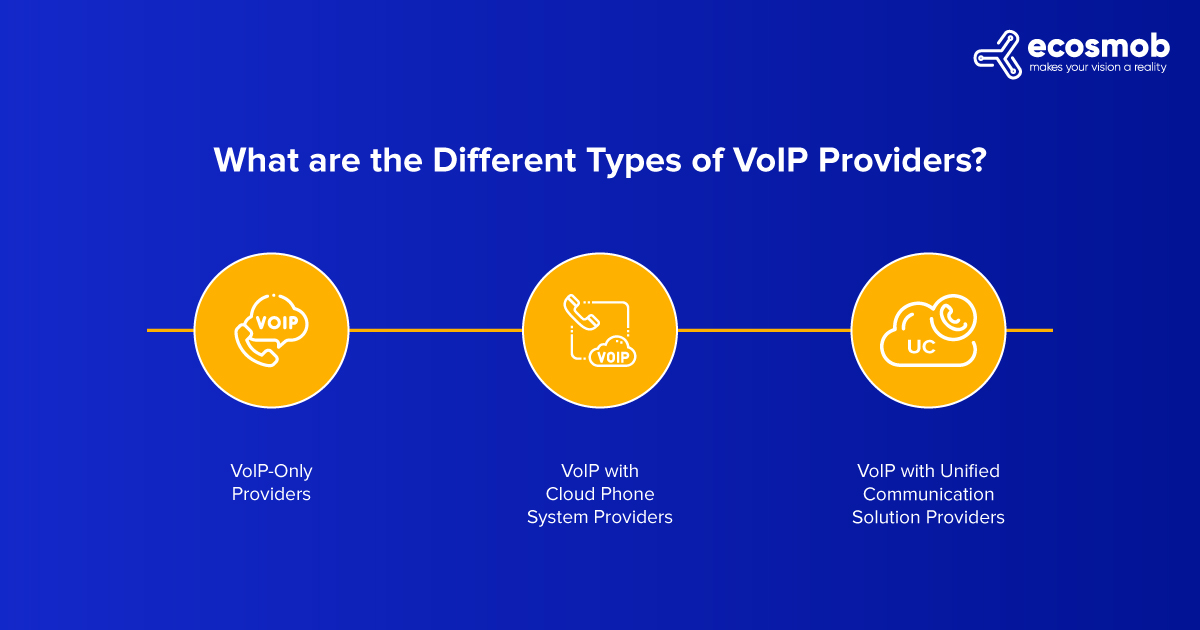 Now that you understand the different types of VoIP providers, let's move to the next step.
Top 10 Key Factors to Consider While Choosing a VoIP Solution Provider
If you are trying to decide what to look for while zeroing in VoIP solution provider, here is a list of imperatives you need to focus on.
1) Know your business communication needs
Analyze your business needs. Before picking out a VoIP solution provider, it is crucial to understand your communication needs. Ask yourself these questions to create a blueprint of your actual business requirements-
What kind of phone number does your business need? Is it a toll-free number, an International or local number, or a combination of all three?
Does your business have multiple locations?
Do you have remote workers?
Does your team communicate a lot?
Do you want your communication platform to be integrated with business tools?
Do you receive lots of inbound calls or make outbound calls?
Once you are clear about your operational needs, the search for the right VoIP solution provider for your business becomes much more precise and manageable.
2) Features To Consider
VoIP solution offers a plethora of features at a minimal cost. Ensure your business VoIP provider has a comprehensive capsule of valuable features necessary for your business communication needs. For instance,
Call forwarding
Auto-attendant
Voice mail and call transcription
Team conferencing
Call barging
Do Not Disturb Mode
Multi-device call routing
VoIP Interactive Voice Responses (IVR)
Call queuing for call centres.
Call reports
You can easily streamline your day-to-day business communication with features like these in your VoIP solution kit. VoIP features make it easy for managers and employees to track and receive real-time analysis of every call made and accepted. It, in turn, makes it easier to get insights for systematic business performance analysis. Confirm with your VoIP solution provider the extra charges for upgrades or new features.
Suggested by Author: A Complete Guide to VoIP Billing System
3) How is the Call Quality?
The quality of audio and video provided by your VoIP provider play a significant role in determining customer experience. Ensuring superior call quality depends on several factors, such as
Internet speed
Quality of service configuration
Provider's voice codecs
Protocol system used for your service
Some Business VoIP Providers focus on calling speed to prevent call lags, while others ensure better audio quality, preventing drops, missed words, echoes, and line disturbances. While clarity of call ensures a better understanding of your customer's problems, proper call syncing ensures a quick response. Both factors affect customer experience, so you must choose a VoIP provider who can strike a balance between the quality and speed of calls.
4) Check Compatibility with Hardware and Platforms
Business VoIP providers use specific hardware and platforms to make calls through internet-enabled devices. While the choice of hardware and platform options depends solely on the VoIP provider, it is always better to choose a VoIP provider that uses hardware and platform options that best suit your business requirements. If you need expert advice on all queries regarding platform compatibility, feel free to discuss them with us.
5) Cost-Efficiency
Business VoIP was initially introduced as an alternative to traditional phone services. Today, VoIP system offers greater competitive and economic benefits and streamlined communication and collaboration. As a result, many global companies are adopting VoIP technology. The investment in VoIP can become a part of a comprehensive digital transformation strategy. Also, implementing VoIP can substantially impact an organization's overall revenue and profitability. Make sure to discuss VoIP packages with your provider. To achieve the optimum cost-efficiency, consider consulting these-
Installation and setup fee
Feature up-gradation
International and local phone costs
Staff training and support fee
Maintenance charges
While price should not be a determining factor when choosing a VoIP provider, check the features offered to get the best deal.
6) Is your VoIP Solution Secure?
When partnering with a hosted VoIP provider, usually their technical team handles your system security. It makes security a prime concern when picking a suitable VoIP provider, mainly when dealing with client data. Invest in a trusted VoIP Solution provider that implements strict security protocols. The provider should be well versed in VoIP Security: Threats and Remedies.
Some of the top security measures and practices that your VoIP providers must have on their list include-
Regular data center audits
Support of multi-factor authentication
Secure account management and administration
Reliable and secure networks
7) Does it provide Scalability?
As the business grows, you think of improving its Scalability. Therefore, while choosing a VoIP solution provider, check if it offers support for Scalability. Invest in a VoIP system that provides the flexibility to cater to additional users. Most VoIP business solutions today are highly scalable, with service providers allowing users to add new functionalities and modules at a minimal cost. Nevertheless, discussing Scalability with your provider is always better to ensure that your communication framework can expand seamlessly as your business grows.
8) Do they provide Customer Service?
Excellent customer service lies at the core of any well-oiled VoIP communication system. If your enterprise has business operations across the globe, you will have round-the-clock communication needs. You must partner with a provider who can guarantee that your queries will be answered promptly. Most VoIP providers offer technical support free of cost so that you do not need to spend extra money whenever any issue arises. You must ensure the agreement terms for customer service are mentioned in the Service Level Agreement to avoid conflicts later.
9) Check Online Reviews and Reputation
If you have already shortlisted a business VoIP provider, go through their online reviews to know more about their service quality. You may also check the number of subscribers to know how many companies have worked with the provider. If you find a top brand endorsing the solution provider, treat it as a good sign. It shows you that you have chosen a reliable VoIP solution provider, as brands only support providers once they have fetched high ROI from the service.
10) Collaboration Features
Business VoIP solutions providers offer integration options with other operations of your business, such as CRM software, email marketing, and other APIs. These third-party integrations enable you to streamline business operations and promote efficiency. As most companies are moving towards cloud ecosystems, you may opt for cloud services as an essential collaboration feature to make your business future-ready.
Also Read:  Top 10 Tips to Choose the Best VoIP Solutions for Small Businesses in 2023
Conclusion
Some of the intrinsic qualities include maximum security, an excellent bandwidth to generate traffic, cost-effectiveness, and reliability. Enterprises must look for these qualities while choosing a VoIP solution provider. Businesses must follow strict quality protocols while choosing a VoIP provider that suits their business like a hand in a glove.