What is Unified Communications?
Unified Communications (UC) refers to a phone system that unifies several communication methods within a business. It combines all the ways of communication, including video conferencing, phone calls, SMS, email, instant messaging, and fax. UcaaS Solution provides a single communication platform for enterprises to improve collaboration and communication between the internal staff and clients.
Unified Communications promotes live, flexible, and cost-efficient communication. Its message-centric workflows through hardware and software platforms allow a hassle-free communication process for an organization. Besides, the functionality of UC, such as omnichannel communication, encrypted interactions, real-time telecommunication, etc., is essential in empowering organizational communication.
Features Of Unified Communications
UCaaS solutions expedite the smooth integration of Real-Time Communication (RTC), like VoIP and asynchronous communication. The Real-time features of Unified Communication Solutions boost workforce productivity. Any business switching to UC and adopting collaboration tools for annotating and real-time file sharing is significant to enable remote work.
A study by Statista says the global Unified Communications and Collaboration market is to reach USD 48.3 billion by 2023. Successful digital transformation is always far-sighted. It acknowledges the glaring business requirements and scope of improvement. UC Solution Providers like Ecosmob Technologies work with similar long-term visions while providing business phone systems.
It indicates abundant agile UcaaS features.
Web-Based User Interface – UCaaS services provide an opportunity to control unlimited calls from web browsers. This feature allows users to customize voice mails, phone settings, and more using web browsers.
Mobility: The mobility feature in the UC solution assists businesses in staying connected irrespective of their location. They can receive and make calls and chat with each other using an office extension. Unified communications are easily accessible as a service anytime from anywhere.
Unified Messaging – Unified Communications systems offer the unified messaging feature to allow users to switch communication modes when they need and manage several types of messages from one application.
Conferencing – Businesses can involve in video and audio conferencing using Unified Communications Solutions and connect to their team anywhere. It makes real-time communication a reality.
Collaboration – Unified Communications enhance employee collaboration and make it more flexible. It incorporates messaging, video calling, phones, email, and compatibility with other services under one roof. In addition to video conferencing, UC systems provide screen-sharing and instant document-sharing that enhance cross-enterprise collaboration by enabling employees to access and discuss documents in real-time.
What Are The Challenges Of Unified Communications?
Enterprise Unified Communications provide a platform for seamless communication and collaboration. It improves coordination in business resulting in happier employees and satisfied clients. However, in this process of implementing a highly beneficial  UC solution with many benefits, there are also some challenges. Detecting and solving these challenges is essential to making the UC solution work smoothly. With the right approach and an eye for detail, it is easy to overcome these challenges.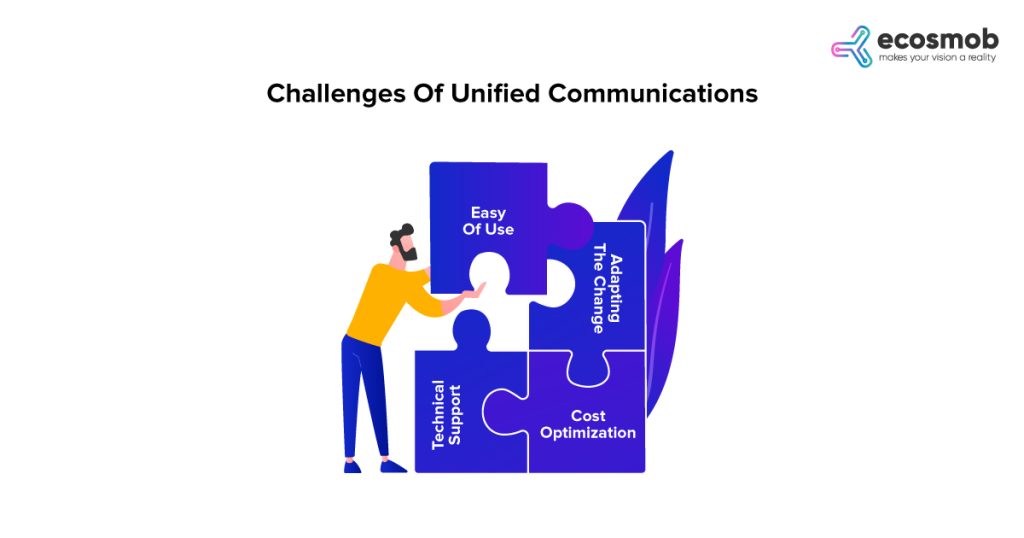 Today, in the era of hybrid work mode, one-to-one or large group meetings must be accommodated with different devices and locations while offering a seamless, high-quality communication platform for voice, video, and data sharing. With the high-end set of services, ease of use is one of the challenges which is non-negotiable. A UCaaS solution must be straightforward to use for every user to render its real value and productivity.
If you are currently operating on a PSTN line or ISDN network for business communication, it may look very inconvenient at the beginning to switch to a new communication platform. Understanding the scope and plethora of benefits that come with UCaas solution works as a source of motivation to step out of old PSTN and ISDN.
Cloud-enabled VoIP lets you connect from anywhere, irrespective of your location, with the same number.
Cost optimization is of the significant benefits of adopting enterprise-unified communications. VoIP Unified Communications reduces overall telecom expenditure and improves business effectiveness. Choose your Unified Communications Solution Provider wisely, as a wrong decision can cause spiraling costs due to multiple rollbacks and re-dos.
UCaaS is a core of the business, just like CRM and ERP. Switching to a UC solution requires an in-depth evaluation of all the pros and cons to aid the transition. Additionally, interoperability and flexibility with other enterprise systems are also significantly important. It is one of the Unified Communication challenges to get all the technical elements right and covered.
Benefits Of Unified Communications
VoIP Unified Communication gives many competitive advantages to businesses by reducing the usage of independent platforms, tools, and communication solutions. Some of the best benefits of the UC solution include the following-
Reduced Costs: Unified Communication Solution development works on cloud technology, allowing businesses to shift to an OPEX strategy from a CapEx model with a lesser initial cost.
High Customer Satisfaction: Unified Communications offers a wide range of services over a single-window platform. It speeds up communication, reduces response time, and results in higher customer satisfaction. When deliverables are on time, it automatically adds value to the credibility and reputation of the company.
Data Storage: Data storage is one main concern amongst businesses. Earlier, it required a massive infrastructure for storing data. However, with the advent of enterprise-Unified Communications, cloud data seems like a savior. Unified Communication solutions can consolidate all data and business communication from many platforms by harnessing the power of cloud technology. It helps employees to access and utilize the data to meet project deadlines or better respond to customer inquiries.
Better Productivity: About 52% of corporate employees saw unfavorable financial results due to poor communication, including lost revenue and a negative company reputation. It allows teams to connect and communicate effectively from any location which is a crucial driver for productivity. It helps companies to promote customer services and expand business growth quickly.
Saves Time: UC systems allow remote workers to access various communication tools that speed up workflow and reduce turnaround time. It promotes instant connectivity by providing Flexibility regarding where, when, and how business communications happen. With the UC development solutions, you will no longer be limited by the silo of being present in the office all the time. UCaaS services like video conferencing and messaging save travel time and cost. You can quickly establish end-to-end communication in just a click.
Better Flexibility: VoIP Unified Communication offers organizations more flexibility than regular PSTN or ISDN lines. Additionally, you can instantly customize the number of channels or users using your Unified Communication as a service.
Enhanced User Experience: UC solution allows employees to work as per their choice, making work more engaging.
Excellent Reliability: Top Unified Communication Solution Provider companies, like Ecosmob Technologies, offer superior reliability with their VoIP unified communication. There is no downtime due to top-notch data centers and cloud access. If one tool goes down, another is programmed to kick up.
Proactive Collaboration: UC Communication Development Solution is the point where operations, strategy, and production blend. The superior suite of tools enables all stakeholders to collaborate in real time. Companies can respond quicker to environmental and competitive settings. It also indicates the valuable opportunities that may have transpired unnoticed: instant access and a fast problem-solving approach.
Confused about making a decision to choose the best UCaaS providers? Explore the top 11 best UCaaS providers list.

Key Takeaways of Unified Communications for Business Owners
Undoubtedly, Unified Communications as a service is a win-win business solution to possess. Here are the key benefits of UCaaS exclusively for Business owners.
Confluence Channels
Engaging a UC development services company to modify existing platforms or custom design benefits confluence communication channels. The integration gives employees a single dashboard view and access to these channels in addition to the usual ones like email, voice, SMS, and fax. It saves time since they can view activities, dive in, and respond or proactively communicate with customers and each other. It offers ease of use and less stress translating to productivity gains.
Integrated CRM
Employees across various locations would find it a bottleneck to be deprived of access to vital customer data when interacting with customers. This need not be the case. The UC solution integrates into your CRM; even remotely located employees can access customer data from their computers and smartphones. They can complete transactions to lead to customer satisfaction quickly and efficiently. This gives a sense of achievement, pride, and positive motivation leading to more productivity for your business. Plus, everything goes on the record.
Easy Management, Control, And Administration
No system or method is perfect. You can continually improve it with centralized administration, monitoring, and control. It is what UC gives you; decentralized communication capability with centralized monitoring. If there is any glitch, you can detect it and take action in time to ensure workflows proceed smoothly. Analytics can identify pain points and weed out practices that impede productivity.
Ecosmob offers a Custom Unified Communication Solution as part of its UC development services. You can get one developed from scratch with just the modules you need. If you have an existing UC that needs to be tweaked, upgraded, or enhanced, our team will be happy to carry out the mods and realign your UC to bring operational and productivity gains to the changed way of working.
Related Read: Impact of AI On Unified Communication

Conclusion
We are at the juncture of technological advancements and innovations that lead the way to future business needs. Thus, walking with the best UC solution Provider partner is imperative to make the most out of Unified Communications Solutions.
Ecosmob Technologies offers bespoke UC solutions tailored to suit your business and technique of working. Our agile approach and flexible development solutions best match the Business Communication Solution requirements. From encrypted communication to cloud-enabled platforms, we take care of all the essential factors for Unified Communication. Connect with us at sales@ecosmob.com to learn more about how we develop and deliver Unified Communication solutions.