Robust Enterprise VoIP Solutions
Ecosmob offers a complete suite of enterprise VoIP solutions to deliver robust security, compliance, and privacy to today's businesses. Using cutting-edge VoIP technology, we provide customized enterprise VoIP phone systems to ensure better connectivity and supreme call quality.
Hey There!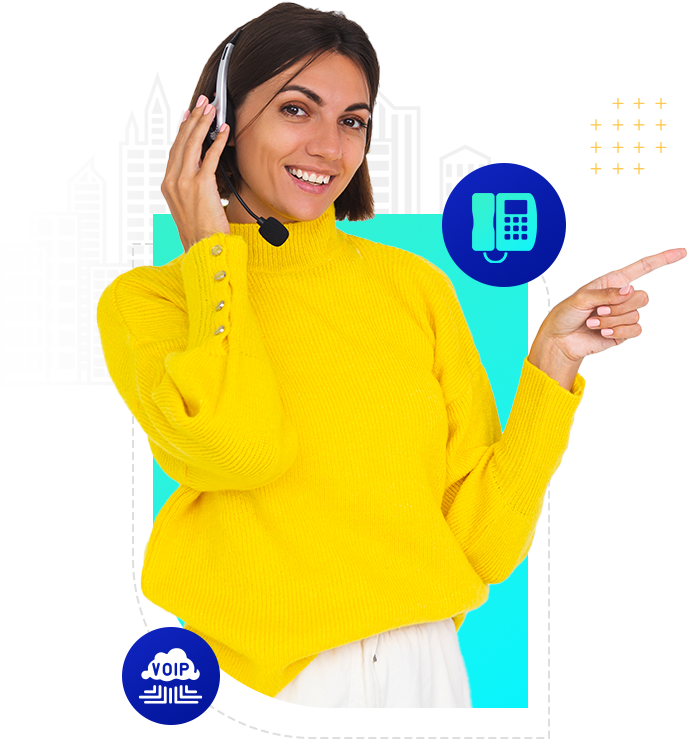 Enterprise VoIP, also known as "Voice over Internet Protocol" or "Voice over IP") is a telephony technology that allows users to stay connected through phone calls and conference calls. This has made enterprise business VoIP systems more popular as compared to traditional on-premises PBX systems. Not only does business VoIP come with expected functionalities like built-in call routing, but it is also a more flexible and cost-efficient alternative to old legacy systems.
Most medium to large businesses employ enterprise telephony solutions to reduce costs and increase their bottom line. For distributed teams, enterprise VoIP solutions act as a reliable, scalable, and cost-efficient way to stay connected via internet-enabled calls, messages, and video conferencing.
Enterprise VoIP System Features
Ecosmob helps businesses build telephony solutions for web conferencing, UCaaS, and many more.
Some of the key offerings with enterprise telephony solutions include-
Starting from project kickoff to UAT and development, we follow a standard process for enterprise business VoIP development
with certain strategies to address the specific requirements of our clients.

Project Kickoff
Discovery & Analysis

Architecture Design
Development

UAT & Development
We help businesses streamline their internal and external communications,
leveraging the power of VoIP technologies at reduced costs.
Benefits of Adopting VoIP Enterprise Telephony Solutions
VoIP technology is less expensive, easy to deploy, and significantly much easier to maintain as compared to traditional landline systems. If you are considering making a switch to an Enterprise VoIP phone system, you can reap several benefits-
Unlike traditional phone systems, business VoIP provides a substantial level of flexibility in terms of pricing structure.

It helps in improving customer service in several ways like reduced wait times, voicemails, live call monitoring, call data analysis, etc. 

Enterprise VoIP is highly beneficial for financial institutions like banking and finance companies. It allows them to manage several office locations from a single location using virtual extensions. 

Businesses in other sectors can also benefit from using enterprise telephony solutions. They can use features like call recording, call monitoring, and others to improve agents' performance and customer experience.
Why Choose Ecosmob as Your Enterprise VoIP Partner
Our strong sense of identification digs in-depth into your requirements and delivers resonating solutions.
We aim for turnkey solutions built from scratch.
We are a leading VoIP solutions provider with several awards under our belt.
With over a decade of experience, we know technology thoroughly and have a team of VoIP solutions experts.
Our model includes cost-effective, high-quality solutions that stand in the top echelon of similar apps.
Ecosmob believes in delivering projects on time and is highly punctual and professional.