Attain Desired

Business Results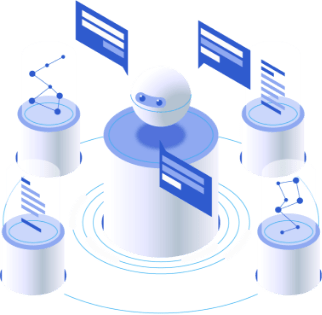 Automate & reduce operating costs with AI & ML by replacing the manual tasks, ultimately enhancing the human capabilities. This enhancement will be a remarkable transformation for the businesses, helping them significantly improve while retaining customers and increasing revenues.
Our expert programmers can help you unleash the hidden value of Big Data by offering a blend of business astuteness and machine learning. In today's technology-driven era, the data influx from countless sources like websites, mobile applications, IoT and wearable devices, sensors, enterprise logs, and the like has paved the way for the 'Big Data' revolution.
Ou

r wealth of knowledge can Benefit Your Business
We are a team of developers holding expertise in simulating technology in solutions for automating tasks.
With us, you can take your business to the next level with derived efficiency by smart tech. At Ecosmob, we help you with
Advanced machine-learning solutions along with amazing data mining techniques.

Top-notch conversational technology with chatbots, digital assistants, and robotic process automation.

Reduction in human errors.
Solving challenges with image recognition, natural language processing & speech recognition.

Development of chatbots for various platforms.

Prevention of data and fast data-driven decisions.