VoIP is a modern communication technology that has greatly revolutionized business communication. Compared to traditional phone service, VoIP is less expensive. Moreover, it comes with assorted features to accommodate the unique needs of its users.
At present, there are numerous business VoIP providers available in the market, claiming to be the best VoIP service providers for business needs. However, when it comes to choosing the one, it may become difficult for you to make an informed decision.
If you are searching for the top VoIP solution provider in the USA and various other countries, then you have arrived at the right place. Keep reading this blog to narrow down your search for the best VoIP service providers and choose the right one for your specific business needs.
What is VoIP?
VoIP (Voice Over Internet Protocol) is an advanced technology that converts voice signals into data packets and transmits them to the receiver.
Other than offering advanced communication services, VoIP comes with various attractive features. Some of these features include call forwarding, call routing, autodialer, third-party integration tools, and more. In general, all these features help businesses in achieving better productivity and efficiency.
If you are looking for the best VoIP service provider, then here in this blog you can explore some of the top players in the VoIP industry. Before jumping onto the list of companies that provide VoIP service, let's understand what exactly VoIP service providers are.
Who are VoIP Service Providers?
VoIP service providers are simply agents or companies that offer custom VoIP software development services. Basically, they provide all the required software technology, equipment, and VoIP devices as per their client's specific business needs. Most voice-over IP service providers offer their services to both commercial and residential customers.
List of Top VoIP Service Providers
Here are the 11 best voice-over IP service providers. (not necessarily in order of excellence). You can compare the best VoIP provider services and choose the one that best suits your specific VoIP needs.
1) Ecosmob
Ecosmob is one of the leading VoIP solution development services providers that offer customizable, reliable, and scalable VoIP solutions. It uses various advanced technologies such as FreeSwitch, Kamailio, Opensips, Asterisk, and more to help businesses build quality telephony solutions for web conferencing, UCaaS, and more.
With extensive expertise in Open Source telephony development, Ecosmob provides innovative VoIP services that can be customized to meet precise business requirements.

Different types of VoIP solutions and features offered at Ecosmob include:
Session Border Controller
Hosted PBX Solutions
Wholesale VoIP Switch/Class 4 Softswitch
Retail VoIP Switch/Class 5 Softswitch
Unified Communication Platform
Dynamic IVR Solution
Voice/SMS Broadcasting Solution
MVNO Solution
Contact Center/Call Center
Audio/Video Conference Solution
Fax over IP
Telepresence
Being an experienced VoIP solutions provider, the developers at Ecosmob can design and develop an array of customized business communication apps as per the user's requirements. Moreover, all their solutions are user-friendly and cost-effective.
2) RingCentral
RingCentral is one of the most popular providers of VoIP services. It offers high-quality VoIP phone service anywhere. Users just need to have internet access. It provides different solutions for enterprises, small businesses, as well as startups.
Besides, all the plans available at RingCentral comprise various attractive and advanced features. Even their introductory plan has features like access to the mobile application, voicemail capabilities, and toll-free numbers.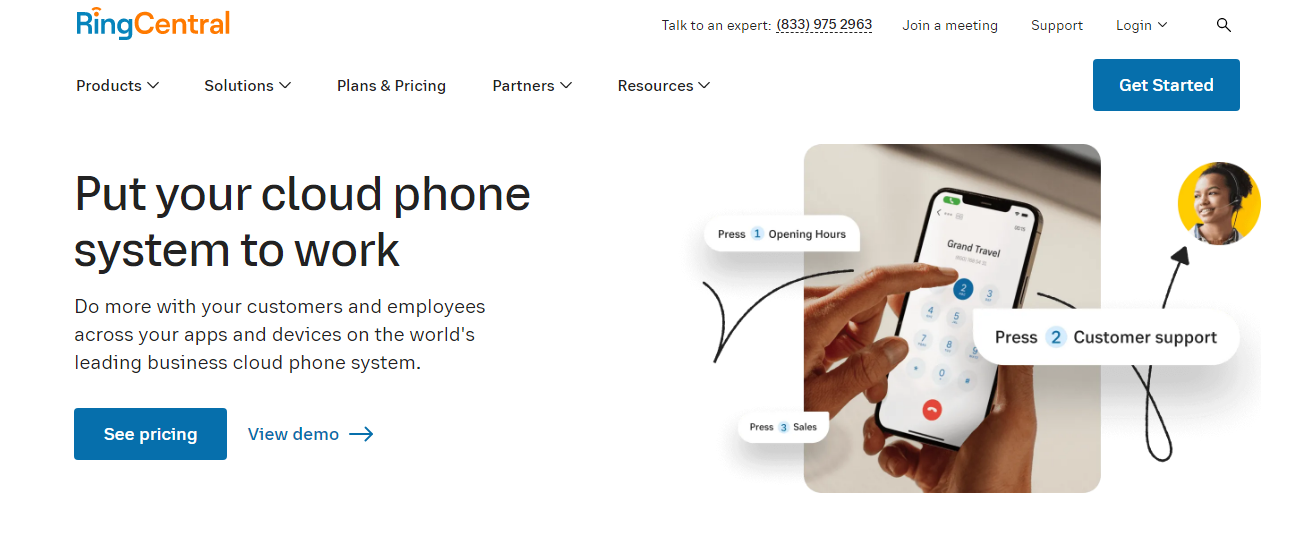 Different types of VoIP solutions and features offered at RingCentral include:
Internet fax and voice, text
Videoconferencing
Multi-level auto attendant
Cloud-based hosted PBX system
Advanced call routing functionality
Call forwarding
Alerts for missed calls, SMS, voicemail, and online faxing.
RingCentral offers unlimited calls within the US and Canada. Apart from this, they provide robust mobile applications for both iOS and Android operating systems. Overall, the users will find all the essential features and functionalities that they are looking for in a particular solution.
3) Nextiva
Nextiva is a well-renowned name in the list of VoIP providers in the USA. It provides a range of solutions designed for different sizes of companies. Primarily, the company offers solutions for essential, professional, and enterprise customers.
The communication solutions offered by Nextiva are HIPAA-compliant. Besides, it secures its VoIP phone service using Transport Layer Security (TLS) and Secure Real-Time Transport Protocol (SRTP) encryption to avert third-party interception of calls.
Different types of VoIP solutions and features offered at Nextiva include:
HD VoIP Phone Service
Unlimited Business Text Messaging
Unlimited Online Faxing
Advanced Call Routing
Conference Bridge
VoIP Caller ID
Text messaging
Auto attendant
Voicemail to email
Call queuing
Unlimited calling, etc.
Users can enjoy unlimited calling within the US and Canada by using the VoIP solutions offered by Nextiva. Another interesting thing about Nextiva's offerings is that the video calling feature is available with all their plans.
4) Ooma 
When searching for the best VoIP companies for small businesses, Ooma is amongst the top-notch names. Companies with low budgets can find attractive VoIP packages at Ooma. Though it doesn't include more advanced features, it still has everything for businesses that are looking for an easy-to-use VoIP solution.
The basic package provided by Ooma includes a virtual receptionist, voicemail, call forwarding, and call logging. Additionally, the users can have access to both desktop and mobile applications for better connectivity.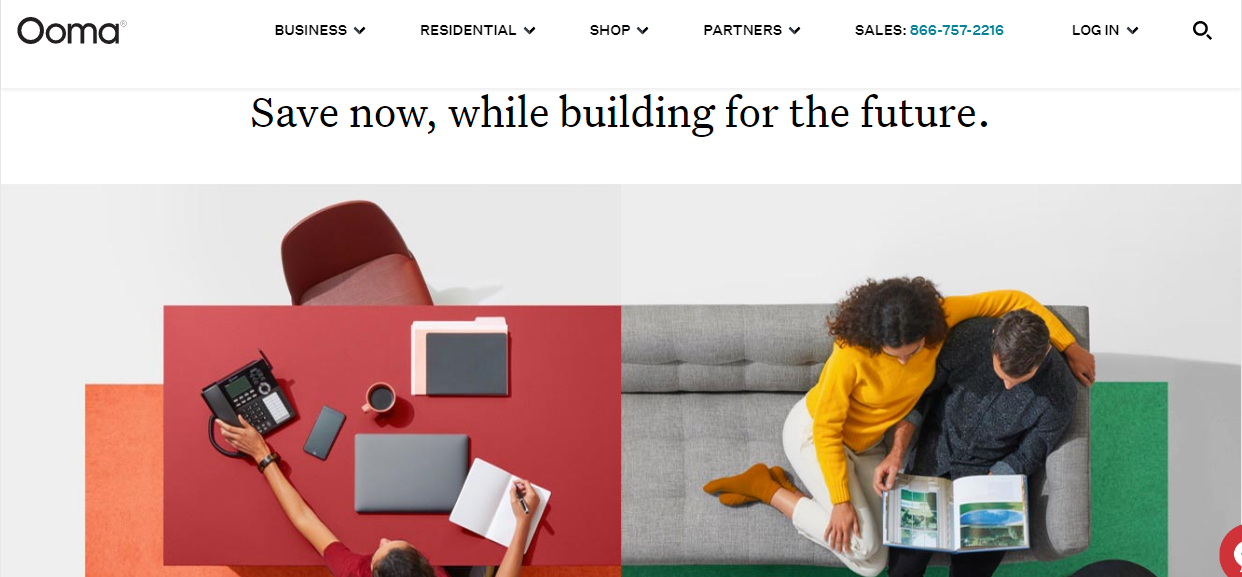 Different types of VoIP solutions and features offered at Ooma include:
Voicemail to email transcription
Call monitoring
Toll-free options
SMS messaging,
Software phone
Ring groups
Video conferencing, etc.
Ooma is undoubtedly one of the best choices for small businesses that are searching for easy-to-use and cost-effective VoIP solutions. All the solutions offered by Ooma are user-friendly and no fixed contract is required to use their services.
5) 8×8
Another best VoIP phone service provider that provides excellent features at a reasonable price is 8×8. It offers different packages like Express (Basic communications package for small businesses), X2 (All-in-one voice, video and chat for larger teams), and X4 (Advanced call handling and analytics), based on user's needs.
The basic package at 8×8 comes with voice calling, video calling, unlimited messaging, multi-level auto-attendant, and high-level support.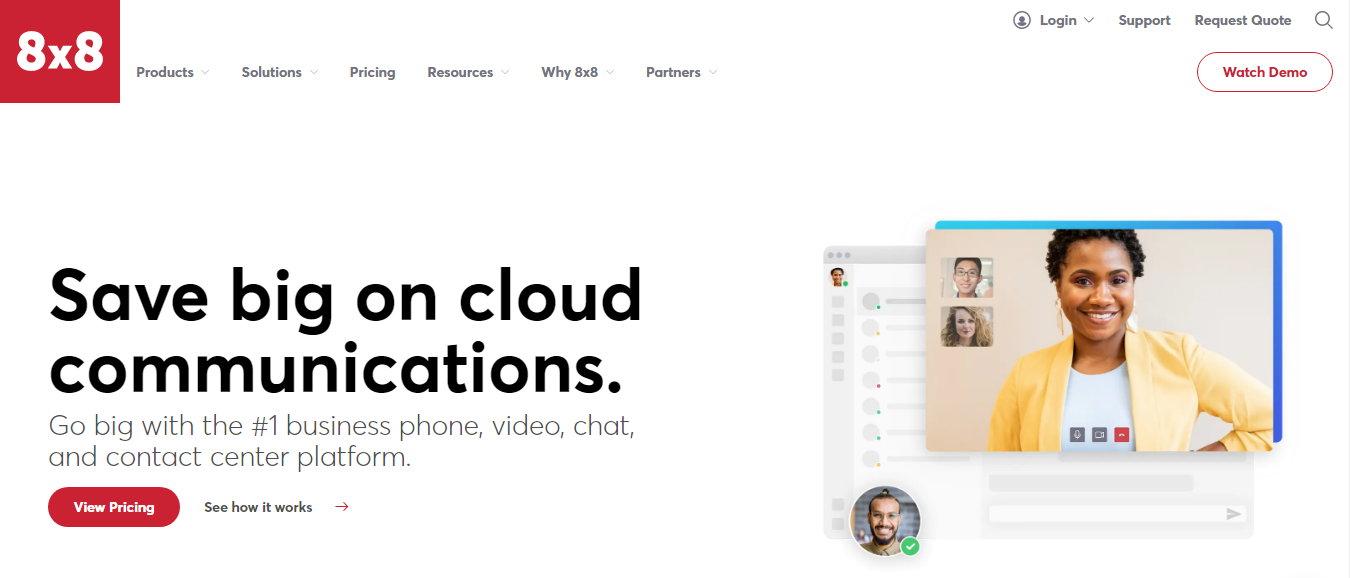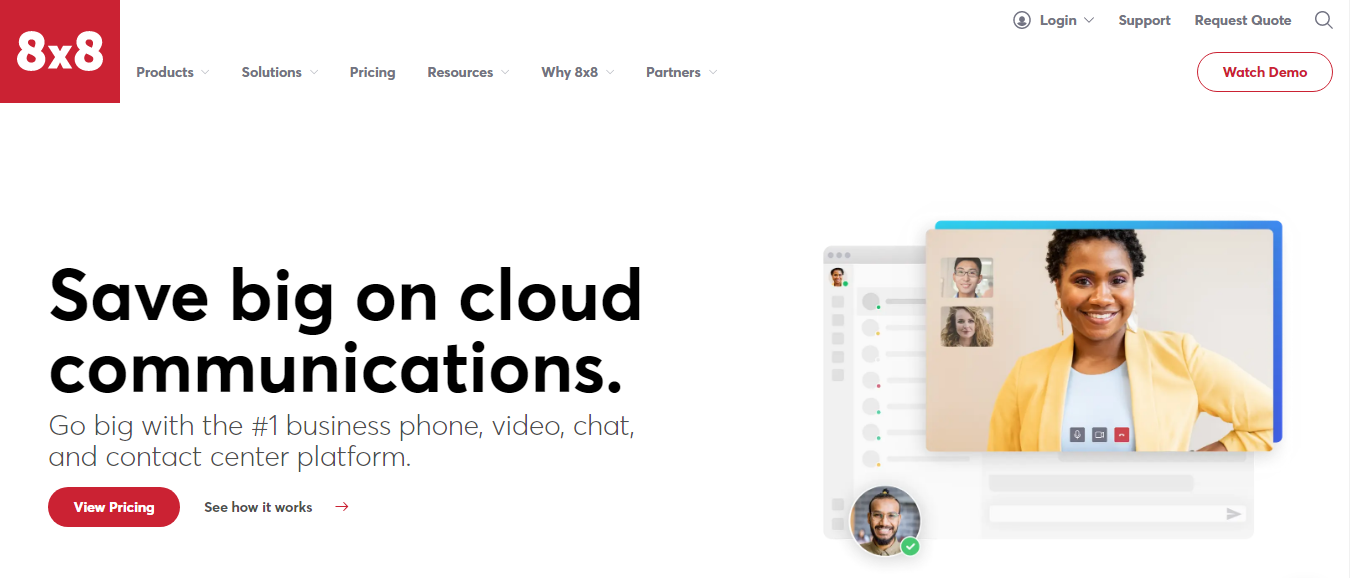 Different types of VoIP solutions and features offered at 8×8 include:
Visual voicemail
Auto attendant
Video conferencing
Business SMS
Team messaging
Built-in contact center with AI-powered workflows
Local and toll-free numbers
Call management
SMS messaging and group chat
Analytics
Integrations
8×8 ensures easy and quick system setup. Users can get an array of features that they require for smooth management of their business communications.
6) DialPad
Another popular name in the list of top VoIP companies in the USA and other parts of the world is DialPad. This wireless business phone system is an excellent choice for businesses with distributed teams and customers around the globe.
It provides various packages like Standard, Pro, and Enterprise to meet different business requirements. In fact, its Standard package comes with various attractive features. Some of these features include unlimited calling, SMS, & MMS, Ai-powered call and voicemail transcriptions, Google Workspace & Microsoft 365 integrations, Unlimited video meetings, and Web and chat support.

Different types of VoIP solutions and features offered at DialPad include:
Unlimited calling
HD call quality
Unlimited SMS and MMS
Call forwarding
Call recording
Call routing
Voicemail transcription
Custom voicemail greetings
Voice Intelligence
Integrations with third-party services like Microsoft Office 365, Slack, and Google Workspace.
DialPad offers unlimited calling. It uses voice intelligence technology to ensure efficient and smooth communication. Besides, the solutions offered by DialPad can be integrated with various popular systems such as Google Workspace and Slack.
7) Vonage
Another key pioneer of VoIP services is Vonage. It provides outstanding VoIP solutions for both residential and business needs (small to medium businesses). Moreover, businesses can opt for different plans at Vonage as per their requirements and the number of employees. These plans include Basic, Premium, and Advanced plans.
Vonage offers a wide range of features that can be customized to suit individual needs. Besides, it comes with an AI-based virtual assistant that understands voice.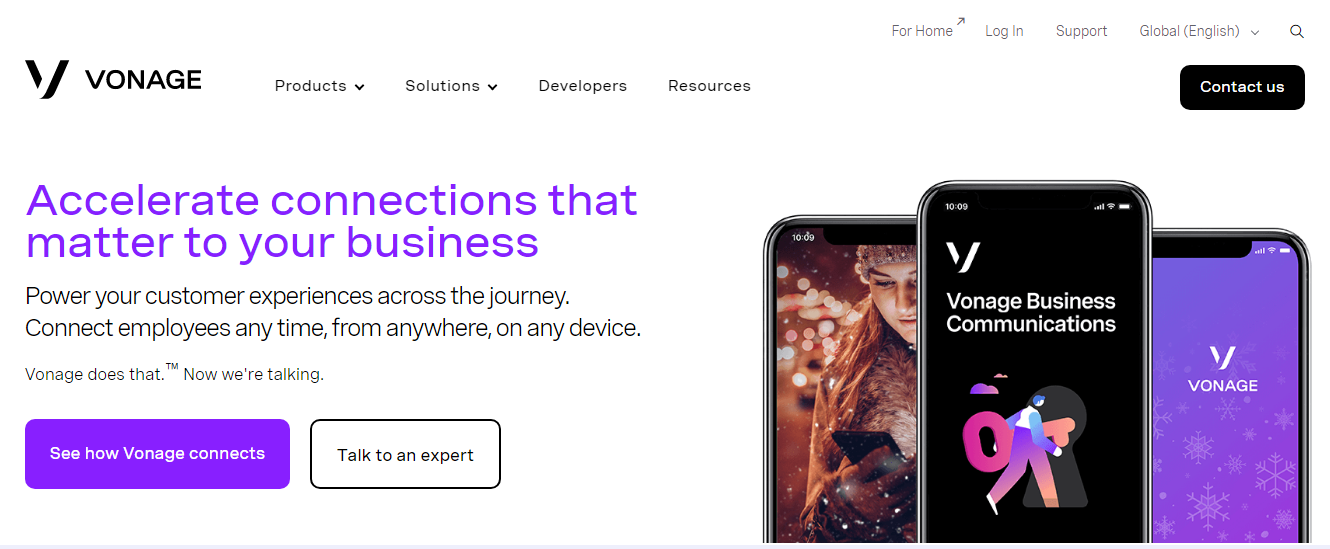 Different types of VoIP solutions and features offered at Vonage include:
Toll-free numbers
Vonage Support PLUS
Call recording
Visual voicemail
Mobile and desktop apps
Admin portal
Vonage meetings
Business Inbox, etc.
Users can find an array of call routing options at Vonage. It also provides applications for both mobile and desktop systems. Moreover, you will get easy customization options with communications APIs.
8) Mitel
Mitel is another popular VoIP service provider that offers advanced VoIP solutions for better communication and collaboration capability. Being a leading provider of cloud-based telephony solutions, Mitel offers various plans (from lowest to higher-tier plans) to suit different users' requirements.
The app offered by Mitel works smoothly on PC, Android, as well as iOS devices, allowing users to stay plugged in no matter where they are.

Different types of VoIP solutions and features offered at Mitel include:
HD-quality voice
Video conferencing
Email-to-voice
Presence tracing
CRM integration
Mobile-first technology
Cloud scalability, and more
Even the lowest tier plan available at Mitel provides video conferences with 100 users. Users can enjoy unlimited minutes per month. Additionally, they provide applications for Android, iOS, and PC.
9) Grasshopper
Grasshopper is also amongst the best VoIP providers for small businesses. It provides different plans based on the number of phone lines and extensions required by the users. With its basic plan, it offers one phone number and three extensions. As the plan scales, users get five lines and an unlimited number of extensions.
Moreover, it lets users record personalized messages to help their customers reach the right extension for any kind of help.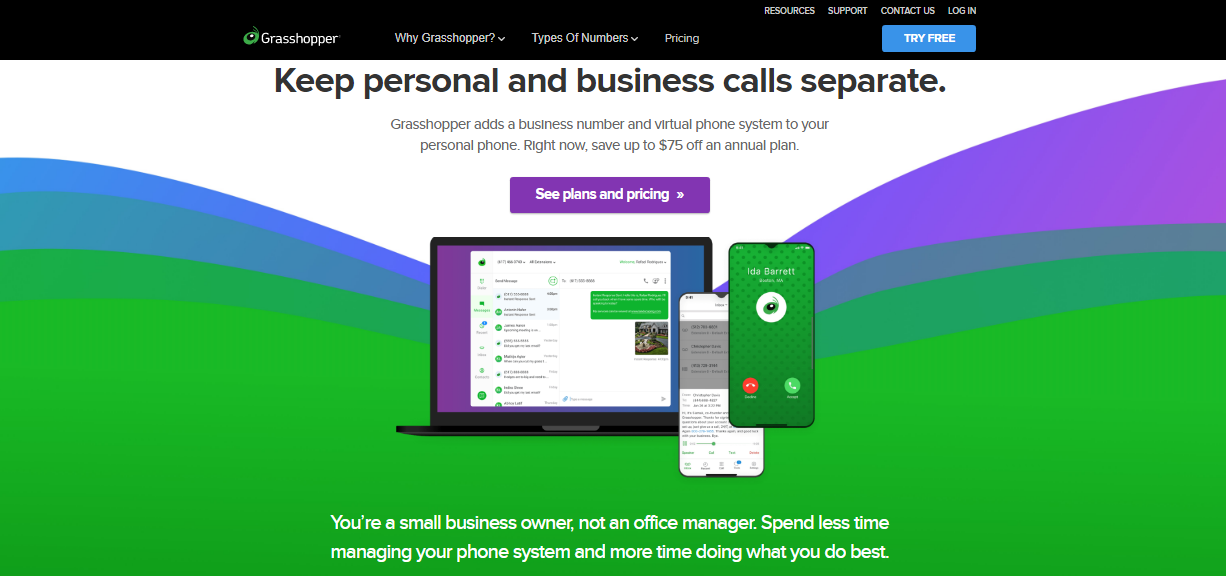 Different types of VoIP solutions and features offered at Grasshopper include:
Voicemail transcription
Call-forwarding
Mobile and desktop apps
Simultaneous Call Handling
Custom Greetings
Reporting
Ruby Receptionist
Business Texting
VoIP/Wi-Fi Calling
Virtual Fax
Instant Response, and more.
Grasshopper provides 7 days' free trial option for first time users. Additionally, it offers various features to suit different business requirements. Also, their apps are available for both mobile and desktop systems.
10) CallHippo
CallHippo is another popular VoIP service provider that allows businesses to communicate with their customers across the globe. The company claims that users can set up their account in less than 3 minutes from anywhere in the world.
This business phone system can be integrated with various popular CRMs such as Zoho, HubSpot, and PipeDrive, and productivity tools like Slack and Intercom.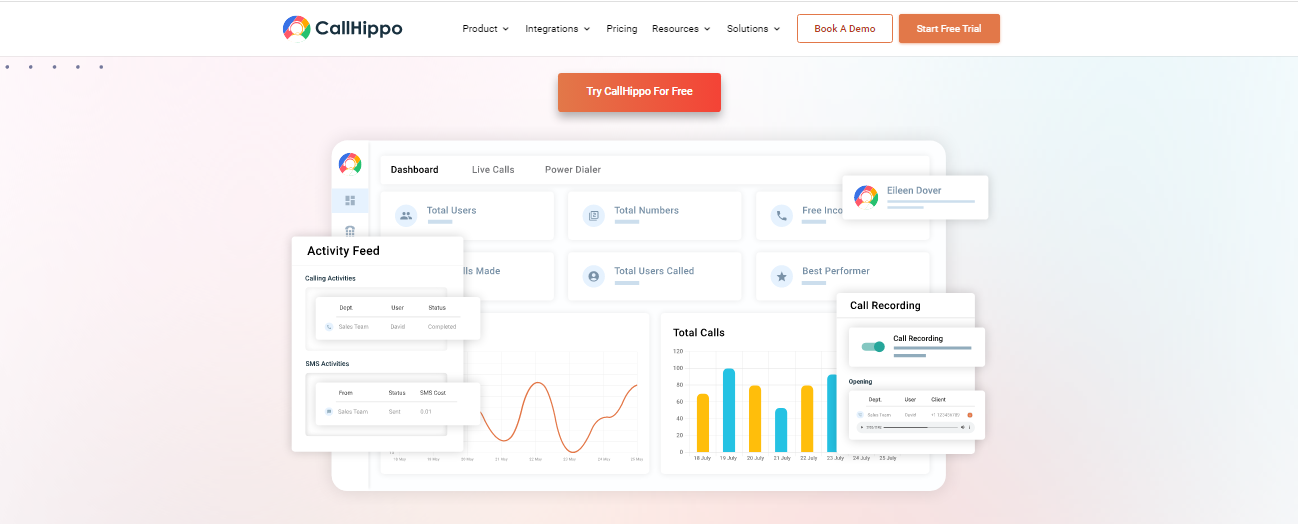 Different types of VoIP solutions and features offered at CallHippo include:
High-definition voice calling
Audio conferencing
Auto-attendant
IVR
Power dialer
Smart calling routing
Automatic Call Distribution
Advanced Analytics
Call Monitoring
Warm Transfer
Call Recording
Live call monitoring, and more.
CallHippo offers high-quality transcriptions. Above all, all the VoIP solutions offered by this company are easy to set up and use.
11) Freshdesk
Freshdesk Contact Center can be a good fit for businesses having call centers. It offers a free VoIP plan. However, with this plan, the users have to pay for every minute of incoming and outgoing calls that their team uses. With other plans, users can get a number of free minutes and scale depending on how much voice traffic they expect each month
Additionally, this internet phone service offers a call recording feature to help businesses monitor their employee interactions with customers. Wait queues and custom greetings options are also provided by the Freshdesk Contact center to help users keep their callers informed.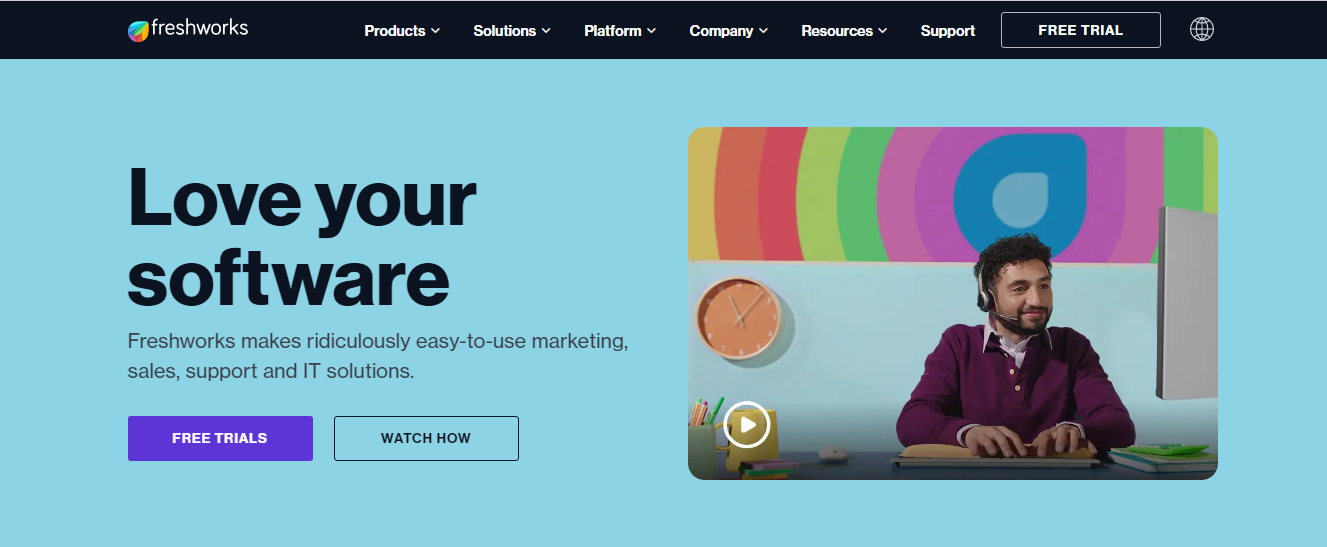 Different types of VoIP solutions and features offered at Freshdesk include:
Call routing to voicemail
Multi-level IVR for smooth segmentation of calls
Shared lines for better scalability
Mobile app
Custom greetings
Wait queues
Automated Call Distribution (ACD), and more.
Freshdesk provides service level monitoring options to their users. Among various features, one of the best features that they provide is the availability of call notes with conference calls. Moreover, users can get 21 days' free trial option also to understand the functionality and usability of their solutions.
To Summarize 
There are numerous business VoIP providers available in the market today that are able to meet your communication requirements. However, to narrow down your options, you need to perform a VoIP phone service comparison based on your unique requirements. The above blog presents the list of the best VoIP service providers in the USA and other parts of the world. All the mentioned service providers are top-notch players in the VoIP industry.
However, if you're looking for a VoIP service provider that offers advanced VoIP solutions at competitive prices, then you must consider Ecosmob. It provides IP-based communication solutions that are customizable, reliable, and scalable. Besides, it offers the best features at a reasonable price.
For more information about how Ecosmob can help your business achieve the desired success with its advanced VoIP solutions, connect with their professionals today!
Frequently Asked Questions
1. Does VoIP use existing phone lines?
It is important to note that a VoIP phone system does not require a phone line. However, it does require a broadband line or connection to provide voice and data connectivity.
2. Can a VoIP system work without an internet connection?
No, a VoIP system cannot work without an internet connection. It relies on Internet Protocol (IP) to transfer digital data.
3. Does VoIP work during power outages?
VoIP phones require both internet and power to continue working. However, with a bit of knowledge and planning, you can deal with a VoIP power outage. you have options like a backup power supply, integrating VoIP systems with portable devices, or routing calls to an alternate site.
4. Can I make international calls with VoIP?
Yes, you can make international calls with a VoIP system using the same dialing format as a landline phone.