Since its launch in 1995, VoIP technology has revolutionalized the communication world. It is an excellent information source and is being used everywhere. Small or large businesses save huge costs by choosing VoIP solutions over traditional analog systems.
The global market of VoIP technology is growing at a CAGR of 10.2%. It is expected to reach a whopping USD 140.74 billion by 2027. These figures are indicative of the enormous potential of VoIP. As this industry continues to evolve, here are some exciting emerging VoIP trends to watch out for in 2023.
These emerging VoIP trends will determine the market's direction and steep competition in the coming years.  Let's begin with,
What are the top VoIP Trends?
VoIP technology has brought us together on a single platform, allowing communication from anywhere and at affordable rates. Consequently, VoIP trends are becoming more prominent, such as the use of AI to improve customer experience, growing cybersecurity measures, change in focus towards mobile VoIP apps, the advent of 5G technology, and more.
The expansion of remote work culture also caused a radical shift. The VoIP industry is developing more swiftly than ever in terms of consumption, market share, and revenue.
Let's look at the emerging top 7 trends in VoIP Industry.
1) Artificial Intelligence with VoIP for Customer Services
The magic wand of Artificial Intelligence is bringing a revolution in all possible sectors. For instance, movie suggestions under "because you watched this" on Netflix or in your social media feeds, similar to your recent searches! These "close to your interest" results in your phone or laptop are due to AI.
The telecommunication industry is also not untouched. Artificial Intelligence helps the telecommunication industry gain insights into customer behaviors and create future business strategies. It improves call center efficiency by addressing frequent customer inquiries. The guide "How AI is Transforming Telecommunication?" will help you get a deeper understanding.
Research by Finance digest shows that by 2025, 95% of customer interactions will be handled without humans. It is evident since AI-backed solution forecasts client behavior, streamlines sales procedures, and improves threat protection. It boosts service efficiency and saves the company time. Hence, it is no wonder AI has the lead role in transforming traditional customer interactions. To help you seize the opportunity, refer to our detailed guide on the latest Artificial Intelligence(AI) Trends.
With quick solutions and enhanced VoIP processes, the artificial intelligence market is experiencing an excellent market boom. As per the latest Global Artificial Intelligence Market report, the AI market size is expected to reach $641.30 billion by 2028.
AI is one of the hottest Emerging VoIP Industry Trends to Watch in 2023.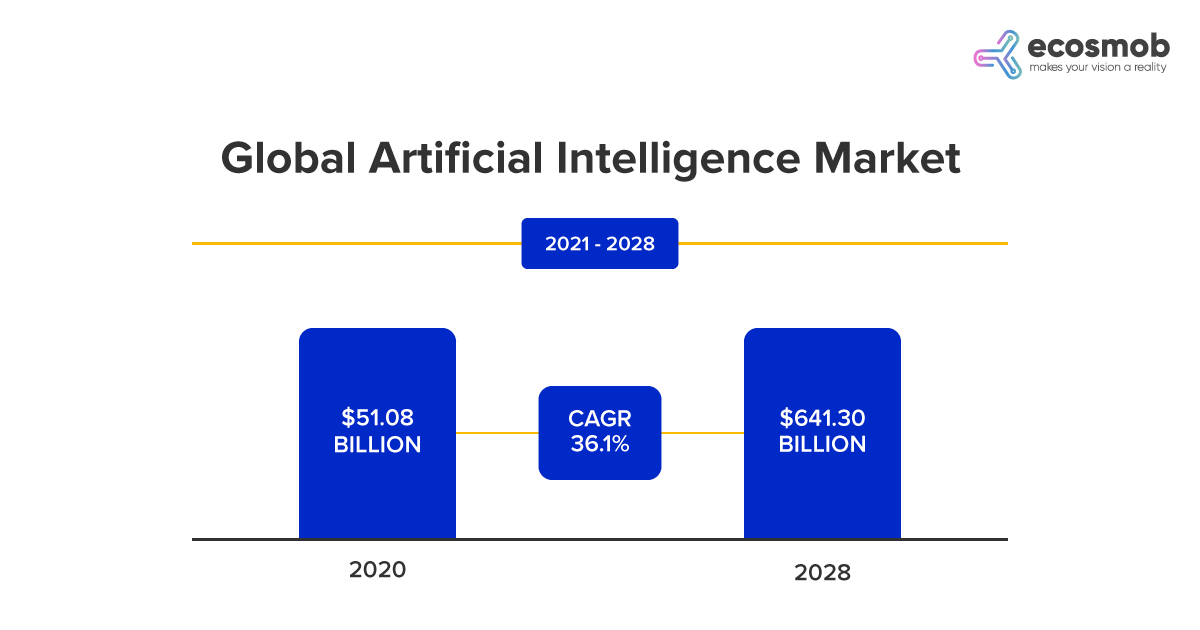 2) Smarter VoIP Assistants 
The past few years have seen intense growth in the virtual assistant market—for instance, Siri, Alexa, and google assistance. Continuing the advancement, smarter VoIP assistants are a similar concept. However, unlike Siri, Alexa, and google assistant, intelligent VoIP assistants help you automate mundane tasks involved in VoIP systems. It uses Artificial Intelligence (AI) and Natural Language Processing (NLP) technologies to enhance the capabilities and improve the user experience of technology.
Smart VoIP assistants allow users to interact with the system using voice commands and enable voice-activated call handling, voice-to-text transcription, and other advanced features to simplify communication. They make communication more efficient and convenient for businesses and individuals. Some exciting statistics reflect the demand and business opportunities for VoIP Assistants-
A report by The Insight Partners shows that the global intelligent virtual assistant market size is to grow from USD 7.01 billion in 2021 to USD 47.57 billion by 2028, with an estimated CAGR of 31.9% from 2022 to 2028
Smarter VoIP Assistants can improve customer satisfaction by up to 25% and increase productivity by up to 15% with 95% accuracy.
These figures show that Smarter VoIP Assistants' adoption has been multiplying yearly.
3) VoIP Support For IoT
IoT allows everyday objects to be connected to the internet and each other. It enables these objects to send and receive data, thus creating intelligent, connected systems that can improve the efficiency, accuracy, and automation of various industries and applications. You can notice the application of IoT in our day-to-day life. For instance, smart homes, wearable devices, industrial automation, and transportation. Since IoT is everywhere, the VoIP industry cannot be unaffected. In fact, IoT is one of the emerging VoIP industry trends.
VoIP (Voice over Internet Protocol) supports the Internet of Things (IoT) by enabling voice communication between IoT devices. IoT devices can make and receive calls without a traditional telephone network. This blog will help you gain more clarity on Traditional vs. Digital vs. VoIP Phone Systems.
How does it work?
VoIP support for IoT devices typically encodes voice signals into data packets. These data packets can be transmitted over the internet. The decoding process then recovers the original voice signals at the endpoint. This process is accomplished using standard VoIP protocols such as SIP (Session Initiation Protocol) and RTP (Real-time Transport Protocol).
Furthermore, for an IoT device to make or receive VoIP calls, it needs to be equipped with a microphone and speaker or headset, as well as software and hardware that can encode and decode the voice signals. It may include dedicated VoIP chips, software-based VoIP clients, or specialized IoT gateway devices that can handle the communication between the IoT device and the internet.
The use of VoIP in IoT applications provides several benefits. For instance, reduced costs and improved functionality compared to traditional voice communication systems. Additionally, because VoIP is a flexible and scalable technology, it can be easily integrated into many IoT devices and applications.
Also Read: Wearable Technology Trends 2023
4) Mobile Unified Communications
Mobile communication unification is growing across the industry as more businesses go remote and teams work from various locations. Numerous industry leaders are incorporating mobile VoIP development due to the popularity of mobile phones and their growing adaptability. VoIP systems and mobile device capabilities boost communication effectiveness anytime, anywhere. Users can now easily use the VoIP app development through a mobile device app. By implementing these VoIP technologies, businesses may quickly grow their customer support and communication networks.
Unified Communications for mobile communications are undoubtedly one of the hottest themes to watch in 2023. It is gaining popularity in the global market and has a lot to offer to businesses worldwide. Read-"What Is Unified Communications (UC)? A Complete Guide". The guide provides a thorough understanding of the concept and its prospects.
5) Integrations for VoIP Phones
Leaders in the industry use VoIP phone systems to cut expenses while integrating them with other cloud-based services. These web-based tools include customer relationship management (CRM) systems, inventory controllers, accounting programs, and customer support portals. The simplicity of data access offered by these platforms significantly improves manager-employee collaboration. The top VoIP business phone system alternatives effectively integrate with your current business data and apps.
Additionally, staff members can rapidly access customer data when they receive a customer support call. It helps you respond to client inquiries much more quickly, increasing their faith in your brand. The VoIP phone system is a trend that will continue to evolve in 2023.
If you are struggling to choose the best VoIP provider for your business, read- Top 10 Tips to Choose the Best VoIP Solutions for Small Businesses in 2023
6) Security Aspects
The security protocols of their VoIP development services are constantly being reviewed and evaluated by many professionals in the VoIP business. VoIP services are susceptible to hackers since they run through an internet connection. You will be surprised to learn that roughly 46% of illegally made calls worldwide involve VoIP technology. Hence, Keeping your organization's operations intact and secure requires strong countermeasures. These measures minimize the risk of security breaches. Before implementing VoIP solutions, several industry leaders prepare their networks by enhancing their cybersecurity. IP address VPNs and virus and spyware protection are two examples of cybersecurity solutions that the market is moving toward.
Additionally, firewalls and spam filters are frequently included in VoIP solutions as security precautions. Security issues are undoubtedly a trend influencing the VoIP market this year.
Our Article, VoIP Security: Threats and Remedies, will help you understand the issue and possible solutions.
7) 5G Implementation
Another trend to watch in the VoIP sector is the adoption of 5G technology. The technology leads to fast response times. Naturally, quicker response times enable you to address consumer inquiries and improve employee collaboration and communication rapidly. Furthermore, 5G leads to faster mobile broadband connections and improved network capabilities. It enhances the dependability of your VoIP Software Development Company and internet services. As a result, 5G has become the new benchmark for connection and reliability in many industries. 2023 will undoubtedly see a substantial influence from the deployment of 5G in custom VoIP development.
Also Read – How May 5G Affect VoIP Calling in the Future?
What Will be the VoIP Market Size in the Future?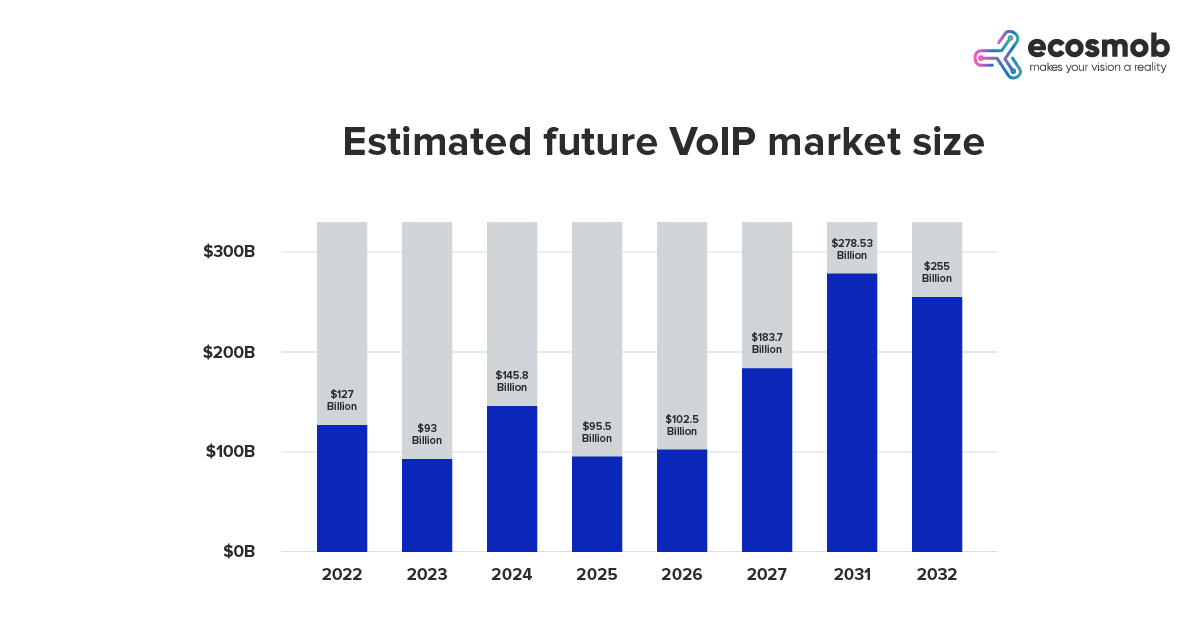 As the latest VoIP trends emerge, the VoIP market size is expanding. Numerous digital and cloud-based advancements are contributing to more advances. Solutions for mobile communication unification and artificial intelligence to automate responses are increasing companies' global reach. Even though VoIP software development and phone systems have been around for a while, their integration with other businesses makes them a fascinating trend to watch.