How many steps did you take today? Are you now looking at your smartwatch to know the answer? If Yes, you would be happy to learn that your Smartwatch is one of the best wearable techs.
Welcome to the new world where anything you wear has the potential to become a technology-aided utility item. For instance, wristwatches, rings, glasses, and even clothes are becoming part of wearable technology trends.

Today, we are in the midst of this wearable trend revolution, where the market is projected to hit USD 410.2 billion at a 31.20% CAGR by 2030.
Evidently, Wearables will capture the market's largest segment in the coming years.
This blog will introduce wearable technology trends in 2023, a market overview, and the future scope of wearable technology. But first, let us start with the basics.
What is Wearable Technology?
As the name suggests, wearables are small devices worn on the body. These are the technology-aided devices with smart MEMS sensors and internet connectivity to log, analyze and transmit data. These sensors improve the impact of smartphones through GPS or IMU (consisting of an accelerometer, magnetometer, and gyroscope). In short, MEMS sensors are the soul of new-age wearable devices like fitness trackers, virtual reality glasses and smartwatches, and intelligent sensor nodes for the Internet of Things(IoT).
Top Wearable Technology Trends
As the wearable technology trend is blooming, it has become a goldmine for service providers. Let us introduce you to some of the leading wearable technologies in trend-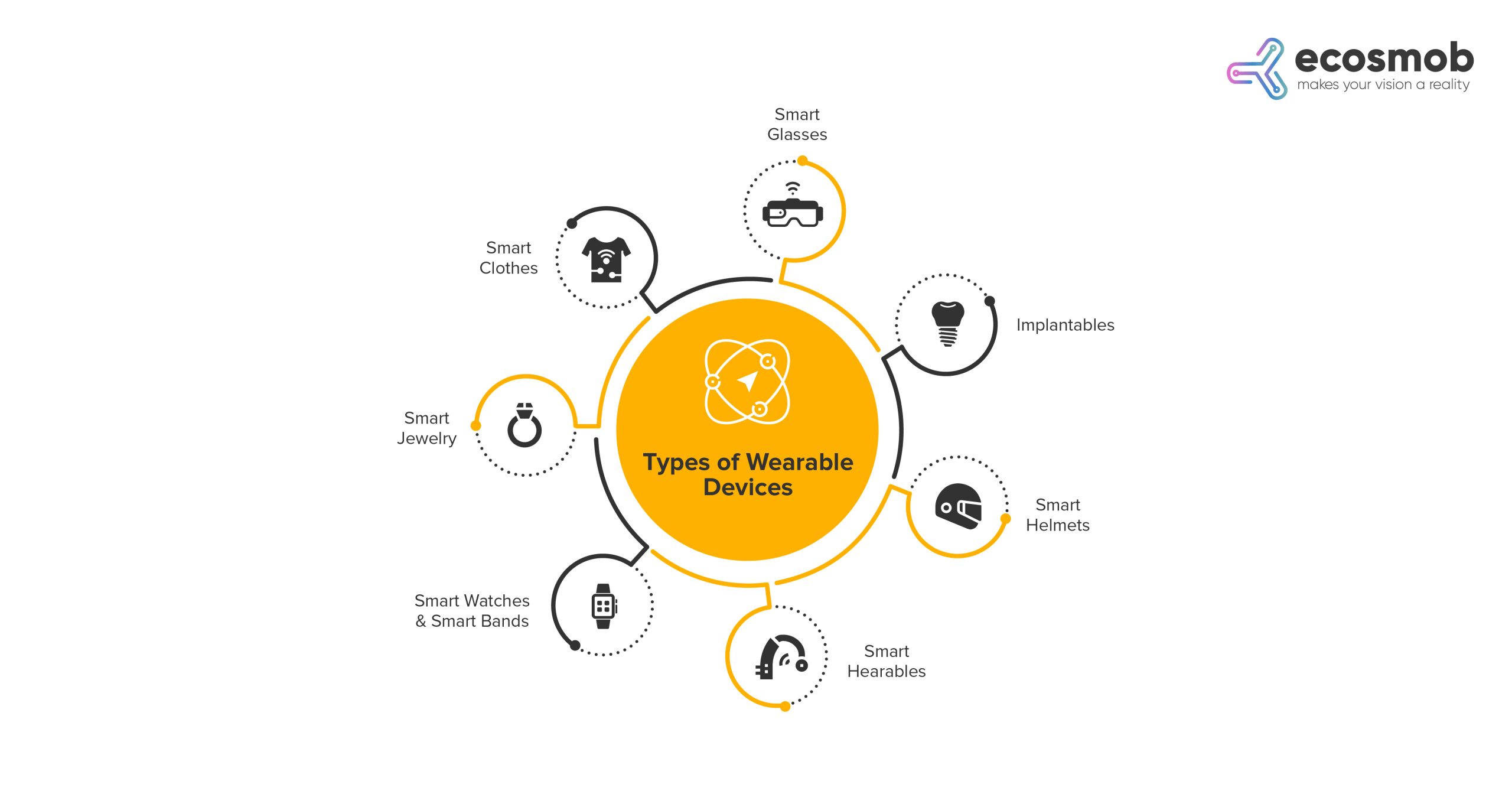 As time changes, the way we interact with technology also shifts. There has been a tremendous technological shift from rotary dial-wired telephones to smartwatches and now smart glasses. After the metaverse, smart glasses can be seen as the biggest significant technological trend.
So, What Are Smart Glasses?
Smart glasses are head-mounted displays HMDs, a type of wearable device that offers life monitoring services and information to the wearer. They are a lot more than simple glasses. Smart glasses can bring our smartphones and computers directly to our eyes.
The first smart glasses were introduced by Google in 2013, popularly known as Google Glass, in line with the Internet of Things(IoT). Recently, Facebook launched its first pair of smart glasses with Ray-Ban. Big brands like Amazon, Bose, Vuzix blade, and Techken have also launched their products.
Based on different technology and display used, there are various types of smart glasses in the industry
Monocular Smart Glasses
Binocular Smart Glasses
Immersive or Mixed Reality Smart Glasses
Mixed Reality Photo Projection Action
Audio Augmented Reality Smart Glasses
Defining Metaverse: 

Metaverse is the 4-D immersive universe about to transform our digital lives profoundly. It works on AR, VR, and XR devices to deliver a whole new experience.
Have you heard of pacemakers? You will be surprised to know that these are implantable wearables devices. Read along to learn more.
After smartglasses, smart implantables are another wearable tech trends that are gaining significant traction. As the name suggests, these devices are implanted into the body. They are made of biocompatible materials like titanium, polymers, and stainless steel. These interact with the body tissue and organs to monitor, diagnose or treat medical conditions. The implantables precisely contact the user's body from within, in contrast to conventional smart wearables.
The implantable comes in many forms, such as pacemakers, chips, implantable skin sensors, or tattoos.
This wearable technology trend is gaining endless interest among scientists and medical technology. In the coming years, we can expect breakthrough innovations in this field of wearable technology.
Smartwatches are the most well-known form of wearables. These electronic devices look like traditional watches but have added features that make your life easy. It is right to say smartwatches are an extension of your smartphones. You can connect your smartwatch to your mobile and experience the world right from your wrist.
You get a vast array of functions like- health tracking (daily steps, heart rate, SPO2 levels, blood pressure, breathing exercise apps, sleep cycle monitoring, calories burnt), navigation, music, emergency SOS, call answer, push notifications, and much more. The smartwatch market has huge potential to explore and splurge.
Hearables are technology-aided devices for ears. These are also known as hearable devices or in-ear devices. These devices are among the best wearable technology trends. We will tell you why.
We all use earphones, aka headphones, to listen to our favorite music and answer calls. However, technology today is futuristic. Now you can do much more with your hearables or headphone beyond audio playback. These new-age hearables allow you to track fitness data, language translation services in real-time, stream music, make calls, control or reduce ambient noise, and connect with voice commands through google assistant or Siri. These smart hearables are wireless Artificial Intelligence AI-powered hearing aids that bring immense joy.
A smart ring is a wearable device with advanced components like sensors and NFC chips that connects with your mobile devices. These are lightweight titanium with non-allergenic, non-metallic inner molding. Smart rings are an excellent alternative to smartwatches and fitness bands. While we usually remove watches at the end of the day, the smart rings, which are much lighter in weight, seem more feasible.
These rings come with unique features like contactless payments, an activity tracker, mitigated access control, health & wellness management (heart rate, body temperature, sleep pattern), online security, and remote control of other gadgets.
These wearable examples are just the tip of the iceberg. Many others are in their infancy of test and trial. It indicates wearable tech trends hold a shining bright future.
Future of Wearable Technology Trends
According to a report By Market Research Future (MRFR), the wearable technology market is projected to hit USD 410.2 billion at a 31.20% CAGR by 2030.
Other vital statistics and updates that validate the considerable demand and bright future of wearable technology trends are-.
As per a report, the wearables market is up-and-coming, with its shipment has already surpassed 533 million in 2021 with 20% year-over-year indicated growth.
Giant companies like Oura and Gucci have collaborated to bridge fashion wearables to well-being by tracking things like heart rate and sleep pattern.
The jackets designed by Levi's and Jacquard by Google comes with touch and gesture interactivity features woven into the sleeve.
Ray-Ban Stories is a collaboration project of Ray-Ban and Meta featuring smart glasses that let you record everything that happens around you on camera or in the video.
Conclusion
Wearable technology is trending and in high demand. The wearable tech trends come with numerous benefits like easy tracking of activity, better productivity, better speed, easy tracking of health vitals, more comfort, and better safety. So, if you, too, are an industry with a knack for curating trending wearable, connect with us at sales@ecosmob.com. We would love to hear you.