Did you know MVNOs are virtual operators providing mobile services without owning the network infrastructure?
How It All Started?
Let us go back in time and see when and how the journey of MVNO started.
Once upon a time, before the advent of MVNOs in the late 1990s, the world of telecommunication was ruled by traditional service providers. It was when the individual was tied with wires to communicate with their peers. As you might have also experienced, traditional telecommunication services were rigid, costly, and inflexible!
It is where the necessity for a flexible,  efficient, cost-effective, and robust new-age communication solution gave birth to MVNO and MVNO revolution.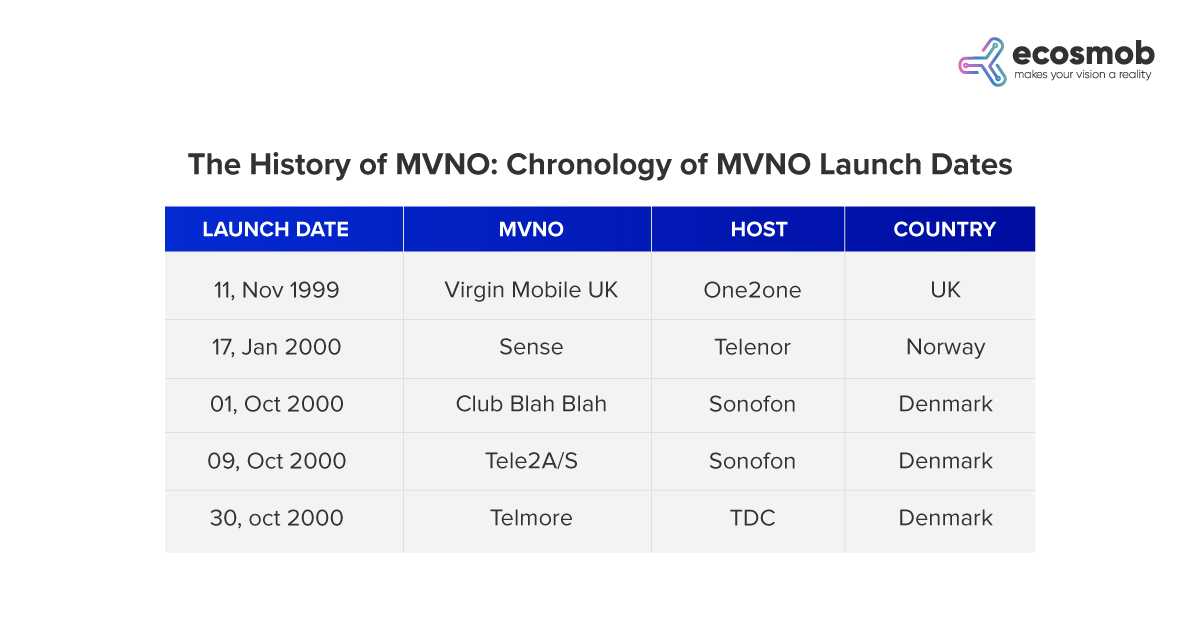 The notion of MVNOs emerged in the 1990s due to increasing demand for a new regulatory framework, limited access to frequency bands, and specialized mobile services. The number soon increased to 15.1 million wireless subscribers by the end of 2006.
According to a study by GSMA intelligence, the number of MVNOs has increased by 70% and reached 1017 in June 2015. Also,  the MVNO market value reached 84 billion dollars in 2022.
What Changed in MVNO? 
Over the years, MVNO started focusing on tactical-in-house agility and innovation. This helped in luring more and more users worldwide. Today, in the digital age, MVNO is becoming the first choice of users worldwide as it offers constant connectivity, diverse data plans, and exclusive services.
The MVNO revolution is a constant opportunity depending on which side fence you are on. Slowly, MNOs realize the abundant wholesale opportunities along with Mobile Virtual Network Enablers (MVNEs) that seize the opportunity to fill the gap. It is a widely accepted fact that MVNO owns the future.  
So get ready! MVNOs are coming!
Latest Revolution in MVNOs
The liberalization and the introduction of MVNOs are transforming the markets worldwide. Today MVNO is expanding in all spaces, from telecom to media and retailers. It is capturing new markets and tapping the possibilities of more scope. In the telecom industry, MVNOs also revolutionalize through 4G and 5G networks. Small, medium, and large-cap businesses are leveraging the power of MVNO to control the user experience more effectively and integrate digital services seamlessly.
Another driving force in the revolution of MVNO is the emergence of social media, as social platforms offer abundant shareability benefits. Numerous socially-driven marketing campaigns via Facebook, Instagram, Twitter, and Youtube facilitate consumer engagement.
The Future Trends of MVNOs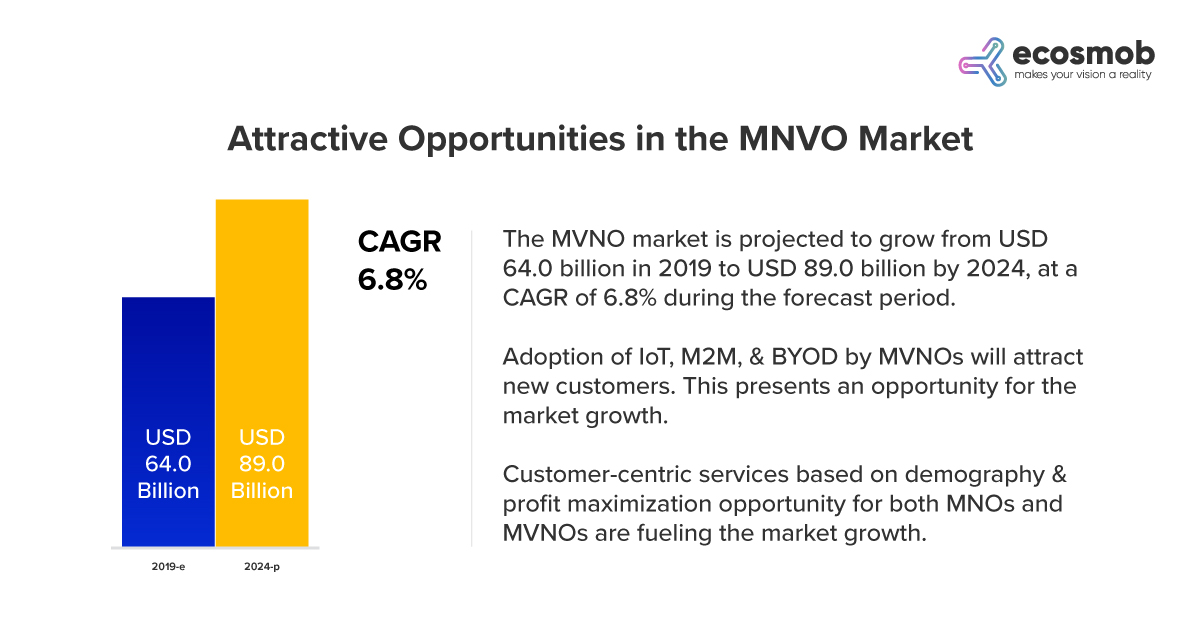 So, what is next in the cards for MVNOs?
In the case of MVNOs revolution: trends and possibilities, be ready to expect the unexpected.
The emergence of technologies like Artificial Intelligence (AI), Blockchain, IoT, and 5G are prepared to usher the way for MVNOs. You can experience autonomous vehicles in VR/AR experience with 5Gs high speed and new over-the-top applications.
If the power of MVNOs also excites you, then its fusion with all these aforementioned cutting-edge technologies will blow your mind.
Check out: How MVNOs Benefit Telecom and Retail Domains?
1) Artificial Intelligence
MVNO revolution is now all set to leap with AI to stream all the operations and customer service channels. AI chatbots can handle customer queries in time, reducing response time. Using NLP, MVNO providers like Ecosmob Technologies offer AI-enabled MVNO solutions that are personalized solutions to the customers that improve user experience.
Implementing AI in MVNO solutions optimizes the network and helps in predictive maintenance. It identifies all the possible network issues before they can occur and cause downtime. AI also analyses the network usage pattern and optimizes the network's overall performance.
2) Machine Learning
Positive customer experience is the end goal of most solution and service providers. Technological advances like Machine Learning (ML) and Network Function Virtualization (NFV) in concussion with MVNO are game changers. So, you can now help offer a more personalized user experience by analyzing customer behavior, preferences, and usage patterns that give an enchanting experience.
3) Predictive Analysis
As the name suggests, predictive analysis attempts to answer the question, "What might happen next"? MVNO offers numerous use cases that improve efficiency and enable you to make informed business decisions.
Popular use cases of predictive analytics are
Personalized Offers and Pricing
Customer Churn Prediction
Network Maintenance and Optimization
 Demand Forecasting
4) 5G
5G is among the most awaited technology amongst telecom operators and trusted users. The revolution of MVNO and fusion with 5G offers high-speed and low-latency services. 5G-enabled MVNO is the perfect replacement for age-old fixed-line broadband with complete flexibility.
So, as long as your phone is 5G- capable, you can automatically connect! Isn't that amazing?
Check out: New Challenges And Opportunities For 5G MVNO
Conclusion
Overall the future of MVNO seems promising, with rising technologies that ensure a more digitalized communication world. Also, note that the applications of MVNO are not restricted to the telecommunication industry only. It is for all the consumers of different sectors to demand more flexibility, choices, transparency, and cost benefits. Therefore, if you are a small, medium, or large business owner or a technology enthusiast ready to go virtualized, MVNO is here to help you.
Frequently Asked Questions
What is the MVNO revolution?
The MVNO revolution refers to revolutionary changes and advancements due to technical developments, technologies, market dynamics, and shifting consumer needs.
How is the MVNO revolution impacting consumers?
The MVNO revolution helps customers by providing access to specialized services catered to their needs, affordable mobile plans, and more personalized services.
What changes is the MVNO revolution bringing about in the telecom sector?
The MVNO revolution challenges traditional Mobile Network Operators (MNOs), brings in fresh competition, cutting-edge service offerings, and disruptive business models, and reshapes the telecom industry.
Are Virtual network providers branching out into new markets?
Yes. MVNOs are looking into the potential in untapped markets, including rural areas and developing countries, to bridge the gap with unconnected geographies.
How will cloud computing and virtualization affect MVNO services?
MVNOs can provide services more effectively, scale more efficiently, and give their clients cost-effective options with virtualization and cloud technologies.
What distinguishes MVNOs from conventional mobile carriers?
MVNOs do not own their network infrastructure. Instead, they collaborate with established network operators to provide services under their brand.
Will 5G technology impact MVNO services?
Yes, 5G technology will allow users to download data faster and experience less latency, giving MVNOs a chance to provide more sophisticated services and cutting-edge software.
How can I pick the best MVNO for my requirements?
Consider including plan features, pricing, customer service, network coverage, and value-added services. Finding an MVNO that fits your unique needs and financial constraints is crucial.