5G has the potential to drive business transformation in ways that have never been possible before. The telecom industry possesses all of the technical capabilities required to succeed. We will see this manifest in the form of new 5G MVNO service enablement platforms. It offers bespoke 5G connectivity, virtualization, open APIs, and other market-led developments with the potential to lead the industry's digital transformation.
5G is a game-changing technology for MVNO service providers. It is not only changing the game in various industries, but it is also pushing the boundaries of what is possible. 5G is the fifth generation of connectivity and wireless technology, encompassing everything from efficient and fast data transfer to real-time communication and coordination.
Regarding MVNOs with 5G and cellular networks, 5G is the most widely used mobile technology. With the introduction of 5G to the telecommunications world, far-fetched ideas have become very plausible.
Comparing 4G and 5G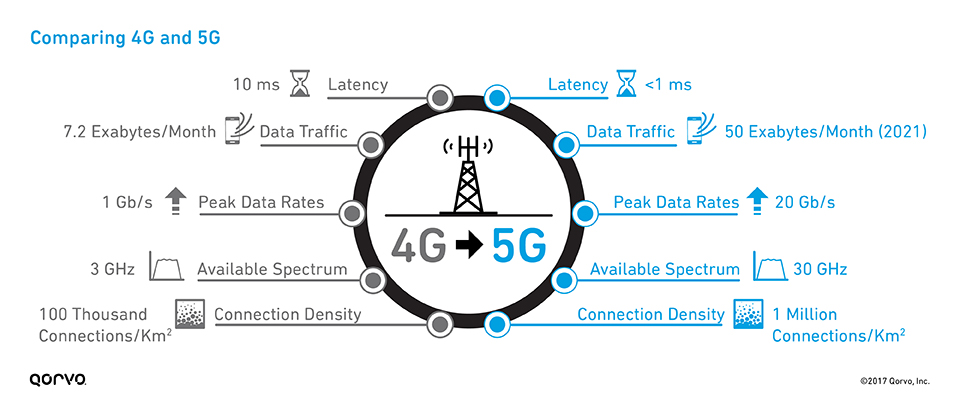 Image Source : Qorvo
5G download speeds can reach 10 gigabits per second under ideal conditions. That's up to 100 times faster than 4G, and it's unquestionably the level of performance required for an increasingly connected society. Even though 5G technology is still in its early stages of development, speeds are lightning-fast.
Of course, connectivity requirements vary depending on the network's intended use. As per ResearchAndMarkets, "The market for MVNOs with 5G is poised to reach $9.1 billion by 2027".
New Opportunities For 5G MVNOs
The possibilities created by 5G MVNO are still in discussion, as the connection made by the technology will occur at previously unseen speeds. Consumers, who are becoming more accustomed to consuming services on their terms, will benefit from solutions tailored to their specific requirements. Additionally, MVNOs can offer seamless experiences with incredible speed and efficiency. The following examples show how 5G MVNO service providers' operations benefit.
Network Slicing
Slicing is the layering of several virtual networks onto a shared network domain or collecting shared network and computing resources. Because 5G requires this capacity, "network slicing" is frequently popular in discussions of the best 5G MVNO networks. On the other hand, 4G or previous generations of cellular communication services cannot support it. Network slicing is a fundamental aspect of 5G.
Fixed Wireless Access
Fixed Wireless Access-based 5G wireless is an excellent alternative to traditional fiber rollouts for hard-to-reach areas. Best MVNOs can act as suppliers in this market, bringing exciting and practical offerings to consumers, businesses, or other customers.
These offers could include service packages that boost productivity and high-speed connectivity. A 5G MVNO service for remote workers, with FWA/LTE access and secure communications, VPNs, collaboration tools, and network control to optimize business applications. It is due to the possibility that the world will return to the office only a few days a week (if ever).
eSIMs
Embedded Subscriber Identity Model Technology (eSIMs) is becoming increasingly popular and necessary for both consumers and operators. It can help MVNOs shine. According to Capgemini Research Institute's Telco Consumer Behaviour Survey, more than 40% of consumers prefer to activate mobile services using eSIMs rather than visiting a store to activate a physical SIM card.
The MVNO 5G future of SIM cards is in eSIMs, which still play the same integral role in 5G networks as previous SIM cards. Still, a fully integrated 5G-capable eSIM offers greater flexibility as device owners can switch carriers without switching SIMs and lower operating costs.
Read more about the Market Value of MVNO For Telecom Operators
Significant Challenges For 5G MVNO
With a significant increase in the volume of data to process, it is natural for businesses to face challenges in managing and handling it. The following are some examples of MVNO 5G challenges:
Infrastructure Challenges
The infrastructure challenge is significant, as 5G necessitates far too many changes from MVNOs. It is because 5G's integration and operation will differ from 3G or 4G. For 5G to function appropriately, MVNOs need to update their infrastructure.
To fully capitalize on 5G and network slicing opportunities, 5G MVNOs service providers must develop a cutting-edge new business model and infrastructure. MVNOs need to install their virtual network functions as a 5G MVNO. Furthermore, if a customer has access to a 5G network slice, they can access new applications and services.
MNO Dependency
We all know that 5G MVNOs service relies on MNOs. Access to cutting-edge technology is only possible once the MNOs introduce it. MNOs must provide MVNOs with 5G access or risk falling behind.
Compatibility with Mobile Phones
Because 5G is still in its introductory phase, there are only a few high-priced 5G mobile handsets on the market. As most of the 5G-enabled handsets are high-priced, not everyone can afford them. Another issue is the availability of comprehensive or relevant 5G network coverage anywhere to enable users.
Wrapping Up: What Does 5G Mean For MVNO?
Soon, 5G will be the most widely adopted mobile generation. The 4G rollout taught mobile virtual network operators (MVNOs) that they must be more proactive to compete with larger mobile network operators (MNOs). To conclude, the world of 5G MVNO is expanding and becoming available. MVNOs with 5G must be responsive regarding 5G acceptance and utilization.
Ecosmob is a reliable VoIP software development company, we offer MVNO services and solutions that allow your business to accommodate customer needs. Our custom services focus on solutions such as call completion, mobile messaging, fraud detection and prevention, monetizing offerings, and more.