Finding new ways to manage the ever-growing costs, deliver high-quality treatment, maximize reach, reduce response time, and ensure uninterrupted communication is critical in the healthcare sector. All of this and more is achievable through telepresence solutions in healthcare. This breakthrough technological advancement is vital since it saves the most crucial thing: Lives!
Telepresence in healthcare is evolving at a very rapid pace. According to Global Market Insights, by 2024, the telepresence solutions market size is expected to have doubled, reaching a value of around $20 billion.
By using Telepresence solutions, the business can cut down the travel and associated expenses and carbon footprints.https://www.ecosmob.com/role-of-video-conferencing-in-healthcare
What is Telepresence?
Let us understand it in detail.
As we think of connecting to a remote place virtually, Telepresence and Video Conferencing look very similar. However, these two are very different notions. Telepresence is a more advanced version of Video Conferencing. It requires robust technical equipment across all users' endpoints for the real-life meeting experience.
Along with the high quality of audiovisuals, Telepresence gives the whole experience of being teleported to your audience's place. It feels like wearing VR (Virtual Reality) headsets and experiencing a parallel universe. On the flip side, Video Conferencing ideally refers to virtual meetings or web conferencing, where two or more people can communicate in a virtual setting through video or audio. To learn which technology it operates and its future, read the article – What is Video Conferencing? 
Moving on, let us look at some interesting facts and figures about the Telepresence market (2019-2030)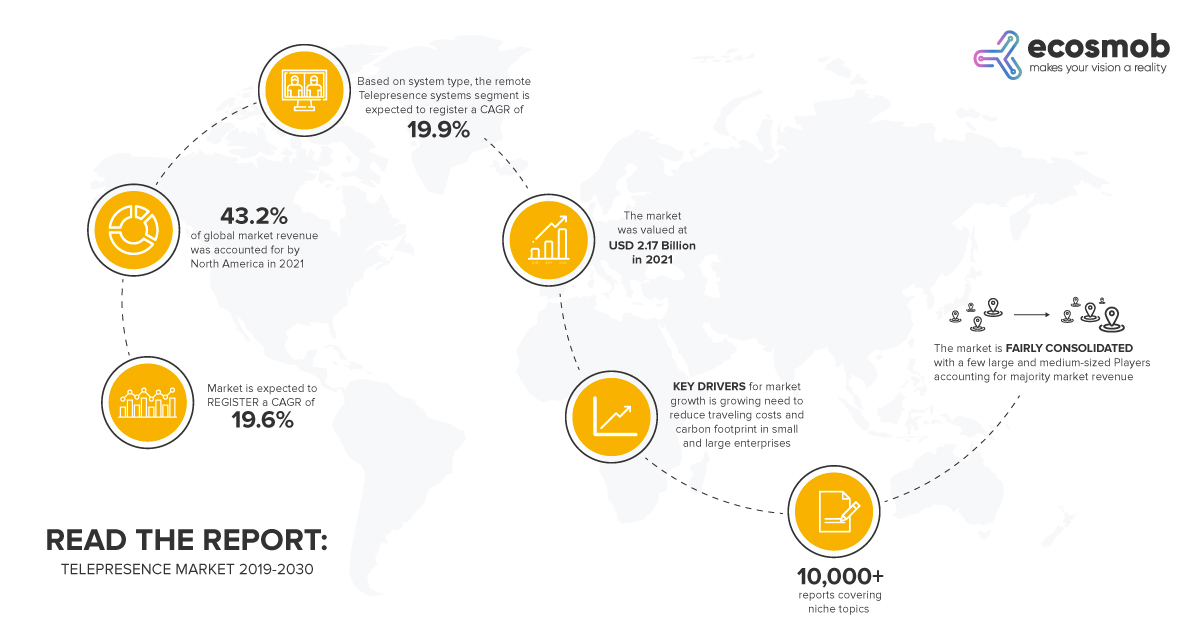 Data Source: EmergenResearch
Challenges In Healthcare Sector
Necessity is the mother of all inventions. It stands true for Telepresence solutions as well. For example, maximizing the reach of healthcare solutions was one of the most significant innovations in the 21st century, especially for patients living in remote areas and unable to make long journeys to metro hospitals.  There are other necessities too in the healthcare sector that Telepresence takes care of very efficiently.
Glossary – Telehealth, telecare, and telemedicine are the terms that describe internet-enabled interactions in the healthcare sector.
Some of the challenges in the healthcare sector are-
Shortage of specialists and healthcare workers
Restricted mobility of hospital staff
Geographic restrictions for doctors as well as for patients
Less scope for scalability
High cost
Time-consuming and complex admission process at hospitals
Features of Telepresence Solutions In Healthcare Industry
Telepresence is also known as "remote presence." It depicts a conference space dedicated to virtual conferencing. It works on Virtual Reality (VR) technology to merge two locations into one place and stimulate the experience of face-to-face communication.
Simply put, it is a more refined form of video conferencing that incorporates robotics installations.
Telepresence in healthcare comes with some exciting features-
Virtual Consultation
Remote workforce management
HD video capabilities
One-on-one chat
Custom report
Cross-platform conferencing
Patient records
Whiteboarding
Screen sharing
Report sharing
Scarce resource management
Appointment scheduling
Also Read: Role of Video Conferencing in Healthcare
Benefits of Telepresence Solutions For Healthcare Industries
Telepresence in the healthcare sector has transformed the conventional approach to treatment.
It has taken the healthcare industry by storm through its breakthrough benefits. Let's understand some of the most valuable benefits.
Allow Robust Communication 
We, humans, primarily communicate through speaking. We use hand gestures and facial expressions (non-verbal communication) for more effectiveness. However, when conversing with someone miles apart through technology, having the liberty to use all your verbal and non-verbal ways to communicate is blissful. The robustness of Telepresence makes this possible and allows easy face-to-face collaboration among patients and doctors.
You will be amazed to know that Telepresence is helpful in various sectors like the legal Industry, government departments like prisons, and whatnot! Read our article How Telepresence Solution Can Smoothen the Operation of Legal Industries to gain a deeper understanding.
Telepresence in healthcare improves cost-effectiveness. It gives ease of use since the healthcare specialist and the patient can communicate via Telepresence solution without traveling to different locations.
For instance, according to the expense report of the University of Washington, it saved  $3,300 while implementing a collaborative care model to treat depression patients. Also, even the patients get the benefits as they receive extra sessions via Video.
Hence, the Telepresence solution is very cost-effective for all the parties involved.

Telepresence Technology in healthcare is no less than a blessing. It helps save precious time and improves results. For instance, a patient in critical condition urgently requires more effective treatment from a senior specialist at another hospital. In such a time-bound situation, telepresence is the only savior.
Telepresence is also effective in delivering CME, Continuing Medical Education. For example, getting busy healthcare specialists from different disciplines and locations simultaneously for training is very complicated. They may need more time to travel and participate because time lost to travel means less time spent seeing patients. In such a scenario also, Telepresence comes up as a savior and helps the participants save their precious time.
Telepresence is a feature-rich solution that lets you share files and medical reports during the session (ongoing conversation). This feature helps the doctor understand the patient's medical condition and diagnose the problem correctly before starting the treatment.
Telepresence in healthcare has enormous scope to scale. The collaborative care model enables the organization to scale scarce specialized resources to increase market prospects in previously underserved areas. For instance, many people living in rural areas face difficulty accessing advanced healthcare facilities in cities. Telepresence dilutes these geographical limitations. It offers professionals virtual consultations, allowing patients to receive the care they require without seeking it elsewhere.
Conclusion
Telepresence has become a necessary healthcare technology as It offers immersive and high-fidelity rich functionality. As a cherry on top, with Ecosmob Technologies' custom telepresence in health care solutions, you can deploy large-scale, on-premise conferencing solutions. Our bespoke telepresence solutions lets you experience flawless remote communication.