Initially, the limitations of the PSTN and its inability to carry increasing non-voice data traffic made service providers rethink better communication tools. They were looking for a single network capable of carrying voice, multimedia traffic, and data.
In the 1990s, telecommunications carriers observed a significant requirement to change the switch architecture. This needs to be brought about by the concept of AIN. AIN denotes Advanced Intelligent Network, defined by the former Bellcore (currently Telcordia). The whole purpose of AIN was to perform basic call switching while residing on an external platform. It helped the local exchange carriers and their customers to build and modify telecommunication services for their subscribers quickly and very economically.
However, AIN needed to be more proficient in providing call state information requiring direct interaction with the machine.
Call State is information about the state and progress of the calls, for instance, whether the call is about to begin, is on hold, or has been terminated.
The next-generation network IP resolved this issue through the implementation of VoIP Softswitch. Let's understand VoIP Softswitch in detail.
What is VoIP SoftSWITCH?
As the name suggests, a Softswitch is a software-based SWITCH that runs on industry-standard hardware to replace central-office switching functions. Softswitches are transparent to end users and perform functions like traditional PSTN but more efficiently and cost-effectively. The advent of Softswitch replaced proprietary switches with bundled software components running in carrier-class servers.
Softswitch is considered a critical component in the core network of telecom operators. It offers call control intelligence and processing media on circuit-switched TDM (TDM- Time Division Multiplex) network infrastructure, IP infrastructure, or a combination. A VoIP Softswitch establishes, maintains, routes, and terminates the sessions in a VoIP network.
There are different types of Softswitches, and each has its unique role.
Class 1 Softswitches act as international gateways, whereas Class 2 and Class 3 Softswitches can connect cities and, in some circumstances, entire states. There are two more softswitches, a class 4 softswitches, and a class 5 softswitch. These Softswitch are most popular among telecommunications companies for their vast benefits.
Check out the Difference Between Class 4 Softswitch and Class 5 Softswitch for greater understanding.
Before we discuss the benefits of VoIP Softswitch for telecom operators, let us gain a clearer picture of the functions of Softswitch.
Intelligent call control services for media gateways
Decision-making ability to select a process to be applied on call
Call routing within the network based on customer database information available and signaling
Ability to transfer call control to another network element as required
Supporting management functions like billing, fault management, and call provisioning
The user gets a diversity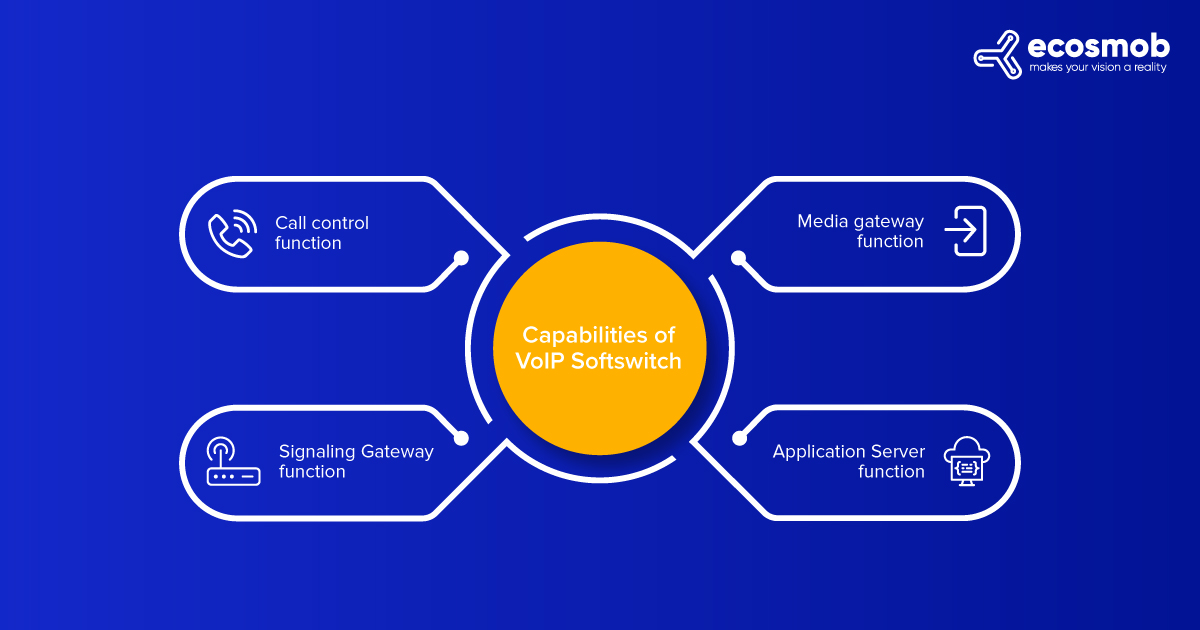 A Softswitch offers additional functions than just call control. It provides a service creation environment as a platform for third-party call control and customized services.  Softswitch also helps in protocol mediation, enabling various devices to communicate with different protocols.
Benefits of VoIP Softswitch in Telecom
Softswitch offers revolutionary benefits over traditional switching alternatives available in the market.
1) Cost Effective
Cost-effectiveness is the chief advantage of a Softswitch. With no overhead of buying and setting up the infrastructure like in traditional PSTN, Softswitch lets you enjoy a more effective and efficient communication setup at very cost-effective prices.
2) Diversity
The Softswitch solution is based on open standards. It means the service provider is not bound to one vendor. Additionally, since open standard reduces cost and enables innovation, you can choose the best products to build a network at a significantly reduced price.
Softswitch offers smooth translation between the different signaling systems, such as SS7, H.323, Megaco, Q.931, MGCP, and SIP. Thus, you can enjoy seamless interconnection with packet-switched networks that utilize different signaling protocols.
3) Modular/ Scalable
Softswitch is modular. It means you can quickly get new value-added services and features. Unlike traditional systems, Softswitch lets you easily add or remove new servers to deliver the desired functionality. The modularity of Softswitch enables you to build an environment where you can grow as per your requirements. This feature is particularly critical in today's time when technology is ever-changing, and competition is steep.
VoIP Softswitch lets you expand your business quickly by adding new extensions and trunks.
4) Flexibility
Softswitch supports and facilitates complete internetworking with the traditional PSTN by offering seamless interconnection to the PSTN for both CAS and SS7 interfaces. One of the most significant advantages of this flexibility is that it lets the communication companies leverage their existing investment in switching with a smooth transition to packet-based IP technology.
5) Reliability
There are instances when the call load increases suddenly and results in failure. In such cases, a Softswitch can make automated configurations and switch without giving moments of communication glitches.
Conclusion
Softswitch is a critical component of the next-generation networks and delivers many advantages over the current Class 4 and Class 5 switches. In fact, Softswitch is far more cost-effective than other traditional communication solutions. Also, since it is an open standard, you can choose any vendor or service that suits your requirements best. Modularity makes softswitch scalable; therefore, you can build networks that can quickly grow as per need and affordability. Softswitch also supports interworking with the PSTN through seamless interconnection to PSTN for SS7 and CAS interfaces. Thus, as a telecom operator, you can easily leverage the existing investment in stitching and smoothen the transition to packet-based IP technology.
It is a technology that is here to stay. Since it uses an intelligent approach to networking, it efficiently overcomes the limitations of an intelligent network and service creation environment. As a cherry on top, a customized softswitch solution will adhere to your goals and bring out the best of your investments.