The IT industry is moving to the cloud as more businesses recognize the benefits of a cloud-based approach. Traditional models have various flaws that cloud-based models overcome, permitting a more effective means of working. Continue reading this blog to know what defines CCaaS and how a business can replace its entire on-premises call center by implementing a CCaaS solution with a vastly superior contact center housed in the cloud.
What is a Contact Center as a Service (CCaaS)?
A company can subscribe to a cloud-based customer care software solution called a  hosted contact center, sometimes called a CCaaS solution. It can holistically handle multichannel customer interactions from a personal and employee standpoint.
Contact Center as a Service (CCaaS) provides all the options with an on-premise contact center system in the cloud. From call routing to caller information logging, CCaaS solutions are essential tools for contact center managers and agents.
Still, you are not required to have on-site software solutions installed at your business. Even small organizations can profit from CCaaS solution providers, which include tools for coaching automation and staff management.
What specific characteristics should you look for in CCaaS solutions? 
All cloud contact centers strive to enhance customer interaction and communication, but different offers have varied features and capabilities, some of which are more advantageous than others.
Here are some particular CCaaS features to look for:
Omnichannel Assistance
Any well-liked digital medium is easier to communicate through with a CCaaS solution. Use a platform that enables consumers to communicate with your business in their preferred manner and makes it simple for agents to access all of these channels from their computers.
Continuous self-service using AI bots
How easily data can be accessed and shared serves as an example of the beauty of a cloud CCaaS solution; because of their interconnection, automated virtual agents can respond to clients' more straightforward inquiries without ever involving a human agent. These AI-powered agents free up human agents by letting clients contact them anytime.
Turn-by-turn directions
AI technologies can transform employees into super employees who consistently provide excellent customer service. Agents will direct with suggested next steps to solve problems swiftly using context-aware AI support.
Including a collaboration program
A CCaaS solution should be able to interact with a vendor's collaboration platform. Team members may communicate instantaneously and remotely thanks to features like cloud calling, texting, and virtual meetings. It makes it possible to solve problems more effectively, which enables quicker resolution of consumer concerns.
How Does CCaaS Work?
Contact Center as a service uses VoIP technology, and CCaaS providers offer one-of-a-kind software CCaaS solutions that enable contact centers to change their work processes. As more contact centers adopt cloud-powered telephony systems, CCaaS gives them the communication capabilities to work seamlessly, even when they handle 1000s of daily phone calls.
The fact that this reliable business is subscription-based is another differentiating feature. Your investment costs are lower than those of conventional phone networks because you pay for what you use.
You also benefit from lower prices and additional features.
What Are the Benefits of Contact Center as a Service (CCaaS)?
The ultimate benefit is the significant improvement in your company's bottom line that results from using a CCaaS solution provider platform. However, the CCaaS solution offers more focused business enhancements that lay the foundation for this increase in profit. Here are a few advantages of CCaaS solution software offers:
An enhanced experience for customers across channels
Customers prefer to get in touch with you through their preferred method. With an omnichannel CCaaS provider strategy, you can cater to every customer's needs.
Regardless of origin, the CCaaS solution enables agents to receive and address consumer inquiries from a single platform (Live Chat, WhatsApp, call, social media, or email). This dynamic method of working in contact centers speeds up response times.
Centralize all customer communications
When a CCaaS solution offers a centralized dashboard of engagement, there is no need for agents to switch between applications and run the risk of missing something crucial.
Additionally, utilizing a single application is inherently more straightforward than using several.
When tasks are made simpler for agents, they function better, especially when dealing with angry clients all day and working under tight deadlines.
Ability to Serve Individual
Customers do not need a live representative's help when they have minor or routine service issues. Like a chatbot, they can get help from self-serve features in the CCaaS solution to make purchases, cancel orders, and handle similar problems.
Increased Scalability and Flexibility
You can quickly modify your plan to unlock the capability required to match the demand if you experience an unanticipated spike in customer support activity owing to business expansion or another reason. If necessary, you can then drop it back down.
Enhanced satisfaction
The goal of the CCaaS solution is to improve and increase the effectiveness of customer and agent interactions. Longer-lasting customer relationships and increased employee retention result from higher satisfaction.
Enabling all routes of communication
Today's customers want to communicate with brands through various channels and typically favor online platforms. Customer service representatives will benefit from using a CCaaS provider to efficiently and correctly engage with clients via voice, text, email, SMS, social media, etc.
Essential Things to Know Before Implementing CCaaS Solution?
It's crucial to conduct some soul-searching to determine what you're looking for in a platform before comparing various CCaaS options. Your business requires some features or characteristics of the CCaaS solution providers while being able to live without others. By reflecting, you can be confident you'll obtain the ideal program at the perfect price.
To better understand your needs, consider the following CCaaS solution queries to pose to your team and yourself:
What Goals Do You Have?
It would be best if you established your customer care team's future goals in writing. Ask sales representatives during software demonstrations how this CCaaS solution would help you attain them. The execution is about to begin. Creating a cloud-powered contact center is relatively straightforward if you partner with a reliable supplier.
What Are Your Plans for Growth?
Determine the number of agents you currently have and the number you anticipate having in the upcoming months, years, and two years. Will there be a significant increase in agents? Find a tool that can handle this rise if that is the case.
Which features are necessary?
There might be some aspects that are indisputable if you've already done some study on CCaaS solution tools. Put them on paper.
Which software are you looking to integrate?
Do you want the software to integrate with a CRM, an email service, or other apps? Ask them if the vendor can set up this union between your unique tools and theirs.
Why do Businesses Consider CCaaS Solutions?
Businesses often prefer CCaaS solutions to more conventional phone systems or platforms like Auto Attendant or ACD Queue for various reasons. Among them are:
Scaling CCaaS is simple
In contrast, traditional phone networks could be more scalable. You need to add some hardware for each additional agent. You also need to hire more agents because there are many more customers. Scalability consequently quickly becomes an expensive and time-consuming endeavor. Contrarily, adding more users with the CCaaS solution is simple—ensure you're paying enough for the licenses.
CCaaS is available from anywhere
Employees are not required to confine to the workplace. They can take calls from anywhere as long as they have an internet connection. The most significant advantage of the CCaaS solution is remote teams.
Also Read: UCaaS Vs. CPaaS Vs. CCaaS – Everything You Need to Know
The Contact Center as a Service Market's Future
CCaaS solutions continue contact center software development to satisfy client expectations and are being used by more and more companies worldwide. From 2022 to 2030, Grand View Research projects a compound annual growth rate (CAGR) of 18.4%.
The increased use of cutting-edge contact center technology to improve company continuity, expedite customer interactions, and boost customer satisfaction is responsible for market growth.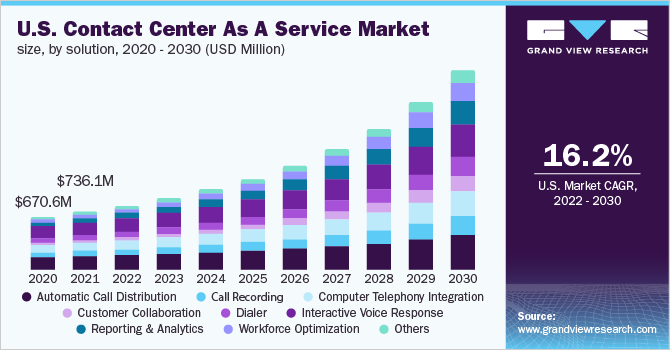 Source: Contact Center as a Service market
Platforms for CCaaS solution providers offer feature sets that are more comprehensive and functional. All of this points to one thing: the software is becoming better. And as a result of those advancements, your contact center will be able to provide customers with a more fulfilling experience over time.
Are you Ready to Deploy a CCaaS Solution?
You can replace outdated communication infrastructures by moving your customer communications into the cloud by subscribing to a contact center as a service. Your CCaaS solution provider will manage your hardware, software, and services after deployment.  Because the service costs for on a per-user, per-month basis, you may quickly scale up or down as necessary – negating the need for substantial upfront investments.
Additionally, your CCaaS provider will set up software upgrades to happen automatically.
Conclusion
Regardless of the problems changing the corporate environment, the proper CCaaS infrastructure guarantees customer happiness and delivers superior customer experiences.
CCaaS solutions provide cloud-powered access to the tools, functionality, and support needed to operate a modern contact center effectively. As a result, it's critical to select the top and most dependable CCaaS providers available on the market right now.
We recommend Ecosmob as an alternative because it's the simplest method to go "omnichannel" and radically enhance your customer care procedure. Please don't hesitate to contact us if you have any queries or to initiate a demo request at any moment.