In the healthcare industry, getting timely assistance through a reliable, high-quality communication system during an emergency has been a prevailing challenge for ages. The stains of covid-19 made this pain point even more daunting. What is the possible solution to streamline communication issues in Healthcare Industry? The Answer is IP PBX Solution.
IP PBX Solution offers high-end management systems that include reliable and stable internal one-click calls and voice mails on priority and at a low cost. This article will explain further how IP PBX Solution flourishes in the healthcare industry.
But first, let us understand the basics!
What Is IP PBX Solution in Healthcare Industry?
Internet Protocol Private Branch Exchange ( IP PBX) is an internal telephone exchange that offers dedicated communication services to organizations. It was first introduced in 1997.
It is a customer-premise telephone system whose primary function is to act as a "core switching system" for telephone calls within the organization. It offers an array of services at a low cost, for instance-
Automatic selection of outgoing lines similar to that of PSTN
Value-added services like closed caller groups
Call forwarding
Extension dialing
Active call forwarding
Voice messaging
Call queuing
Multi-party conferencing
Premise-based PBX systems
Undoubtedly hosted IP PBX is rapidly gaining massive popularity among large and small businesses due to numerous benefits. According to a report by Graphical research, the healthcare segment is estimated to hold above 30% share by 2027 at a CAGR of above 10%.
It is high time you switched to IP PBX Solution. If you still have doubts, here is a quick guide to help you-  what to look for when choosing Hosted PBX solutions for business.
Moving on, let us look at the image below to understand IP PBX in a better way –

Source: SiliconPress
IP PBX Solution for Healthcare Industry – Top 6 Benefits 
As the data networks are growing and companies have started focusing on their core competence, the demand for VoIP PBX and hosted PBX is increasing. Thanks to open-source telephony software projects that make PBX systems available for large and small prices at affordable prices. It opens opportunities for small companies. IP PBX software, in particular, is a revolution in the healthcare Industry. It helps the management of the hospitals to plan out everything seamlessly.
IP PBX overcomes all these issues of manual call routing and renders several benefits. Let us gain a clear picture of its benefits in detail.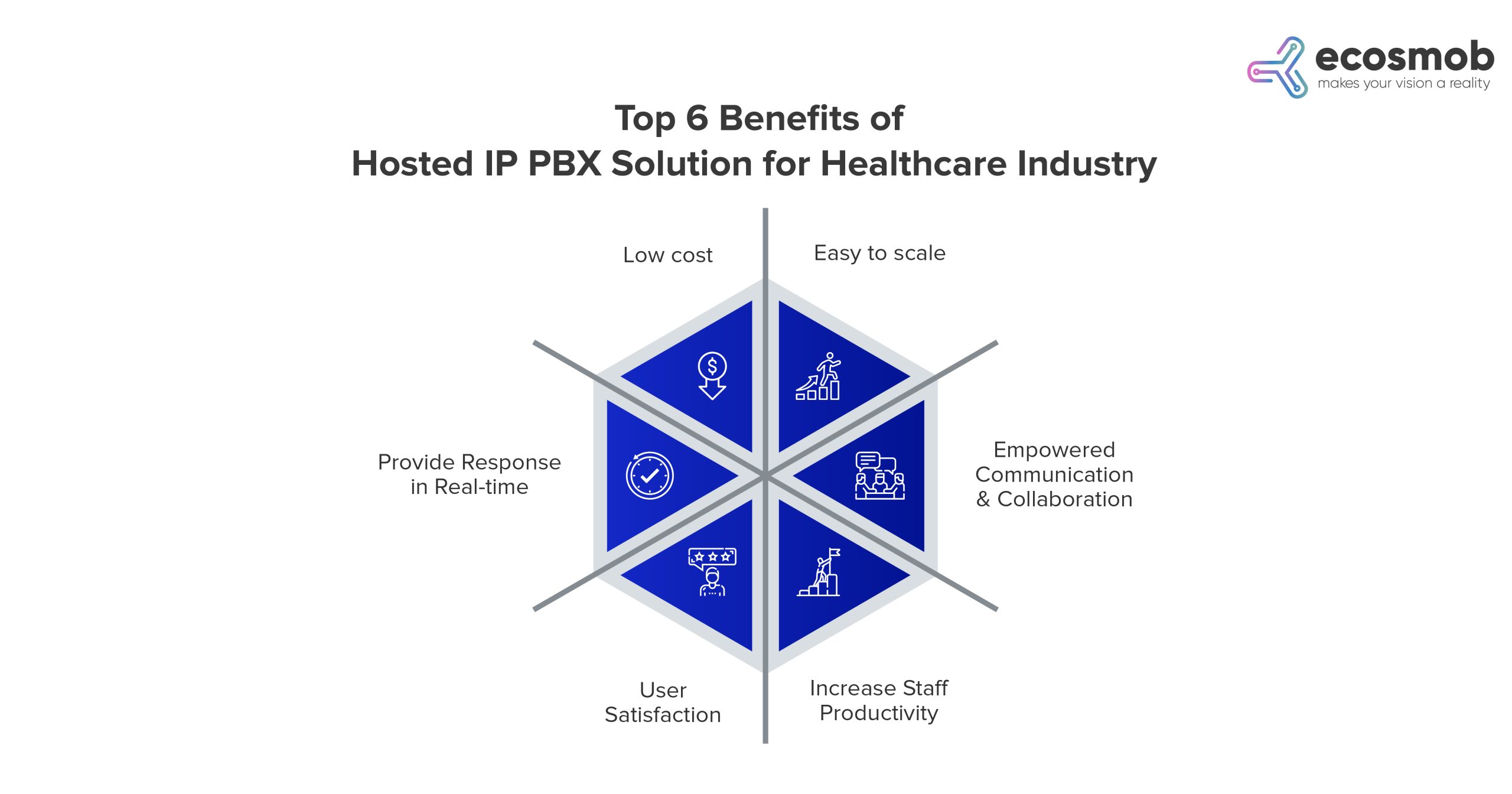 Provide Response in Real-time
The PBX solution has a feature like IVRS (Interactive Voice Response System), which provides essential information to the staff and patients.
For example,
A patient may check the information related to the hospital, the availability of a doctor, his report status, and other details using the IVR.
The doctors or nurses can check the scheduled appointments, patient's report status, and further details with the separate IVR.
This way, an IP PBX solution supports multi-level IVRS menu configuration with an easy-to-use interface in real time.
IP PBX Software benefits the healthcare industry by enabling an automated message, IVR, or emergency number to answer calls outside business hours. To ensure the call is answered, you can also use a feature like "Find Me, Follow Me." Without any technically complicated process or knowing how the same number routes call to multiple persons or an IVR (Interactive Voice Response) system, the patients can utilize the service by simply dialing the dedicated phone number.
Hosted PBX is a SIP-based PBX solution that is easy to configure. It uses the internet for traversing voice, video, text, and other data that cut down communication costs compared to traditional communication solutions. Since IP PBX is software, there is no requirement for bulky hardware and wiring. Its installation, operation, and maintenance process are very cost-effective. This way, IP PBX reduces the overall communication cost and empowers businesses.
It is a software-based solution. It means no cumbersome wiring or heavy hardware is involved.
This feature offers benefits beyond just cost cutting. The IP PBX solution lets you scale up swiftly with zero or minimal downtime. Unlike traditional telecommunication services, it involves no overhead of hardware and maintenance charges.
Increase Staff Productivity
The IP PBX solution eliminates human intervention to run to the respective person and manually share the information. Since IP PBX acts as a core switching system, it also eliminates the need for an attendant to transfer the calls to the respective departments. The IVR system in PBX helps patients book their appointment without standing in long queues at hospital reception. A patient can book as well as review their appointment status directly. These features of PBX reduce staff engagement in the information-sharing role and improve their productivity at work.
Empowered Communication & Collaboration
The multi-tenant IP PBX Solution in healthcare is no less than a blessing. It offers advanced communication features like 3-way conferencing, call forwarding, auto-attendant, call transferring, and more. All these features facilitate you to reach the doctors and staff in an emergency. It also empowers adequate and uninterrupted collaboration through seamless information sharing.
Also Read: How To Start Your Business As Hosted PBX Service Provider?
Conclusion
Integrating a "customized" IP PBX solution is even more beneficial as it focuses on delivering solutions according to the client's requirements. Ecosmob Technologies is a pioneer company in this array. We provide complete tailor-made solutions, easy IP PBX installation, and round-the-clock assistance.