In the digital era of a unified communication system environment, a Session Border Controller solution is critical to security, interoperability, and transcoding. With the help of built-in interoperability features, the SBC software is incredibly capable of automating the entire process and doing call translations. An SBC can easily carry out the audio translation process because of its sophisticated transcoding skills. 
At Ecosmob, as a Session Border Controller provider, we continually endeavor to add new capabilities to this solution. In addition, we offer SBC Development Services for the Telecom Industry to make it more resilient and effective against ever-increasing network security threats. We have included thorough explanations of what is a Session Border Controller and how it benefits both businesses and communication service providers in this blog.
Let's dive in!
What is a Session Border Controller?
A Session Border Controller, sometimes called an SBC, is a dedicated device that controls and safeguards IP communication flows. As their name suggests, Session Border Controllers are installed at network boundaries to manage IP communications sessions. SBCs were first designed to protect and manage VoIP networks. Still, they handle all real-time communication channels, including VoIP, SBC voice, IP video, text chat, and collaboration sessions.
Enterprise Session Border Controllers are dedicated hardware devices or software applications that govern session initiation, conduction, and termination in Voice over IP (VoIP) networks. Essentially, they act as the intermediaries between the internal and external networks, ensuring the smooth flow of SBC voice and video communications. SBCs also play a crucial role in enhancing network security, routing, and policy adherence.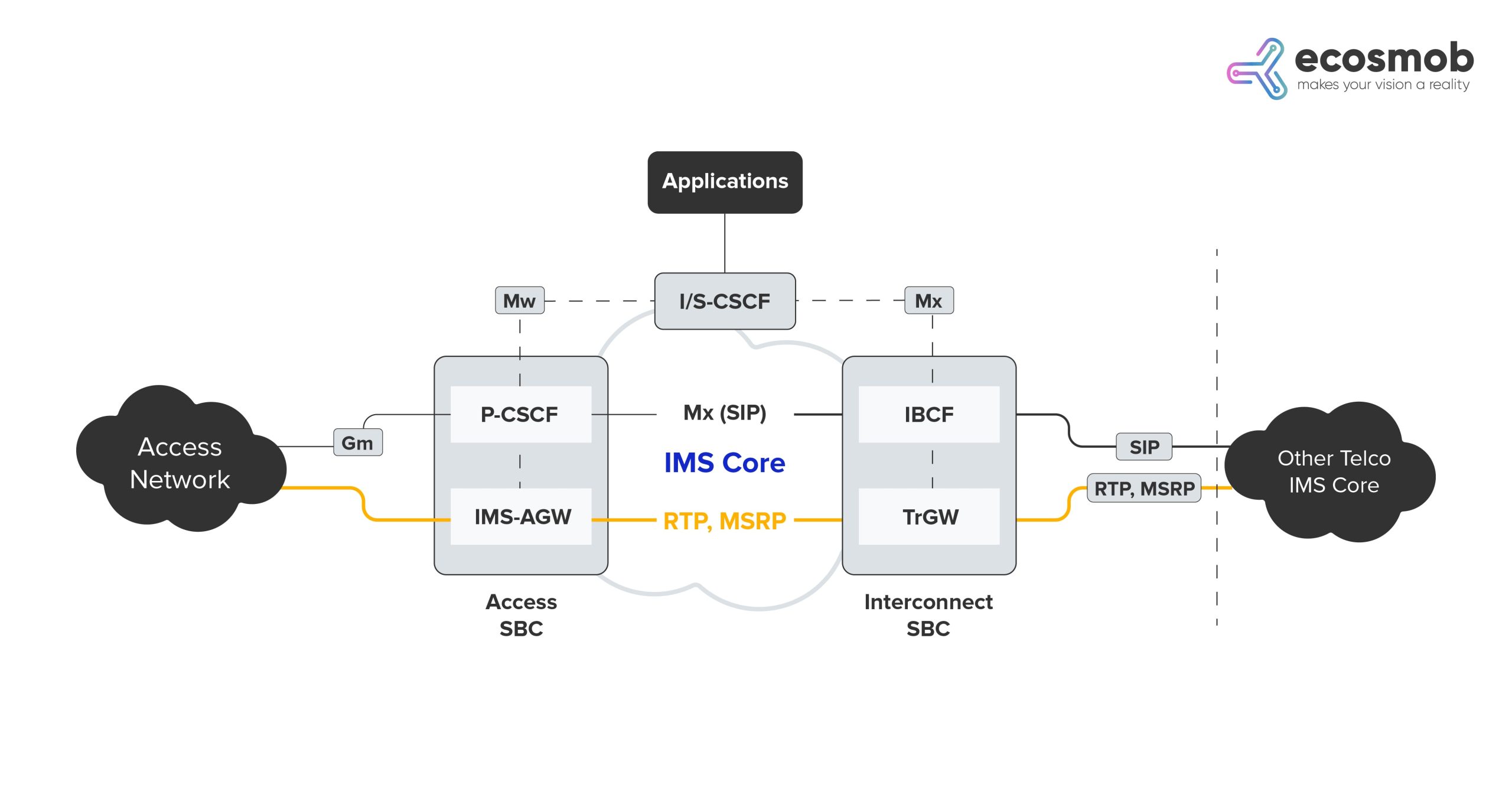 Source: 3GPP IMS Reference Architecture: Functional Elements of an SBC
Session Border Controller Trends
According to market research, Session Border Control solutions are predicted to have a market value of $920 million by the end of 2026. As a result, SBCs record a CAGR of roughly 8.26%. According to analysts, the key factor driving this expansion is the rising demand for secure corporate data.
SBCs specifically assist businesses in deploying UC more rapidly, securely, and effectively. The SBC market is driven by several trends, some of which are listed below.
1. Enhanced Security Focus 
Today's world is preoccupied with privacy and security. SBCs help VoIP service providers exert greater control over their VoIP environments. SIP attacks impact enterprise productivity and revenue. Therefore, companies need to be sure they have end-to-end management. A SBC can function as a firewall. As a result, they defend SIP sessions as they transit between endpoints and safeguard the UC network. The demand for SBCs will increase as businesses adopt more sophisticated UC networks due to call routing, security, interoperability, and network administration demands.
2. Knowledgeable Management 
Enterprise Session Border Controller can guarantee that every organization has the best path to deliver a call to its destination, in addition to increasing the security of VoIP network interactions. Therefore, in the era of the customer experience, the call routing procedure is becoming more and more crucial. Intelligent call routing ensures the appropriate dialogue gets to the proper person to increase satisfaction and reduce business costs. Even better administration of SIP connections through multiple devices is made possible by the intelligent control that the Session Border Controller renders. As a result, businesses have greater flexibility in using the solutions required for an improved communication strategy.
3. Calls for BYOD 
With businesses implementing BYOD policies, SIP communications traffic will keep growing as the workplace becomes more adaptable and mobile. Due to the BYOD movement, organizations must manage more SIP devices for end-to-end security. An ideal Session Border Controller solution will be able to handle the increasing traffic demands of evolving enterprises and give them the resources they require to accommodate a shifting workforce. SBC solution providers are increasingly investing in SBC solutions that offer security and the scalability that businesses need as they examine various facets of their digital transformation roadmap.
4. The need for BYOC 
Over the past two years, organizations have been pushed to adopt cloud-based collaboration systems like Microsoft Teams and Zoom due to the rise in remote and hybrid working. They are now attempting to connect these new platforms with outdated telephony systems as they return to their workplaces. Enterprise Session Border Controller can help enterprises keep their current phone systems and phone numbers while utilizing the power of the cloud by routing legacy phone traffic to platforms like Teams and Zoom. The ownership of the SBC will pass from the end user or a service partner to the carrier itself, thanks to programs like Operator Connect.
Functions of a Session Border Controller 
SBCs control media streams and IP communications signaling to perform several tasks, such as: 
SBCs provide media and signaling encryption to assure confidentiality, guard against impersonation/masquerade, safeguard against toll fraud and service theft and provide Denial of Service (DoS) and Distributed DoS (DDoS) assault protection. 
To reduce multi-vendor incompatibilities, SBCs standardize the headers and messages of the SIP (Session Initiation Protocol) signaling stream. 
SBCs allow for the interoperability of several protocols (such as SIP-to-H.323) or codecs (such as g.711 to g.729 transcoding). 
SBCs implement call admission control (CAC) rules, type of service (ToS) tagging, and rate limitation to ensure service quality. 
SBCs route sessions across network interfaces, allowing least-cost routing (LCR) or high availability.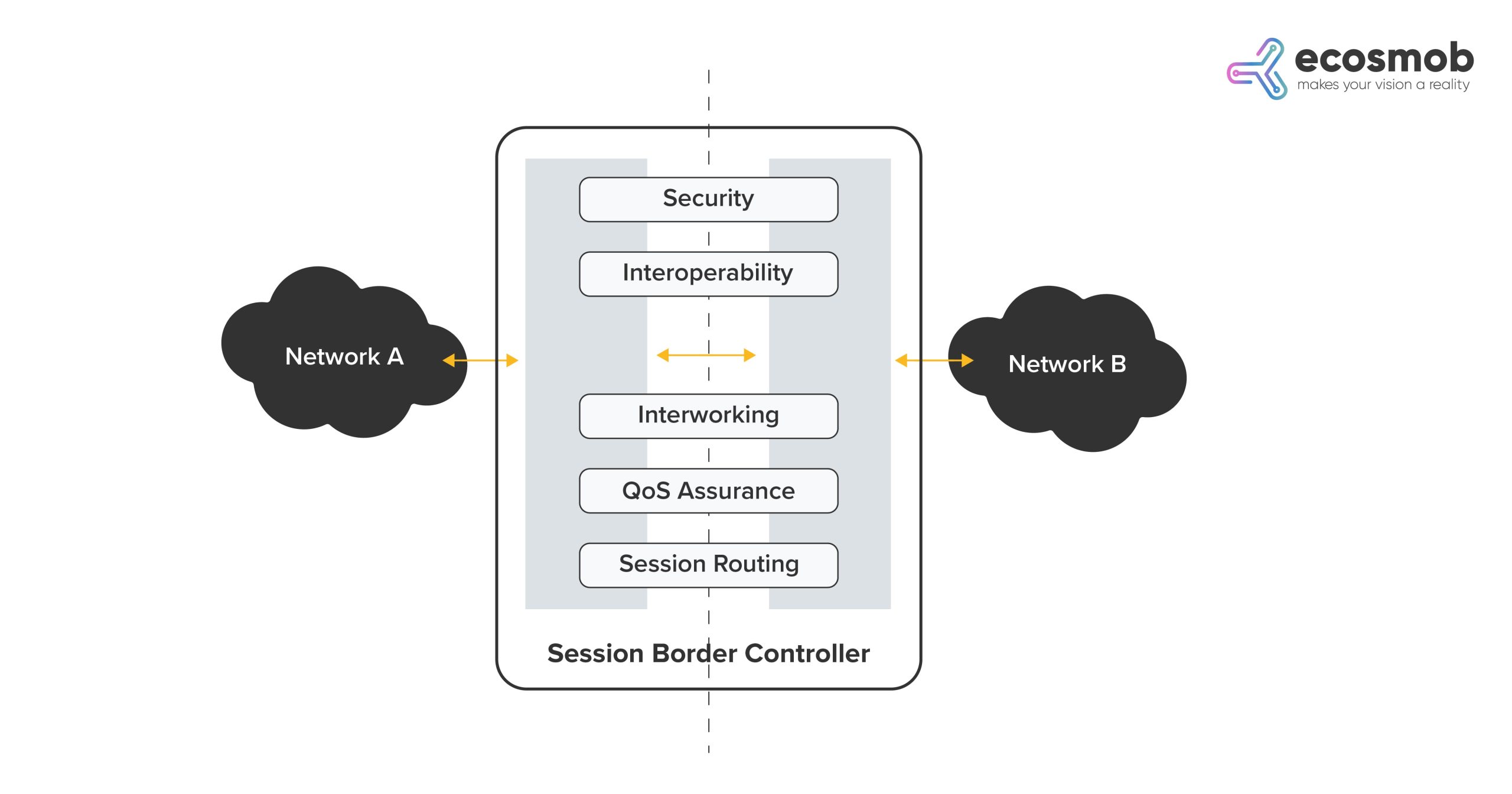 Source: SBC Functions
How Do Session Border Controllers Work?
Overseeing the signals and frequent media streams involved in initiating, conducting, and ending phone calls or other interactive media encounters is the primary responsibility of the SBC Session Border Controller. In addition to providing improved security features, including call admission control, toll fraud detection, and denial-of-service (DoS) protection, they can translate the protocol. SBCs use sophisticated regulations and guidelines to ensure that only authorized sessions are conducted.
SBC Voice also safeguards VoIP networks' Session Initiation Protocol (SIP). SIP is one of the most crucial installation components for conventional service providers. It is a fundamental standard that controls how gadgets talk to each other virtually.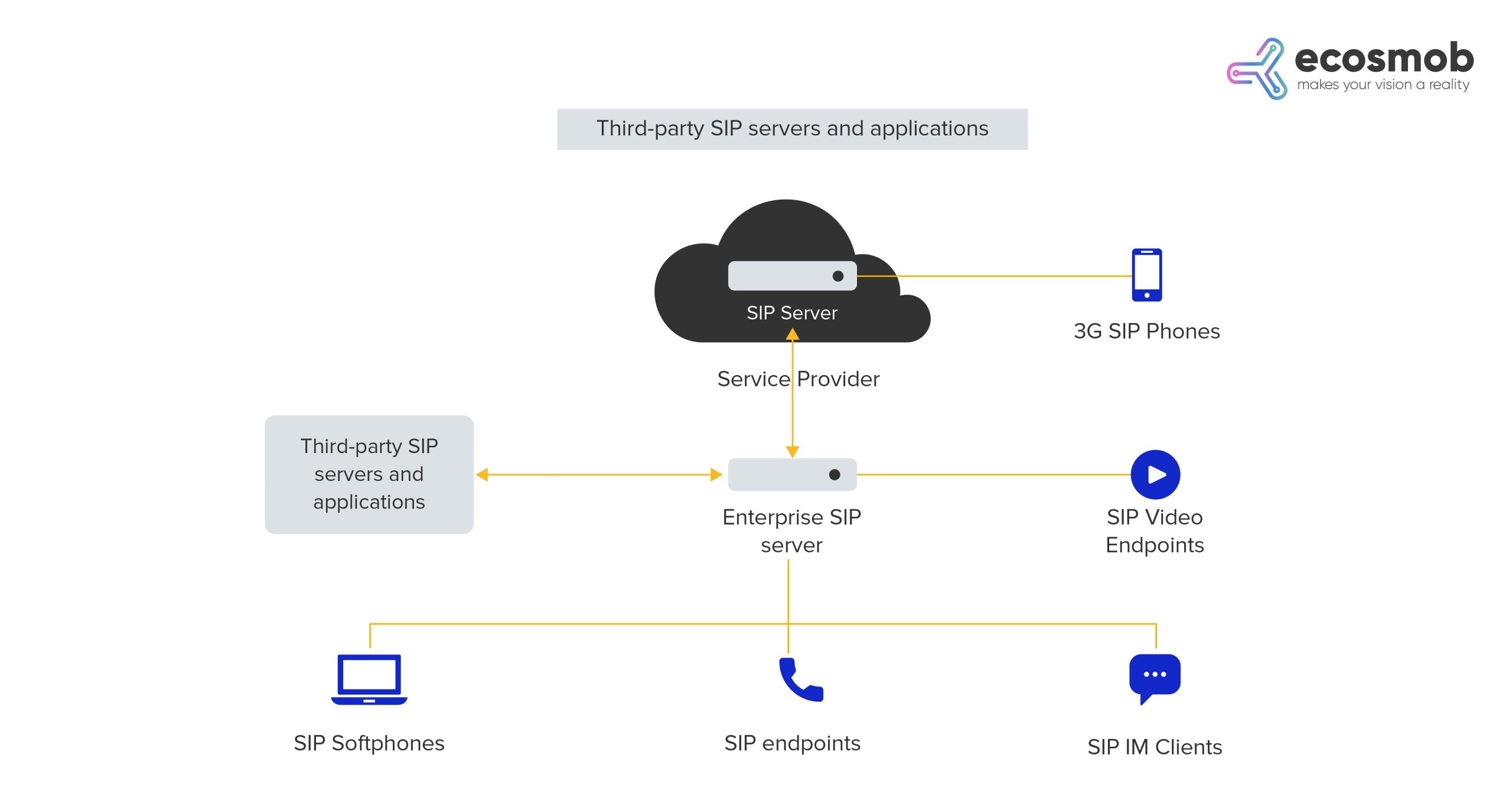 Source:  SIP Working
What are the Benefits of Session Border Controller?
SBCs give businesses the following benefits. Some of the reasons to have SBC are mentioned below:
Enhanced Network Security
Modern VoIP networks cannot function without an SBC Controller, which is crucial for enhancing network security. They are a strong barrier against various cyber threats, such as DDoS assaults, Denial of service (DoS), toll fraud, and malicious intrusions. They minimize the danger of security breaches by inspecting the data packets passing over the network to ensure that only permitted communications are supported.
Improve Call Quality 
Call quality is essential to guarantee efficient communication both inside and outside of a business. SBCs manage and minimize packet loss, delay, and jitter issues to ensure optimal call quality. They increase communication while maintaining the quality of SBC voice and video connections by utilizing state-of-the-art techniques like media transcoding and Quality of Service (QoS).
Reduced Operating Costs
SBC deployment can result in significant cost reductions in several ways. They first streamline the network infrastructure by doing away with the requirement for several-point solutions. By offering centralized control and monitoring capabilities, they also lower the troubleshooting and network maintenance costs. Cloud-based SBC solutions can also reduce costs for purchasing and maintaining hardware.
Flexibility and Scalability 
Having a scalable and adaptable communication infrastructure is essential in the face of shifting organizational needs and increasing network demands. SBCs are built to easily handle increased traffic volume, enabling businesses to scale their operations without significantly investing. Because SBCs are so adaptable, companies can easily include new communication channels and keep up with rapidly changing technology.
Regulatory Support
Many businesses, particularly healthcare, finance, and government sectors, must adhere to regulatory regulations and compliance expectations. SBCs encourage regulatory compliance by ensuring secure communication networks and adhering to industry-specific laws. They include robust logging, call recording, and dependable data encryption—features often required to adhere to legal frameworks such as GDPR or HIPAA. 
What's New in Session Border Controllers Offerings?
Session Border Controllers (SBCs) area of expertise is constantly evolving to match the shifting needs of businesses and service providers. Here are some of the most recent developments and products in the world of SBCs:
1. Cloud-native SBC Solutions
SBC Session Border Controllers have evolved to meet the demands of contemporary, cloud-focused businesses. These services guarantee scalability, flexibility, and deployment simplicity without buying actual hardware. Additionally, they are for interacting easily with other cloud-based services, improving operational effectiveness and streamlining management.
2. Analytics and Monitoring Powered by AI
Network management capabilities significantly improved with the inclusion of AI and machine learning algorithms in SBC products. Real-time analytics, anomaly detection, and predictive insights offered by these developments support proactive problem-solving and improved network performance.
3. Emerging Standards and Protocols Support
New protocols and standards are introduced as the industry develops. Modern SBCs mainly accommodate these developing protocols and standards, allowing businesses to take advantage of the latest innovations without making significant updates.
4. Customizable Offerings
SBC Session Border Controller Solution providers offer more adaptable solutions to meet the several needs of various industries. This trend is assisting firms in creating a customized SBC structure that properly satisfies their operational needs and financial limitations. As a result of ongoing innovation in SBC voice products, businesses can maintain a secure, dependable, and high-performance communication infrastructure that can change with the rapidly changing technological environment. Incorporating AI is ushering in a new era of complex and advanced SBC solutions, enhanced security, and cloud-native solutions, among other things.
Let's Join Hands and Start your Session Border Controller Journey with Ecosmob Technologies!
SBCs are now a requirement in digital communication rather than a luxury. They act as sentinels, ensuring each SBC voice and video connection is safe, effective, and of the highest caliber. The capabilities of Session Border Controllers grow along with technology, making them a crucial component of the current communication infrastructure. Understanding and integrating SBCs can change how you communicate, whether you run a small business, a large corporation, or a service provider. However, if you require any assistance, contact us immediately, and our specialized  Session Border Controller team will communicate with you and provide you with on-time support.
FAQs
Why are SBCs essential for VoIP networks? 
An SBC protects the VoIP network from various assaults, including distributed and denial-of-service (DDoS) attacks. It also facilitates the connection between other networks using other protocols, assisting in resolving interoperability concerns. 
Does my Company require an SBC? 
Purchasing an SBC is essential if your Company uses VoIP technology or intends to transition to one to secure the security, dependability, and quality of your communications. 
How does an SBC Help with cost-cutting? 
An SBC can considerably help a VoIP network save money by optimizing the bandwidth, assuring the quality of the service, and lowering the likelihood of toll fraud. 
Does SBC support all VoIP phone systems? 
SBCs are often made to work with the majority of VoIP phone systems. However, confirming compatibility before integrating an SBC with your current VoIP phone system is always essential. 
Is setting up and installing an SBC challenging? 
The unique requirements of your network mainly determine an SBC's installation and configuration difficulty. To ensure a seamless setup, dealing with a qualified service provider or having a trained Session Border Controller team is advisable.