The SBC Phone system offers many compelling benefits over traditional telecommunication infrastructure. SBC in telecom is deployed within the VoIP network, acts as a firewall, and secures the communication streams while rendering Quality of Service (QoS).
What's more, a managed SBC is a versatile device that caters to different objectives of operators and enterprises.

What Is The Purpose of SBC In Telecom?
Session Border Controller (SBC) is a purpose-built network element that monitors, controls, and protects the sessions on a SIP (Session Initiation Protocol) based VoIP network. The elementary purpose behind the development of breakthrough advancements like SBC was to address the shortcomings of SIP standards. Since then, SBC has been evolving to handle a broad range of IP network functions.
SBC controls the port access as per signaling, and its implementation takes place as a B2BUA (back-to-back user agent) that processes signaling and media path simultaneously. The user-facing agent B2BUA causes all signals and media traffic to pass through the SBC and hides the network topology. As a result, SBC makes the network architecture invisible and thus less vulnerable to attack.

Source: Comsoc
Top 6 Reasons To Have SBC In Your VoIP Phone System
1) Security
You may wonder, Why do we need SBC when we can use a firewall? Although SBCs and firewalls offer similar roles, they work on vastly different foundations.
A firewall has minimal awareness of Session Initiation Protocol (SIP) signaling and can not handle SIP traffic. Whereas SBC mainly focuses on scanning SIP-enabled traffic. SBC guards the network and provides consistent information flow between secure and non-secure endpoints. It protects core network elements and effectively manages sessions from various attacks like-
Registration storms
Spoofing
Service theft and fraud
Malicious and non-malicious signaling overload attacks
With more technological advancements each day, hackers are upgrading their approach to bypass security measures. It thus becomes crucial to keep updating the security patches to avoid any security breaches. Once the system is updated, the SBC enforces real-time security measures and policies for VoIP Solutions.
2) Mitigation
If you are a VoIP Solutions Provider, you must be aware of the denial-of-service (DoS) attack, which is a nightmare for obvious reasons. A DOS attack can bring the whole network down, resulting in unplanned downtime. A Session Border Controller uses pattern recognition technology to identify unusual traffic, like the sudden surge of traffic during a Denial of service (DoS) attack. Pattern recognition technology helps SBC defend the communication system and mitigate Dos attacks.

Many a time, DoS attacks come with unwanted malware. However, SBC ensures complete protection from dangerous malware as well.
3) Continuity
The role of SBC is vast and has much to offer. For instance, SBC in telecom also ensures an optimum routing of calls. It enhances customer satisfaction. If the system gets malware or DoS attacks, it can disrupt the flow of phone calls, eavesdrop on calls, and infect the system with viruses and malware. Once the system gets infected with malware, it can result in downtime for an unknown amount of time, causing a delay in business and loss of time and money.
However, having SBC by your side, you can rest assured.
4) Quality
Without SBC, your system may have poor call quality and difficulty in smooth communication. So here comes a question: How does SBC improve the Quality of Services (QoS)?
SBC is elementary for the smooth functioning of the IP communication system. If you do not have a Session Border Controller, you need to be ready to experience communication glitches and security issues in your system. It is because SBC ensures-
Bandwidth management
Resource allocation
Prioritization of voice packets
Call admission control policies
Rate limiting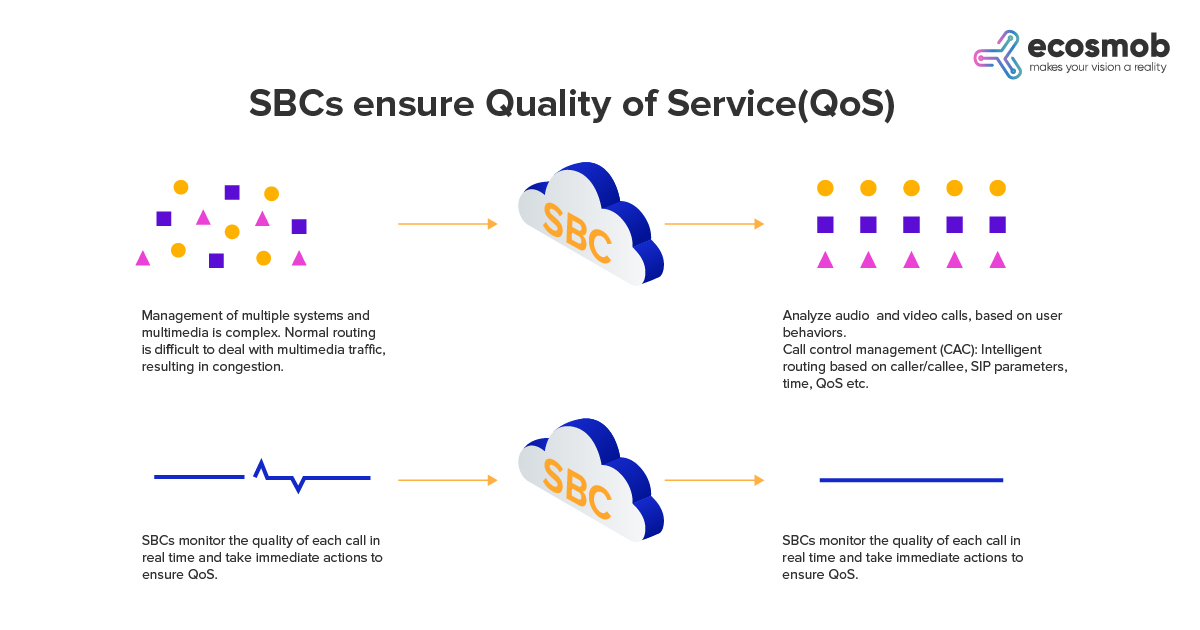 Source: Dinstar
Furthermore, if your enterprise has to manage lots of missed and dropped calls, poor voice quality, or both, integrating the Ecosmob Technologies SBC solution can drastically increase the session standard, causing better consistency.
5) Connectivity
SBCs in telecom have brought the notion of connectivity to an entirely new level. They connect the company's communication infrastructure to the public internet, host Private Branch Exchange (PBX) service providers, and a private vendor network while maintaining network security.
SBC routes the phone traffic via an internal IP address instead of a conventional circuit-switched phone network. Calls route much faster, and there's no need to pay for traditional, individual phone lines
6) Safety
Managed SBC offers complete safety and it is one such benefit that many companies do not recognize. If SBC encounters a potential threat, it immediately eliminates or pauses the threat before letting it cause more harm. Then, after identifying the threat, SBC notifies the host, CPU (Central Processing Unit), regarding details of the threat and the protocols used to normalize it.
Additionally, SBCs can inform other companies' branches, alerting them to the possibility of a similar security breach. IT teams can use the data to keep an eye out for any security issues in the future.
Conclusion
With these top reasons, SBC in telecom is an umbrella of benefits that saves the VoIP phone system. At Ecosmob Technologies, we understand the requirement for a robust and reliable SBC Solution for the up gradation of your business communication.