VoIP technology has been growing fast since its inception in the late 1990s. One of the main reasons behind the massive demand for VoIP technology is its numerous benefits to communication service providers and customers. These are cost-saving, time-saving, rich media services, phone and service portability, and integration with other applications. The list doesn't end here. You will be amazed to know that there are numerous VoIP Features That Help You Grow Your Business. Isn't it mind-blowing?
Here comes a very evident question-
What Do VoIP Solutions Do?
VoIP Solutions allow voice and multimedia transmission of data packets over a private and public IP network. The fundamental idea is to use the internet to make calls rather than the more conventional landlines and mobile phones. However, it also introduces some challenges to VoIP service providers. Some of the most daunting challenges of VoIP are security issues, architecture complexity, quality of service, and interoperability issues. Due to ever-increasing pressure on VoIP service providers to deliver secure and uninterrupted communication services, the concept of Session Border Controller solution development services came into existence.
Let us dive deep and understand what a Session Border Controller is and how SBC Solution Development Service helps VoIP service providers. For a detailed overview of VoIP Solutions, here is a detailed article- Guide to Choose the Best VoIP for Small Businesses.
What Is A Session Border Controller?
Session Border Controller SBC is a special-purpose device that regulates and protects IP communications. These are installed at the boundaries of the network. The strategic position of the Session Border Controller within the network exerts control over the signaling and media streams and offers practical and interactive communication. SBC acts as their source and destination while entering or exiting the network. This capability of the Session Border Controller further enhances the roles and functionality of routers, data firewalls, and VoIP Soft switches.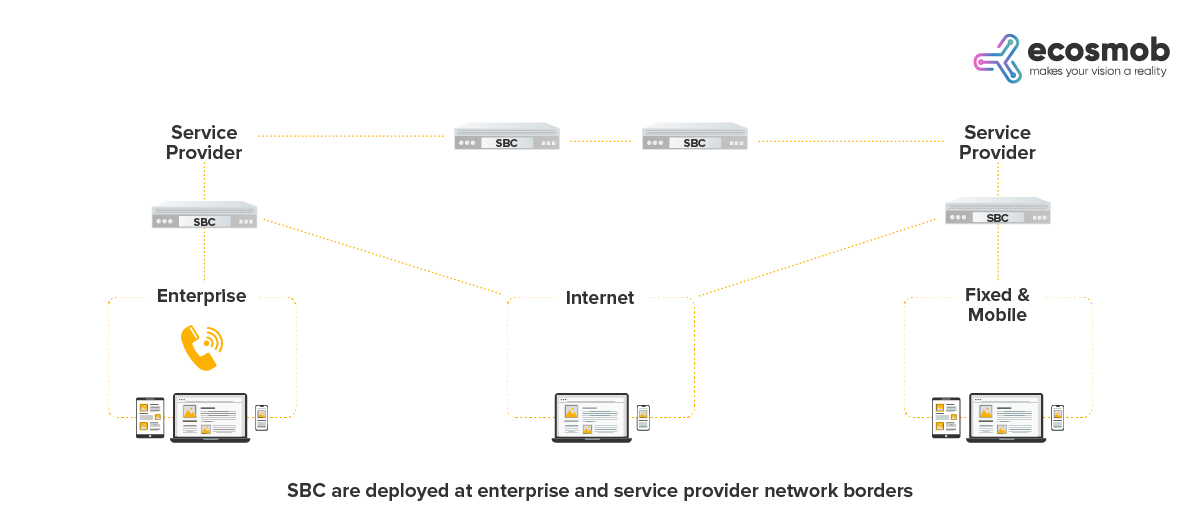 A session Border Controller is capable of playing different roles in a variety of scenarios. For instance, It connects to VPNs to solve internal topology issues. There are various other diverse functions as well that an SBC has to offer. These are-
Centralized codec transcoding
Firewall/NAT traversal
Call Admission Control
Media bridging
Policy-based call routing
Call billing
Signaling protocol interworking
Each issue that an SBC development service solution tries to resolve originates from the trust, policy, and administrative boundaries. Whenever there is a clash between these boundaries and envisioned VoIP model, the requirement of SBC arises. This way, the role of SBC is essential in the full-scale deployment of VoIP and existing PSTN.
Furthermore, a custom-built Session Border Controller Solution is the icing on top. The reason is that a customized SBC Solution ideally fits your business needs, making it more profitable. For more insights on -how a personalized solution can change the game of generating profitability, get in touch with us by sending your queries here. Our experts will guide you through it.
How Does The SBC Development Service Help VoIP Service Providers?
SBCs are placed in front of the session agents. For instance, IP PBX, Softswitches, IP-enabled mobile switching centers (MSCs), IMS call session control function (CSCF) elements, UC servers, and application servers, and take decisions like call acceptance or call rejection.
It helps the session agent from signaling attacks that hackers initiate. Additionally, it ensures that calls get accepted only when adequate network quality and soft-switch resources are available. This way, SBC Solution development services provide high security and high-quality communication experience. It also amplifies flows as interactive sessions and makes more intelligent routing decisions. SBC seeks complete control of data packets as they traverse network borders and facilitate the seamless delivery of session-based IP communications.
For VoIP service providers, these controls fall into five categories-
Security
Service
Cost efficiency
Regulatory compliance
Revenue optimization
1) Security
Voice traffic travels over IP networks and is susceptible to eavesdropping; ports can be tunneled into, even bypassing the standard firewalls. As a result, a VoIP service provider may lose valuable clients due to poor Quality of Service (QoS) and security.
In that case, What makes a VoIP network secure? The answer is Session Border Controller.
Introducing a Session Border Controller in the network leads to topology hiding, protocol hiding, and an extra layer of firewall security. SBC secures the service delivery infrastructure, customer networks, systems, and relationships. It also offers session and customer network privacy while giving protection from DoS/DDoS attacks, non-malicious overloads, and other security breaches.
IBM's report in 2019 suggests that the cost of security breaches continues to rise yearly. In the United States alone, the security breach cost is $8.1 million, which is enormous and requires stringent remedies that SBC offers. You can check our detailed article Is VoIP Secure? How Does SBC Solution Transforms Consumer Experience? for more insights and exciting facts and figures to learn.
2) Service
VoIP Solution providers offer local and international call services across diverse geographic locations within network and telecom protocols. It makes network address translation smooth. SBC development services take care of all the possible communication glitches that can appear in the process and ensures the Quality of Services.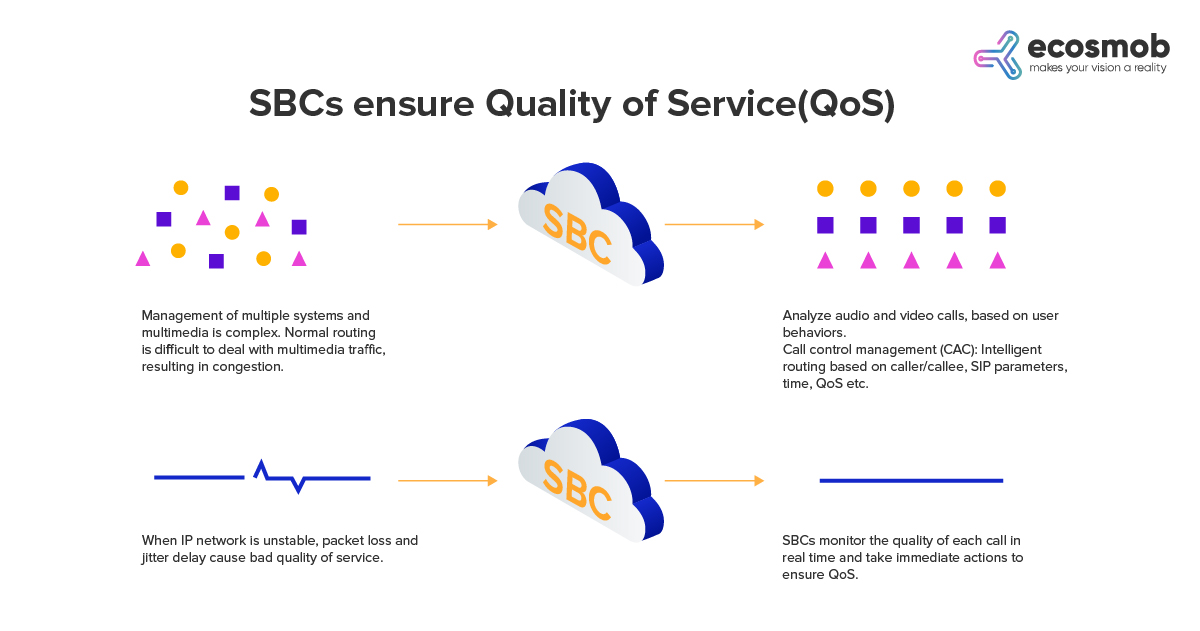 3) Cost-Effective
SBC solution development services allow enterprises to centralize and decrease the costs associated with communication infrastructure. It is a versatile network element that serves multiple purposes within the IP network. For instance, the Session Border Controller solution acts as a video proxy server, a Nat/firewall traversal solution, a protocol conversion, QoS monitoring, and a management system. It improves the business process further and derives insightful intelligence to optimize services.
4) Regulatory Compliance
SBC mediates between encryption protocols, signaling, and transport. It converts incompatible codecs and translates signaling layer telephone numbers, addresses, and response codecs.
Session Border Controller solution development service also allows sessions to pass through existing network address translation (NAT), data firewall devices, and bridge networks that use overlapping IP addresses, VPNs, and IPv4 and IPv6 addresses. That is how SBC drastically improves the reach and interoperability of the services.
5) Access Control
Based on traffic type and IP address of origin and destination, SBC allows authorized traffic to traverse the network boundaries. SBC safeguards the VoIP network from various ways that can disrupt IP-based communication services, including malicious attacks, nonintentional issues like configuration issues, protocol fuzzing, and interoperability issues. An SBC also saves the VoIP service providers from DoS attacks that are already like a nightmare. You can check out Reasons To Have a Session Border Controller (SBC) in a VoIP Phone System for an in-depth analysis.
Conclusion
A custom-built Session Border Controller solution development service by Ecosmob Technologies is a one-stop destination where the list of esteemed clients speaks for itself. We offer robust security features through all real-time communications like voice, video, and text. We focus on customized solutions as per your business requirement.