Incepted in 2007, Ecosmob Technologies is a fast-growing IT company presenting integrated business solutions and technology expertise to global clients. The company's vision is to achieve global recognition for IT solutions with a customer-centric approach and value-addition domain expertise.
Moreover, the team's expertise lies in VoIP solutions, Opensource Consulting, E-commerce solutions, and Mobile Applications. Besides this, the team also shares the same proficiency in PHP, Joomla, Node.js, and WordPress platforms. The group of experts has a consistent track record for producing customized solutions with quality and stipulated time.
Ecosmob's business delivery model is highly client-centric, and the group of engineers has always helped clients to enhance their business values through superior business integration knowledge.
Ecosmob has delivered varied projects for clients that include Softswitch Solution, Billing Solution, and a few others. The services catered to the clients include Search Engine Optimization, Website Development & Design, and Website Marketing. Furthermore, the organization also offers offshore services to support technical and customer support centers.
The GoodFirms team reached out to Ruchir Brahmbhatt, the Co-founder & Director of Ecosmob Technologies to know about the company's services and other parameters that help clients to boost their business ROI. "We have a robust network of functional and proven partners – around the world – who share the same passion and dedication as we do," he says.
As a Co-founder and Director, Ruchir has helped the company for years to produce best-in-class services. Moreover, he also takes care of the global delivery of services and solutions and is responsible for making the company brand-centered with a 100% satisfaction guarantee. Ruchir's responsibilities include:
To define strategies and solutions for the development of business.
Taking steps to accelerate the productivity of the organization.
"With a passion for working with new technologies and providing innovative solutions, Ecosmob was incepted to provide client-centric solutions to global clients,' explains Ruchir. The company was launched in order to fulfill clients' goals by solving their business challenges. The organization began with few professionals, and currently, it holds 150+ skilled professionals on board.
Ecosmob's Co-founder & Director proudly mentions the most flourishing services rendered to the clients by professionals. The company's in-house team is dedicated to presenting the best quality solutions and services on time. The core value of the organization is transparency in the workflow and processes. The professional team holds expertise in taking customers' ideas, interpreting them, and making the final solution as per the need of their business. Before deploying the solutions to the client, the group makes sure the quality by cross-checking it.
At Ecosmob, the professional app developers provide a vast range of Android Mobile application development services. The team of designers and developers is capable of exploring the comprehensive Android SDK platform and uncovering a complete set of applications for Android mobile devices. The in-house app developers' team knows what it takes to convert clients' vision into reality. Having worked on many projects, the group understands every app project is distinct and needs special attention.
Ergo, the team spends considerable time in planning and research. The creative engineers craft creative prototypes and always have a solution to clients' problems to enlighten clients on newer ways to boost their business profits with robust solutions. Thus, helping clients increase customer retention rates, dwell time, and app downloads by catering them with robust app solutions would soon endow Ecosmob Technologies as one of the top mobile app development companies in Ahmedabad at GoodFirms.
The review displayed below is confirming the quality apps produced at Ecosmob Technologies.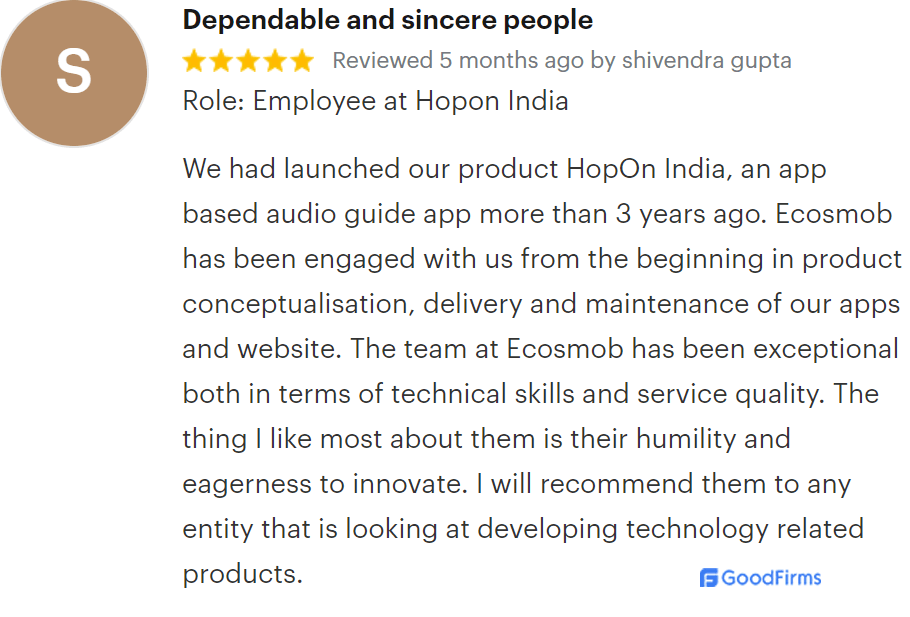 With Artificial Intelligence services, clients can predict business problems before they happen. Ecosmob Technologies holds a team of expert AI and ML Engineers and data scientists to help clients transform their traditional operating systems into modern and intelligent systems. The organization helps clients build up data storing structures that can be used for data visualization, forecast, and decision making.
Moreover, the team creates fault tolerance and highly automated systems using AI. The company's expert AI programmers help clients unleash the hidden value of Big Data by giving a blend of business astuteness and machine learning. In today's technology-driven era, the team with the data influx from an infinite number of sources like websites, mobile applications, IoT and wearable devices, sensors, enterprise logs, and others have paved the way for Ecosmob Technologies to burgeon as top artificial intelligence companies in India amongst the listed ones at GoodFirms.
Thus, having read the summary of the discussion of GoodFirms' interview with Ruchir, one can also go through the detailed interview published at GoodFirms.
About GoodFirms
Washington, D.C.-based GoodFirmsis a maverick B2B research and reviews company that helps in finding mobile app development and AI development agencies rendering the best services to its customers. GoodFirms' extensive research process ranks the companies, boosts their online reputation and helps service seekers pick the right technology partner that meets their business needs.
About the Author
Anna Stark is presently working as a Content Writer with GoodFirms – Washington D.C.-based B2B Research Company, which bridges the gap between service seekers and service providers. Anna's current role allows her to shape every company's performance and critical attributes into words. She firmly believes in the magic of words and equips new strategies that work, always in with ideas, something new to carve, and something original to decorate the firm's identity.