VoIP Softswitch solution is a software-based switch that provides call control and directs IP packets to their destinations. It uses VoIP (Voice Over Internet Protocol) technology to connect, maintain, route, and terminate calls.
Two types of VoIP Softswitches cater to different telecommunication requirements. One serves the wholesale market and offers bulk services, while the other is a retail Softswitch that provides services to end users such as enterprises.
These two VoIP Softswitches are Class 4 Softswitch and Class 5 Softswitch.
In the VoIP-based solution enterprise, there are numerous differences between class 4 and class 5 Softswitch; although they are the most widely used terms, yet, are unknown to many.
Here is a quick guide to help you understand Softswitch, how Class 4 and 5 Softswitch differ, their key characteristics, and more.
What is Softswitch?
A Softswitch is software that controls calls and processes media streams. It offers distinct yet cost-effective features like call recording, monitoring, queuing, online faxing, instant messaging, audio, and video and conference calls. Softswitch is a software-based device that uses VoIP technology and general-purpose servers to virtually and automatically link conversations.
Let's delve deeper into Class 4 and Class 5 Softswitch solutions and their distinct features and functionalities.
What is Class 4 Softswitch?
Class 4 Softswitch solution receives calls from providers and routes them between the carriers in bulk.
That's why VoIP class 4 Softswitch is also called a wholesale solution. It is ideal for routing a large volume of long-distance calls at a low price for traffic among carriers. It also connects suppliers, operating on a provider level.
It is a central office telephone exchange that interconnects local exchange carrier offices.
Also Read:  Why Class 4 Softswitch Makes VoIP Service More Attractive
What is Class 5 Softswitch?
The Class 5 Softswitch solution routes call between end-users or consumers in moderately smaller areas like cities, towns, and nearby locations within a country. Precisely, it works with local users hence also known as a retail VoIP Softswitch.
Pinless and calling card services allow end users to dial into a local Class 5 Softswitch and use VoIP services. With its rich features, Class 5 Softswitch facilitates service providers to build scalable and potent VoIP apps.
VoIP Class 5 Softswitch software uses VoIP instead of public switched telephone networks to make calls. Usually, the local telephone communications company's central office directly serves end-users. It can also route calls to the IP or SIP address or a DID (Direct Inward Dialling) number of the end-users.
Difference between Class 4 and Class 5 Softswitch
Undoubtedly both the Softswitches, Class 4 and Class 5, play a crucial role in the VoIP infrastructure and work in coordination. For instance, Class 5 Softswitch is responsible for routing calls within small areas/retail VoIP service providers. On the other hand, Class 4 Softswitch transmits calls to a wholesale VoIP provider/long-distance international location using an IP network.
Here is a quick guide to clarify how Class 5 Softswitch differs from Class 4 Softswitch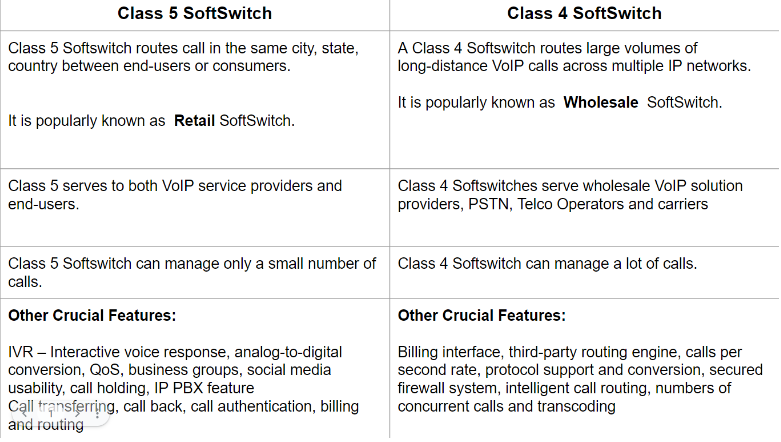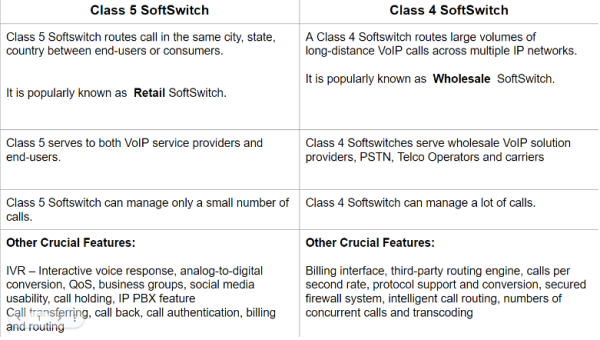 Wrapping Up
Ecosmob offers ultra-modern class 4 and class 5 Softswitch development services per business needs. Connect with us now to discuss your requirements, and we will propose a customized VoIP Softswitch solution that will help you expedite your business and amplify the ROI. If you have any queries, email us at sales@ecosmob.com.