Do you know the demand for VoIP providers in the UK is growing day by day? Yes, that's right. The growing number of mobile computing devices is the key driving factor behind the progression of the VoIP market. Besides, the usage of the Internet all over the world and a need for fast data are also driving the implementation of VoIP services. Looking at all these factors, the VoIP market in the UK is expected to grow by $4.83 bn, developing at a CAGR of 9.08% during 2022-2026 (VoIP Market in UK 2022-2026).
So, if you are searching for the right VoIP solution provider in UK, then this blog can help you narrow your search and find the best suitable VoIP service provider for your key business needs.
List of Providers Offering the Best VoIP Service in UK
Now let's know more about the above-mentioned companies to help you make an informed decision about choosing the best VoIP solutions provider.
1) Gamma Horizon
Gamma is a well-known business VoIP provider operating in the UK. It offers VoIP services for businesses of all sizes. The range of features offered by the company includes call forwarding, call waiting, and call recording. It uses SIP technology while offering VoIP services.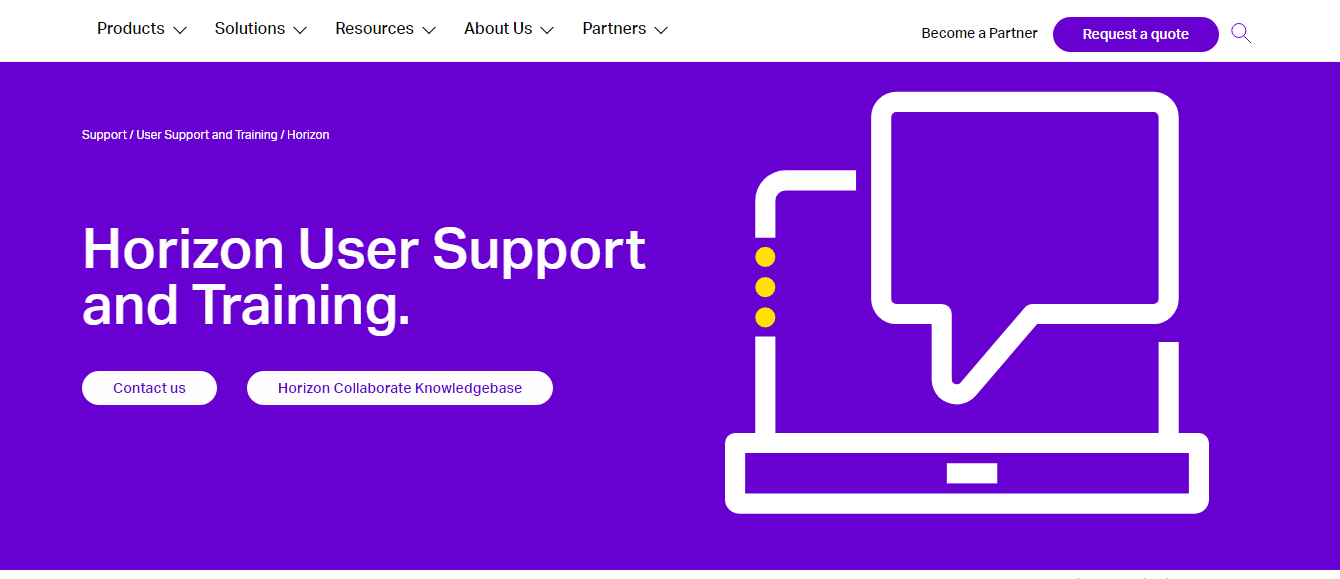 The company offers competitive and transparent pricing, with different packages available for businesses of various sizes.
The services portfolio of gamma broadly comprises the following:
Strategic services- Collaboration, Cloud PBX, SIP Trunking, and Inbound Call Control services.
Enabling services- Ethernet, Broadband, Network, and Mobile.
Traditional services- Calls and Lines.
For any business looking for Mobile and Connectivity services, Unified Communications with robust and secure end-to-end business communication, Gamma communications, could be your ideal choice. Their collaboration solutions facilitate strong collaboration and a smooth customer experience.
2) Ecosmob
Ecosmob is another popular name in the list of top-notch VoIP service providers UK. It has been in the VoIP industry for more than 15 years. The company holds expertise in an array of VoIP technologies such as Asterisk, Freeswitch, Kamailio, OpenSIPS, and WebRTC.

The range of VoIP solutions offered by Ecosmob includes the following:
Session Border Controller (SBC)
Retail VoIP switch/ class 5 software
Wholesale VoIP switch/Class 5 Softswitch
UCaaS, dynamic IVR solution
MVNO
Call center
Audio/ video conference solutions and more
Businesses of all sizes looking for any of the solutions mentioned above can heavily rely on Ecosmob.
Businesses that opt for Ecosmob could also benefit from a secure platform, fault tolerance, multiple protocols, and API technology. Besides, they can have access to various advanced features like Auto dialers, ACD, text messaging, call forwarding, IVR, auto attendant, call analytics, etc. Other common features include call forwarding, call recording, call monitoring, and call routing.
The company's virtual PBX system offers advanced call management options, including the ability to route calls to multiple devices and schedule call routing based on specific rules. Additionally, the company's web conferencing solutions are fully integrated with the VoIP platform, allowing seamless communication and collaboration between remote teams. It follows a subscription model, with plans that vary depending on the number of users and the features required. You can even get an exclusively customized plan as per your business requirements.
Generally, customer reviews mirror company ethics. A list of happy clients instills confidence when choosing a particular service provider. Ecosmob surpasses that bar.
3) RingCentral 
RingCentral is also one of the best VoIP providers in the UK. It provides cloud-based communication solutions, including VoIP services. The company covers a basic range of services. For instance- Cloud phone, voice, video, SMS, and fax, a unified messaging platform, team messaging, and collaboration tools.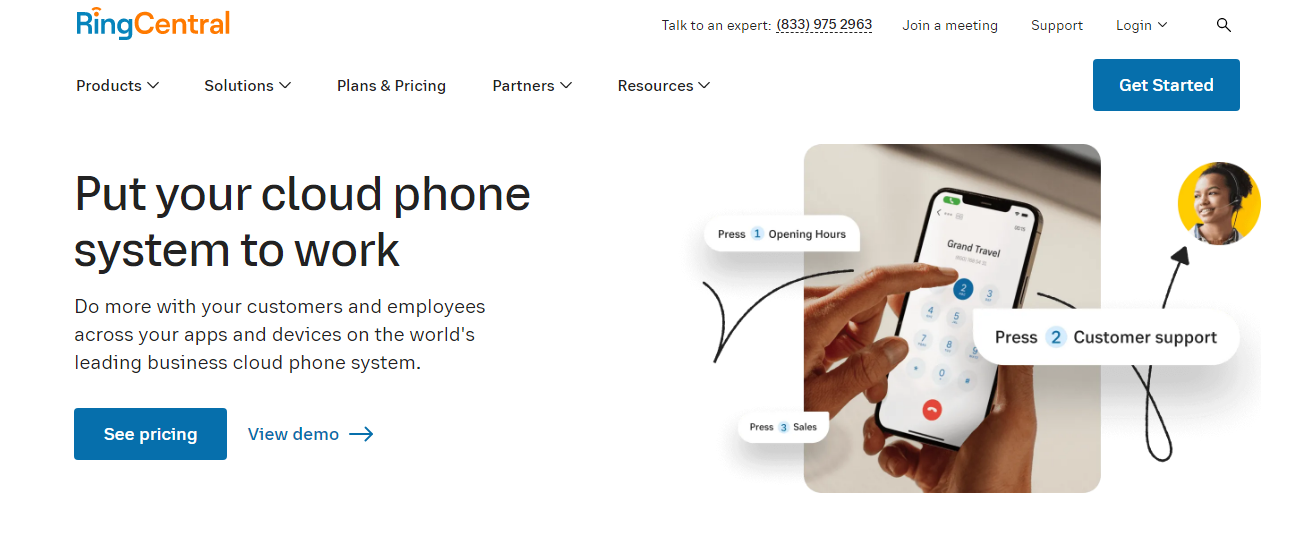 The company has cloud PBX, multi-level IVR, number porting, call monitoring, and multi-site management for advanced administration. It also provides a variety of integrations with popular third-party applications, such as Microsoft Office 365, Salesforce, and Zendesk, which help companies to streamline their workflow and improve productivity.
The solutions offered by RingCentral are best suitable for small businesses with multiple departments. Especially those companies that require a VoIP system to work together with their existing technology. It provides:
Messaging, phone, and video integration
Robust system security
Integrations with more than 250 apps
Real-time analytics
Quick setup
Easy scalability and deployment, and more.
Users can compare and choose from a number of programs offered by the company.  Its Essential plan offers all the vital features like document sharing, team messaging, unlimited calls within US/Canada, business phone or toll-free numbers, and more. Other plans are Standard plans, Premium, and Ultimate plans which have more features to offer.
Overall, RingCentral is a well-established and highly regarded VoIP company. Some customers have noted that the company's pricing can be on the high side, but many believe it is worth the investment.
4) 8X8
8×8 is a global VoIP provider, known for offering the best Unified Communications (UC) services. The VoIP solutions offered by this company are best suitable for small businesses that are planning to extend their business. It provides a variety of functions, including contact center solutions, call center software, and collaboration tools.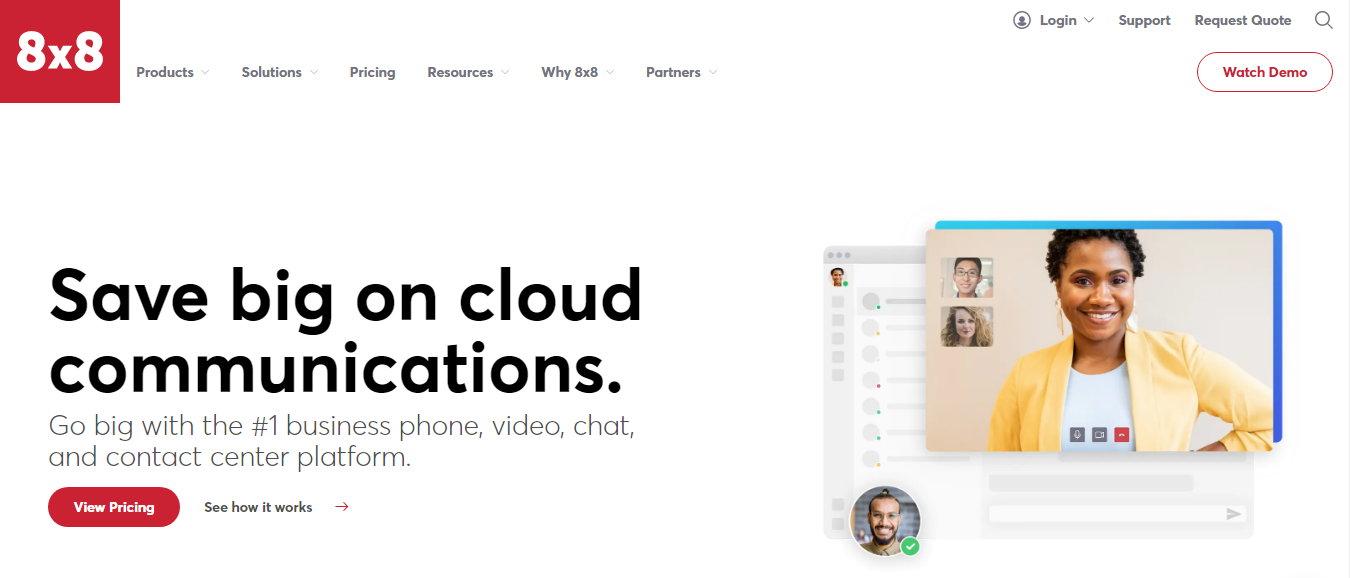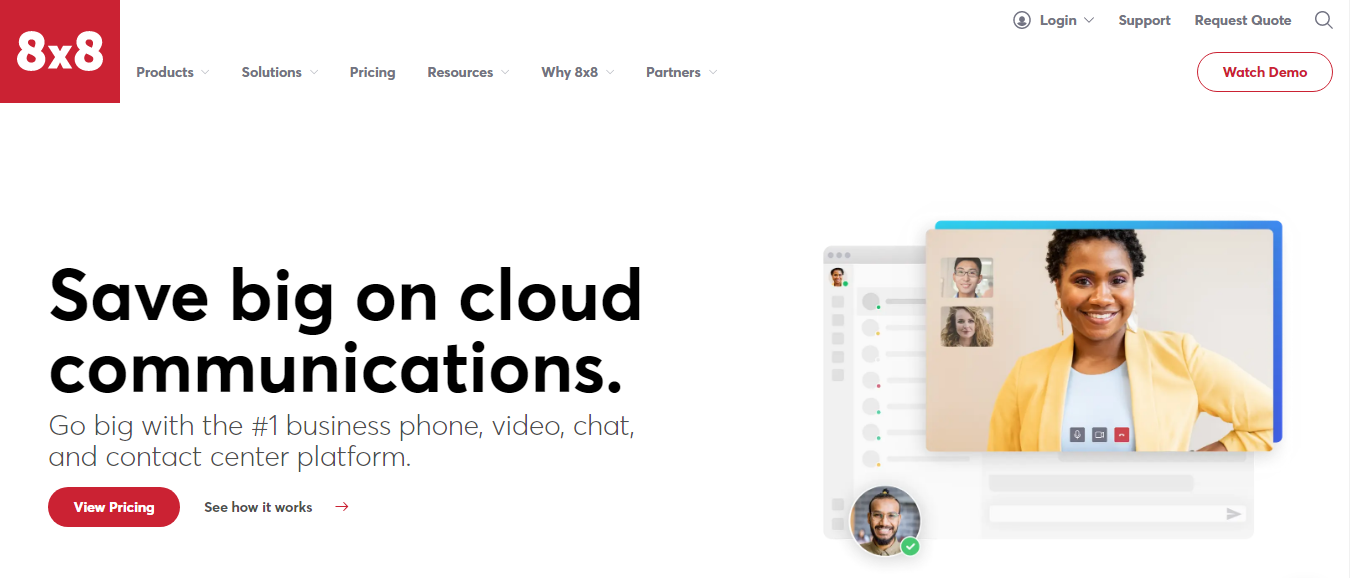 Using 8×8 VoIP services, users can access features like Voicemail to email, auto-attendant, video conferencing, and more. All these features are available under their Express Plan. Other plans include X2 and X4 packages. By using 8×8's VoIP services, businesses can enjoy several benefits:
Team chat and video calling
End-to-end encryption
CRM integrations
AI-powered workflows
Video meetings
Unlimited calling, SMS, fax, and more
8X8 also provides several different hardware leasing options, making it easy to build a phone system that keeps up with both the physical and virtual technology requirements of businesses.
The company provides customizable pricing choices with a range of packages for all business sizes. Besides, the simple setup procedure and user-friendly UI make 8X8 an excellent choice for today's businesses.
5) Vonage
Small businesses that are looking for an easy-to-use and affordable business phone system, can find Vonage a great choice. It is not only a pioneer in VoIP services but also offers remarkable solutions for residential VoIP needs.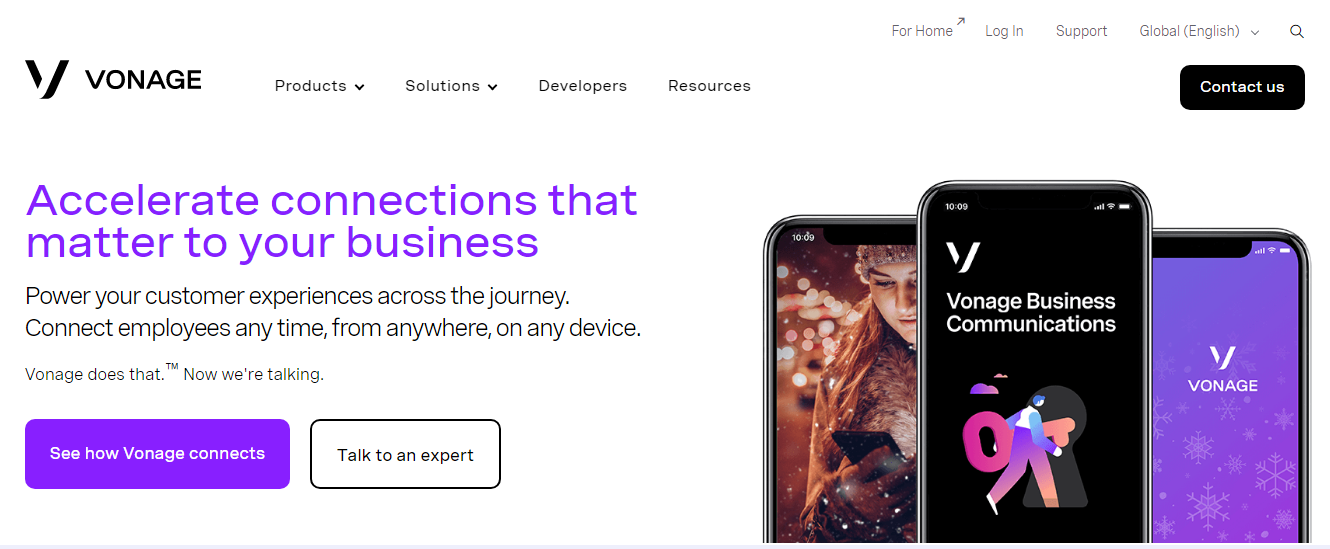 Based on the unique business VoIP needs, Vonage provides different packages. Its plans include a Basic Plan, Professional Plan, and Ultimate Plan. Each package comprises basic VoIP features and several additional elements that can be customized to suit specific business requirements.
By opting for Vonage services, users can benefit from:
Ease-of-use
Customizable packages
Superior mobile app
Unlimited calling
Advanced features like three-way calling, call blocking, call forwarding to up to 5 devices, voicemail tools, and more.
The best thing about Vonage is that it doesn't include any installation charges, long-term contracts, line rental, or high upfront setup costs.
6) Nextiva
An excellent option for businesses of all sizes (small businesses to large enterprises), Nextiva is a well-renowned name in the list of top VoIP providers UK. It largely focuses on business communication services and offers various VoIP features. Some of the best features include video-conferencing and unlimited calling.
Nextiva offers cloud-based solutions thus ensuring better usability and scalability. Businesses of any size that uses Nextiva's services can benefit in numerous ways:
Advanced call management
Branded auto-attendant
Customized IVR (Interactive Voice Response), and more
Nextiva also provides integration options with various popular business applications like Zendesk, Salesforce, and Google Apps. It offers different plans according to business requirements. Various plans offered by this company include the Essential plan, Professional plan, and Enterprise plan. All these plans comprise all the basic features like call forwarding, caller ID, and unlimited calling.
In all, Nextiva is an all-in-one communication solution and an excellent option for businesses that are looking for a robust, enterprise-grade VoIP solution.
7) Dialpad
Businesses with remote employees can find Dialpad a perfect choice for VoIP services. It is a cloud-based platform, powered by AI. With Dialpad services, users can get various standard features such as call management, an on-premise gateway, unlimited calling, and many others.

The company offers two types of plans. The Standard plan and Enterprise plan. Users can get an Enterprise plan customized as per their key business needs. By opting for Dialpad's services, users can benefit in several ways:
Better security
All-inclusive features
AI-powered call-to-text features
Reliable uptime
Unlimited video calls, and more.
Dialpad also provides a live call coaching feature which helps in improving agents' performance and overall customer experience. Besides, the company ensures smooth switching from devices such as mobile to desktop or vice versa.
Also Read: Top 11 VoIP Service Providers in 2023
Conclusion:
These are some of the best VoIP providers in the UK that offer excellent VoIP services to all sizes of businesses. If you are looking for a company that outweighs all the parameters from the client's perspective with its client-centric customizable solutions, then you must consider Ecosmob. It is an incredibly reliable UK VoIP service provider, offering never ending support and mentorship to its clients. For more information about VoIP services by Ecosmob, Contact us.