WebRTC, or Web Real-Time Communication, is a popular technology that enables real-time communication over the Internet without needing external plugins or software. It has gained popularity recently, and many industries are adopting this technology to enhance their services. One such sector that has greatly benefited from using WebRTC solutions is the Education sector.
It is rapidly evolving with technology integration. WebRTC solutions have provided a new dimension to the Education sector by enabling real-time communication between students and teachers. With the help of WebRTC, educational institutions can now efficiently conduct online classes, webinars, and interactive sessions. Let's explore the effective tips that WebRTC solutions use in the Education sector.
How Does WebRTC Solution Help in Education Sector?
Live streaming, or Webcasting of lectures or events, is an everyday use for WebRTC. This graph from the Kaltura report illustrates how K–12 educators and institutions of higher learning are using Webcasting in their curricula.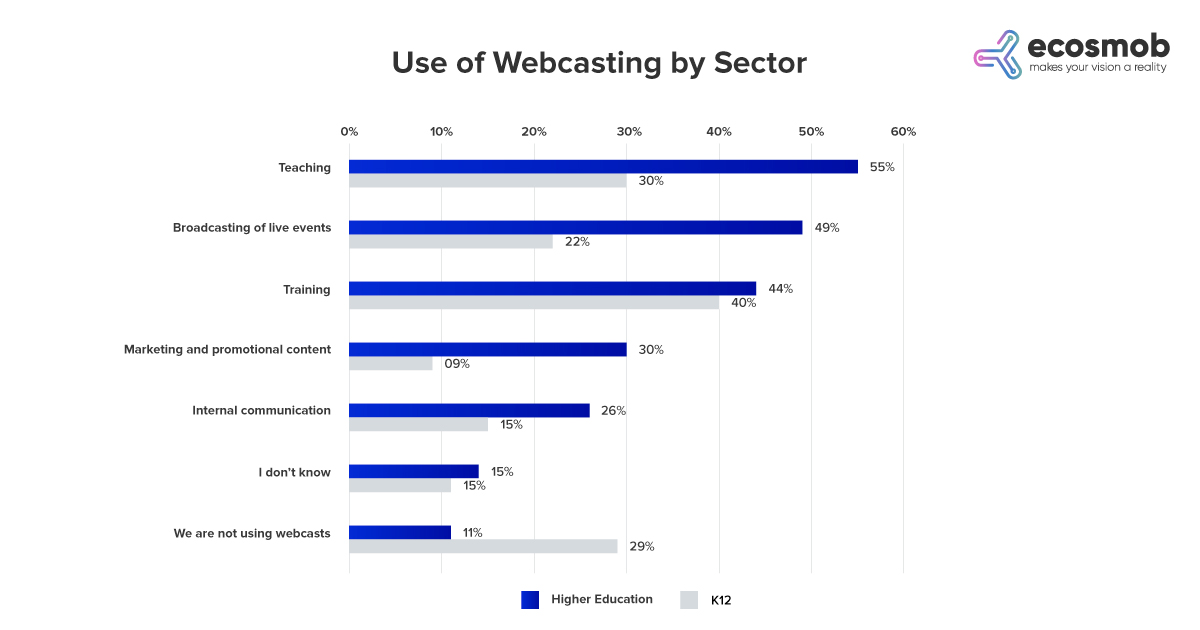 This graph demonstrates how most institutions use webcasting for at least one objective. Here are some applications for these scenarios where WebRTC shines and can be helpful for Education.
Events for Distance Learning/Live Lectures
With WebRTC, learners can participate in live lectures, discussions, and other interactive events worldwide, as long as they have an internet connection and a compatible device.
Many WebRTC solution providers offer specialized tools for Education, such as virtual classrooms, webinars, and video conferencing platforms. These solutions can provide screen sharing, whiteboarding, chat, and recording features, allowing educators to create engaging and interactive learning experiences. The need for WebRTC solutions in Education will probably increase as more organizations and educational institutions adopt distributed learning models. Although WebRTC has numerous benefits, its best performance does depend on a steady and fast internet connection, which may be a problem in some regions of the world.
Remote Guest Lectures
One of the most significant advantages is Remote Guest lectures. Teachers must be physically present in the classroom to invite experts worldwide to offer lectures on particular subjects. It provides various viewpoints and gives students a chance to speak with specialists, giving them valuable knowledge and ideas.
There are many different WebRTC Integration solutions available. In addition, numerous features, including video conferencing, screen sharing, and recording tools, are available with these solutions.
Multiple WebRTC solution providers offer these solutions, each with features and pricing schemes. Talky, Appear.in, and Agora.io are well-known companies offering WebRTC solutions. Implementing a WebRTC solution provider in Education can improve learning dramatically and give students access to professionals worldwide.
Group Discussion in Remote Teams
Communication and collaboration are difficult for remote workers, especially during group discussions. WebRTC (Web Real-Time Communication) solutions can aid in resolving this issue by giving remote teams a dependable and approachable platform for having group discussions. Users can collaborate on projects, share multimedia information, and interact in real time with WebRTC solutions from the comfort of their homes or offices.
WebRTC in Education has become critical as more educational institutions use remote learning strategies. No matter wherever physically located, it can assist in guaranteeing that children have access to high-quality educational opportunities.
Numerous companies are offering WebRTC solutions, each with unique features and advantages. It's crucial to consider several aspects while assessing WebRTC solutions, including cost, scalability, security, and ease of use. Twilio, Vidyo, and Zoom are a few well-known WebRTC solution providers. Remote teams may speed up group conversations, enhance cooperation, and boost productivity by choosing the best WebRTC solution, eventually improving their organizations' results. WebRTC solutions will likely be crucial in supporting efficient communication and collaboration among remote teams as remote work and online education continue to increase.
Recording Live Events
With no need for additional plugins or software, WebRTC (Web Real-Time Communication) is a well-liked technology that enables real-time communication and collaboration in web browsers. WebRTC in Education has become a crucial tool for instructors and students to cooperate effectively due to the rising demand for distance learning. The capacity to record live events is the main advantage of adopting WebRTC in Education. Lectures, webinars, and other live events are recorded by educators and shared with students who attend the live event. In addition, when live events are recorded, students may examine the material at their own pace and convenience, improving learning retention.
You can use a variety of WebRTC technologies to record live events. Software from a WebRTC solution provider enables users to record and share live events seamlessly. These options offer a quick and easy way to record live events and store them in several formats, such as video or audio files. Additionally, users of WebRTC solutions can edit, clip, and add effects to their recordings, which improves the overall educational experience for students. Not only this, WebRTC systems frequently have built-in security tools that guarantee the confidentiality and safety of recorded data. WebRTC solutions have grown in importance as the demand for remote learning has increased, allowing teachers to provide top-notch instructions to students whenever and wherever they need it.
Also Read: An In-depth Guide to WebRTC Development
Benefits of Using WebRTC Technology in the Education Sector
WebRTC in Education is becoming increasingly popular due to its numerous benefits.
Easy to Use: It is simple and requires no additional plugins or software. It is the perfect answer for teachers who wish to give their students a simple communication platform.
Interactive Learning: Learning experiences can be interactive thanks to WebRTC technology. Online education, where students could feel distant and alone, facilitates real-time contact between students and teachers, encouraging collaborative learning and group projects.
Flexibility: Flexibility is one of the factors, and it applies to many different platforms and devices. It is perfect for distance learning because it is accessed from desktop computers, laptops, tablets, and smartphones.
Cost-Effective: One of the most affordable options for education providers is WebRTC in Education. Because it does away with the need for pricey gear and software, it is a viable choice for colleges and institutions on a tight budget.
Secure: End-to-end encryption is used in WebRTC technology to guarantee the security of user communications.
Record and Playback: WebRTC technology allows lecturers to record and play lessons. Students can revisit the material at their own pace, allowing for greater understanding and retention.
An effective tool for educators and organizations wanting to improve the learning process is WebRTC technology in Education. It is the perfect choice for online education because of its simplicity, adaptability, affordability, and security. A WebRTC solution provider can assist educators in developing a personalized communication platform that matches their students' demands and improves learning outcomes.
Popular WebRTC Solution Providers
Following are some well-known WebRTC solution providers and the educational markets:
Agora.io: Virtual classrooms, online tutoring, and live broadcasting are just a few of the many online education solutions offered by Agora.io, a top WebRTC solution provider. Their platform's scalability allows for 10,000 concurrent users within a single session. In addition, they include several tools, including screen sharing, recording, and whiteboarding.
Twilio: Another well-known WebRTC solution provider, Twilio, provides online learning tools like video conferencing, virtual classrooms, and tutoring. Their platform includes several capabilities, including screen sharing, recording, and chat, and is simple to incorporate.
Zoom: Due to its usability and scalability, Zoom is a well-known video conferencing technology that has become more common in schools. Several capabilities are available, including screen sharing, recording, and virtual backgrounds. Additionally, Zoom provides a virtual classroom system that enables teachers to design online courses and work in real time with students.
Vonage: Online tutoring, virtual classrooms, and video conferencing are just a few of the resources for online education offered by Vonage, WebRTC solutions provider. Their platform includes several capabilities, including screen sharing, recording, and whiteboarding, and is simple to integrate.
BlueJeans: Screen sharing, recording, and virtual backdrops are just a few of BlueJeans' video conferencing system's capabilities. Their platform is user-friendly and provides a variety of resources for online learning, such as virtual classrooms and online tutoring.
WebRTC solutions are becoming increasingly crucial in Education because they allow for online and distance learning. Virtual classrooms, online tutoring, and video conferencing are just a few online education technologies from well-known WebRTC solution providers, including Agora.io, Twilio, Zoom, Vonage, and BlueJeans. Educational institutions and teachers can select the best solution provider based on their needs and requirements.
Final Thoughts
By offering a safe, affordable, and dynamic platform for online learning, WebRTC technologies are revolutionizing the Education sector. With modern technology, educational institutions can provide students with a high-quality online education while giving them the mobility and convenience to learn anytime, anywhere. Leading WebRTC solution provider, Ecosmob Technologies, is also helping educational institutions utilize this technology to improve the educational experience.
Are You Ready to Adopt a Reliable WebRTC Solution Provider for Your Educational Institution?