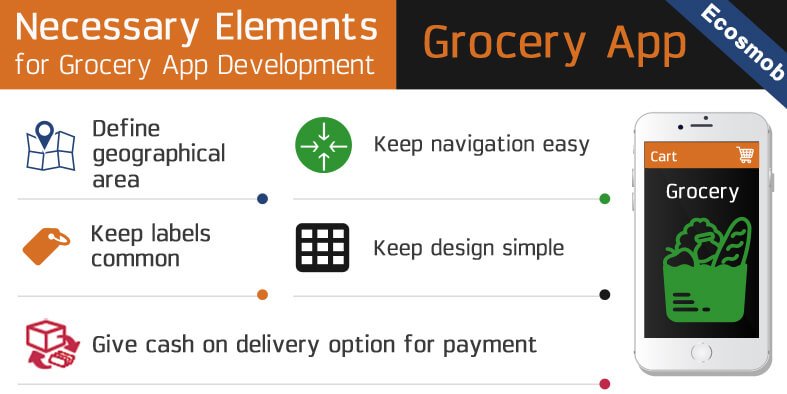 The mobile applications have made life easy for everyone. There are so many applications available in the market, which helps common people to perform their daily tasks easily and at the same time, it helps entrepreneurs to open a constant revenue generation channel. There are many domains in which one can develop an app. One of those is grocery. There are so many working women out there who don't get time to go for grocery shopping. Even housewives are tied up with so many routine works that even they would love the idea of mobile shopping for their grocery list. In a nutshell, grocery app development can be a wise decision. However, before jumping in for an actual
mobile app development
, you need to keep a few points in mind.
Define geographical area you will be serving in
This is a B2C application and you need to provide home delivery option. So you should specify in which geographical areas you will be offering this service. If you won't keep this element in mind, you will end up getting negative reviews and ratings for not providing the promised services which will ruin your business.
Keep design simple
The next necessary element for
grocery app development
is its design. Make sure that you keep it as simple as possible. You have to come with a generic yet appealing design which can give better user experience to each category audience.
Keep navigation easy
Remember the app will be used by both, tech-savvy and non-tech-savvy audience. Thus, don't overwhelm them with too many categories. You have to keep navigation easy, so the buyer can move back and forth hassle free.
Keep labels common
Even if you want to apply your creativity, don't use your creativity with the category labels with your grocery app. Use commonly used names and terms for grocery items and categories. If this app will be targeting local people, use regional language in the app and use regional names of the item. You can have multilingual application, too.
Give cash on delivery option for payment
This might sound a point which can be neglected or not that important to you, but, the fact is this element will increase your conversions and ROI tremendously. Whether you believe it or not, people love cash on delivery option as a payment model and you must support that with your app to capture this wide population of audience.
Please write to us at
sales@ecosmob.com
for further queries. You can receive a
free quote
from us.