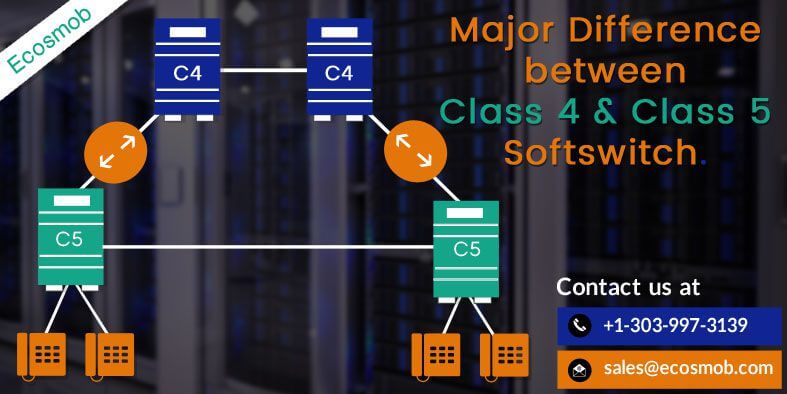 VoIP and the telecom industry is thriving as technological advancements have brought a radical change in the business communication methods. As per the
Grand View Research report
, the VoIP market size is expected to reach $145 B by 2024. Today, there is no issue of connectivity, thanks to the Internet, as you can communicate with people associated with your business anytime, anywhere with the help of VoIP solutions. When we talk about VoIP technology, a buzzword comes in our mind-
VoIP Softswitch
. Read on to know more about types of Softswitch and the key differences between them.
What is Softswitch?
A softswitch, a short form for software switchboard, is a central device or a type of software that routes or connects telephone calls virtually from one line to another across a telecom network or the public Internet with the help of software running on a general-purpose computer system or a server.
In a layman's term, a softswitch is nothing but a software-based device that virtually and automatically connects the calls using general purpose servers and VoIP technology. It is a software equivalent of a former physical telephone switchboard. These days, a softswitch that routes calls using VoIP is gaining traction and is rightly said as a
VoIP softswitch
or a VoIPswitch.
How does VoIPswitch work?
A VoIPswitch receives calls made to phone numbers fall under its network from traditional PSTN (Public Switched Telephone Network) networks. We can say it call origination in which calls made to numbers within the VoIP network originate in the PSTN network. But, the role of a VoIPswitch does not end here. It can also route calls that originate from its VoIP network to phone numbers in traditional PSTN networks. It is referred as call termination in which calls made within the VoIP network are ended in a traditional PSTN network.
Based on the traditional functions in PSTN, VoIP softswitches can be subdivided into two classes: Class 4 softswitches and Class 5 softswitches. If we want to mention the functional area of both these types in just one line then it would be: Class 4 Softswitch is for routing large volumes of long distance VoIP calls across various countries, and Class 5 Softswitch is for routing calls in a city, town, state or country.
What is Class 4 Softswitch?
Class 4 Softswitch
is defined as a softswitch used for routing IP-IP calls to distant international locations. It is useful for transiting VoIP traffic between carriers and can route large volumes of traffic over and between different exchanges and LATAs (Local Access and Transport Areas). Let's understand the function of a Class 4 Softswitch through a hypothetical situation: Suppose an end user wants to initiate a call from Toronto to Japanese PSTN number. Now, Class 4 Softswitch will route the call to Japanese PSTN number when a wholesale VoIP service provider will receive the transfer order from a Class 5 Softswitch.
What is Class 5 Softswitch?
A
Class 5 Softswitch
can route calls between end-users or consumers in relatively small areas as compared to a Class 4 Softswitch. When it comes to international call routing, Class 5 softswitches pass their traffic to a Class 4 softswitch. In our example of a call from Toronto to Japan PSTN number, the retail VoIP solution provider will transmit the international part of the call to a wholesale VoIP service provider using Class 5 Softswitch. In other words, Class 5 Softswitch is a retail solution while Class 4 Softswitch is a wholesale solution. Class 5 Softswitch also offers a plethora of modern features for enterprises and residential office customers.
Now comes the difference between the softswitch duo
The difference between Class 4 and Class 5 Softswitch is mainly based on their working areas and features. Let's figure out the key differences between them:
Objective
Class 4 Softswitch is meant for routing long distance calls or say, international calls while Class 5 Softswitch is responsible for routing calls in the same city, state, or a country.
Features
Class 5 Softswitch has mainly user-centric features including basic dial-tone, calling features,  IP PBX features, call center services, calling card platform, QoS, Business Groups, social media usability, IVR, etc. Whereas a Class 4 Softswitch is just a simplified
Softswitch solution
that has VoIP service provider-related features like protocol support and conversion, number of concurrent calls, transcoding, intelligent call routing, secured firewall,etc.
Services offered
Class 5 Softswitch is a handy retail solution while Class 4 Softswitch is a wholesale solution. In other terms, a Class 4 switch is a central office telephone exchange used to interconnect local exchange carrier offices for establishing long distance communications in the PSTN. In contrast, a Class 5 Softswitch is an exchange in the PSTN located at the local telephone company's central office for serving the end users.
Targeted users
Class 5 Softswitches are designed to work with both VoIP service providers and end users. On the other hand, Class 4 Softswitches are made to serve wholesale VoIP solution providers, carriers, and Telco operators.
Capability
Class 4 Softswitch can transfer a lot of calls while Class 5 Softswitch can manage only small number of calls.
Routing Area
A Class 5 Softswitch can route calls to the IP or SIP address or a DID (Direct Inward Dialling) number of an end user, but a Class 4 Softswitch routes large volumes of long-distance VoIP calls across multiple IP networks.
Wrapping up
Together, Class 4 and Class 5 softswitches provide the feature-rich, next-gen services for establishing a seamless communication between numerous enterprises across the nations.
At Ecosmob, our team of dedicated VoIP software developers offers customized
Softswitch solutions
at competitive rates. Click
here
to know more about an array of VoIP-based services compatible with the international standards.
Get in touch
with us to know more about our VoIP Softswitch Solution. You can write to us at
sales@ecosmob.com